San Francisco 49ers: Solving the Red Zone Struggles
December 14, 2011
Christian Petersen/Getty Images
The San Francisco 49ers red-zone offense is dead last in the NFL, scoring touchdowns in only 35 percent of their visits. 
And much has been written to remind us of that:
"Niners are Red-Zone Challenged." (Niner Noise)
"The 49ers Struggle Again in the Red Zone." (Sac Bee)
"Slumping Niners Getting Red-Faced in Red Zone" (scout.com)
"Red Alert! Red Alert! Red-Zone Struggles Signal Danger for 49ers' Super Bowl Hopes."
Okay, I may have made up that last one, but you get the point. 
It is no secret that San Francisco's red-zone offense is failing to score touchdowns. Heck, even a blind person can see that. 
However, there has been little written about viable solutions. 
While contemplating possible suggestions, my ideas traveled far outside the box. At one point, I was writing up an article about solving the 49ers' red-zone issues using the AA 12-step program (Hey, it's helped thousands overcome their struggles). That idea was abandoned, though, as I noticed an abundant mention of God; I figure He's too busy helping Tim Tebow perform miracles. 
It's a difficult task, for sure. 
Part of fixing a problem is locating said problem. If someone has a scrape on their knee, you don't put the band-aid on their cheek (unless they're trying to look like Nelly).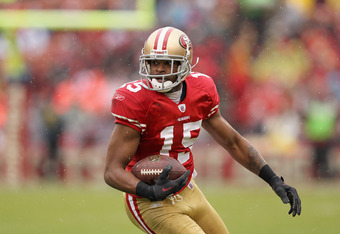 Ezra Shaw/Getty Images
The offense should take a cue from the exhilarating game of poker. 
A bad poker player has an easily visible tell that opponents quickly pick up on. It's manifested in body language, eye movements or a tone in their voice among other ways.  
And the 49ers offense has an obvious tell: their formations. 
It doesn't take a psychic for the defense to predict a pass play when Smith is lined up in the shotgun formation with an empty backfield. 
Or that a run play is bound to happen when extra tight ends/linemen are on the field. 
My suggestion is: Keep the formations but mix up the play-calling. Line up extra blockers, then run play-action. Keep Smith in the shotgun, but place a running back next to him for the possibility of a run play. 
Keep the defense on their toes. Keep them guessing.  
Then, toss in effective slants and screens utilizing Vernon's quickness and Crabtree's hands. They are weapons but nowhere near the football upon entering the red zone. Throw into tight coverage, and allow the receivers to make plays. Yes, the turnover amount may go up but so will the touchdowns. 
It's creatively simple. 
Delanie Walker's game-winning touchdown at Detroit is the perfect example of this. There was slight confusion and a quick throw to Delanie who made the play when the team needed it.  
And if that doesn't work, maybe they'll do it for a Klondike bar.