Controversial Finish in DC Makes Khan-Peterson Rematch Necessary
December 14, 2011
This past weekend, Jr. Welterweight contender Lamont Peterson beat heavily favored and pound-for-pound rated Amir Khan by controversial split decision to claim his IBF and WBA Jr. Welterweight titles.
Thanks to some poor refereeing, the fight's result has been criticized and Peterson's victory cheapened. What could have been a great achievement for Peterson now stands as a symbol of an arbitrator's incompetence, and the fact that Peterson overcame 9-to-1 odds to beat Khan is being overlooked.
Lamont Peterson wasn't just an underdog on fight night, he's been an underdog his entire life.
The hard-luck upbringing of Peterson and his younger brother, Anthony, has been covered in several video specials, but for the uninitiated: the Peterson brothers grew up homeless on the streets of DC, living in abandoned cars and parks before being informally adopted by trainer/manager Barry Hunter.
Hunter not only gave the boys a desperately needed sense of guidance and stability, he also trained them as pugilists, with both brothers going on to win national tournaments.
As professional fighters, the Peterson brothers seemed destined to act as "gatekeepers," the type of fighters used to test groomed, thoroughbred prospects. Lamont, for his part, played the role perfectly and looked like a bona fide "opponent" when he lost a one-sided fight to highly regarded Timothy Bradley in December of 2009.
When the talented and dangerous Khan (26-2 18KO's) decided to honor his mandatory by fighting Peterson (30-1-1 15KO's), he made the fight sound like yet another piece of charity to add to his philanthropic record.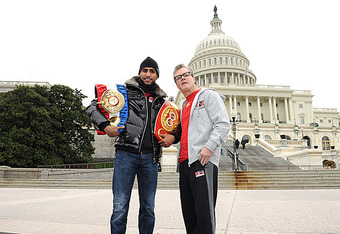 He claimed he wanted to be like the greats and take on all challengers; he would even do Peterson a favor and fight him in his hometown, because, hey, D.C. deserved to see a world-class fighter after a decades-long drought of major boxing events. 
When the opening bell finally rang, there was very little charity to be found. In the first round, "King" Khan blitzed Peterson with fast combinations and amazing agility, and it seemed like the start to an easy night for the Olympic Silver Medalist.
Despite an early knockdown, Peterson was undeterred. After the fight, "Havoc" told HBO's Larry Merchant that he had prepared three game plans for the fight and by the third round he had completed a transformation from classical boxer to stalking puncher that Khan couldn't adjust to.
At mid range, Khan continued to employ his blinding hand speed, strafing Peterson with five- and six-punch combinations that peppered Peterson's high guard.
However, on the inside, he seemed lost, resorting to taunting, pushing, and grappling, everything but punching, while Peterson battered him to the head and body with accurate hooks and uppercuts.
It was during those close exchanges that the third player in the story made his unwelcome presence felt. Despite being announced as a veteran of over 30 championship fights, local referee Joe Cooper seemed overwhelmed by the assignment from the moment he gave his comically exaggerated final instructions, (LET'S SHAKE HANDS AND GRAGHHH!)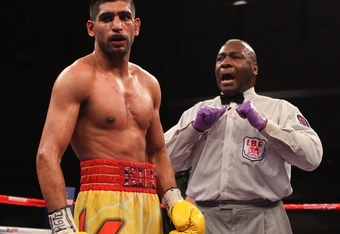 Often out of position, Cooper actually caused the fight's first knockdown by tying up Peterson's feet as he tried to move away from the action. His poor performance would climax as he deducted points from Khan in the seventh and twelfth for pushing.
While the type of shoving Khan was doing would be considered illegal under the Marquis of Queensbury rules, it would be difficult to find a precedent of a referee actually taking points away for that type of infraction, especially in the final round of a title fight as closely contested as this one.
Judges George Hill and Valerie Dorsett scored it 113-112 for Peterson, while Nelson Vazquez gave it to Khan, with an absurd 115-110. Take away the two-point swing caused by the referee's deductions, and Khan wins 114-113 on two cards and 117-110 on the third.
The controversy created by Cooper's choices makes a rematch a necessity.
Much has been made about the "home cooked decision" Peterson received, and the usually classy Khan has been uncharacteristically indignant in the wake of his second loss.
Unfortunately, neither the boxing scribes nor Khan seem to notice that Peterson gave Khan hell for 12 rounds or that Cooper did warn both fighters for pushing throughout the fight.
A rematch now feels essential, not to appease Khan's battered pride, but to validate Peterson's journey. A clean win would have been the perfect cap to his story of struggle and strife. This should have been a crowning moment for Peterson, who was quickly ordained as the champion of the "Slums of America" by his emotional younger brother in a post-fight interview. 
Unfortunately, through no fault of his own, Peterson's victory has been tainted by the referee's inconsistency. The boxing media has been merciless in eviscerating Cooper's handling of the bought, and thus, to the great majority of fans, Lamont Peterson feels like an illegitimate champion.
Given the many hurdles he's had to overcome, Peterson has the ability to mean so much to so many, especially in an era of desperation and general disenfranchisement. In many ways, Peterson is the champion we need as fans and as a people.
He can only be that champion by decisively conquering the now-uncrowned "King." If he can impose his will on Khan like he did in the second half of their first fight, he has a great chance of upsetting his entitled opponent again.
Despite his tactical advantages in the first match, make no mistake that Peterson will be the underdog whenever he meets Khan again.
I doubt Peterson is phased, nothing new there.