MLB Trade Rumors: Are Boston Red Sox Done Dealing After Moving Jed Lowrie?
December 14, 2011
Elsa/Getty Images
Never again will Red Sox Nation have to worry itself with Jed Lowrie's never-ending struggles to stay healthy.
As it was first reported by FOX Sports' Ken Rosenthal via Twitter, the Red Sox have shipped off Lowrie and Kyle Weiland to the Houston Astros for right-handed reliever Mark Melancon.
First things first: Is this a good deal for the Red Sox?
Yes it is. The Sox needed to get bullpen help this offseason, and Melancon is a good guy to have. He logged 74.1 innings in 2011, posting a 2.78 ERA and striking out 66. He walks a few too many guys, but he has good stuff that should play well in the American League East.
As for what kind of stuff Melancon boasts, Alex Speier of WEEI.com has a nifty scouting report. Melancon's fastball will touch the mid 90s with movement, and he throws a power curveball that is an elite out pitch. He also has a funky delivery, which helps him deceive hitters.
So yeah, good trade. Well played, Ben Cherington.
Now, all Cherington needs to do is fill out the rest of the roster, which is not going to be easy.
Don't worry, Sox fans. Per Danny Knobler of CBSSports.com, we know that Cherington is working the lines: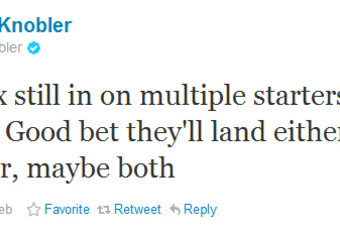 The Sox need to do both. Cherington hinted a couple days ago (see WEEI.com) that Daniel Bard could be converted into a starter, but even then the Sox would need to acquire at least one more starting pitcher to fill out their rotation and a reliever to take Bard's place.
As for who the Sox might target, ESPN's Jim Bowden has it all mapped out: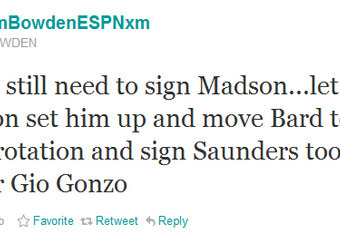 He's talking about Ryan Madson, Joe Saunders and Gio Gonzalez, of course.
I personally have my doubts about how Saunders' stuff would work in the AL East, but Madson would be a great option to close out games, and Gonzalez could be a perennial Cy Young contender if he can cut down on his walks. The Sox could do much worse than the two of them.
Regardless of who the Sox go out and acquire, the answer to the big question is that they are certainly not done. They've been quiet on the acquisitions front this winter, but Cherington doesn't need to be told that his roster has a lot of holes that need to be patched. The team's core is very, very good, but the team itself is incomplete.
If Cherington completes the team, the Sox are going to be a big threat to win the AL pennant in 2012. If he doesn't, things could be even worse than they were in 2011.
Yup, that bad.