Bri'onte Dunn Confirms Ohio State Pledge; Can Michigan Add Another Running Back?
December 14, 2011
Gregory Shamus/Getty Images
Although 4-star running back Bri'onte Dunn (Canton, OH) has been committed to Ohio State since his junior year of high school, there were numerous rumors and speculations he would be in a Michigan uniform come National Signing Day. 
All of those headlines were put to rest late Tuesday night when the Glenoak standout re-affirmed his commitment to the Buckeyes.
"I am officially 150% a Buckeye," Dunn told Bill Greene of Scout.com. "My family and I met with Coach (Urban) Meyer and Coach (Stan) Drayton tonight and I told them both I wanted to end my recruitment and be a Buckeye. I couldn't be happier, and I feel so great tonight."
The nation's No. 10-ranked running back and No. 136 overall prospect according to Rivals.com appeared destined to wind up donning the maize and blue instead of the Buckeyes' scarlet and gray, even after the hiring of Urban Meyer, because of the type of spread offense Ohio State will be running in the future.
"Right now, I don't know what to think [about Meyer's hiring]," Dunn told the Canton Republic on November 28.
"I know he's a good coach. I know he's a winning coach and I know in the past he ran the spread. I have to talk to him and see, but I don't want to go to a school that runs the spread."
Meyer's offensive scheme, which has never had a running back with over 1,000 rushing yards in a season, apparently was not enough to deter Dunn from wanting to be a Buckeye.
"It was like once I talked to Coach Meyer, I just knew," Dunn said.
"I had a lot of questions and he answered every one of them honestly and directly. I really wanted to see how they were going to use me, like every player does, but it was just more than that."
So, now that the Wolverines have missed out on the bruising 6'2" and 215-pound bruising tailback, where do they go from here?
The emergence of redshirt sophomore Fitzgerald Toussaint, who rushed for 1,011 yards and nine touchdowns in 10 starts this season, along with Vincent Smith and Thomas Rawls returning for the 2012 season, means Michigan could make due with only having 3-star Drake Johnson (Ann Arbor, Mich.) in this year's recruiting class.
This is the most likely case considering the lack of highly-touted running back recruits showing an interest in joining the Michigan program at this time.
TheWolverine.com reported last night, shortly after Dunn's re-commitment to Ohio State, 4-star athlete David Perkins (South Bend, IN) is considering a visit to Michigan.
Perkins appears to be a long shot, though, considering he has official visits set-up with Michigan State, Ohio State, LSU, Tennessee and has already been on one to Missouri.
The only other running back the Wolverines may have a shot at to fill one of their five remaining scholarships with is 4-star speedster Greg Garmon (Erie, Penn.). The McDowell High School star already has four of his five official visits scheduled, but did include Michigan in his top five schools back in October.
While this may indicate the Wolverines have an outside chance for Garmon, Miami's (Fla.) newest commit, Taylor Gabodis, believes the nation's No. 18-rated running back will be a Hurricane.
"Greg Garmon, I think he is going to commit," Gabodis said on Sunday.
"He'll talk about it with his high school coach first."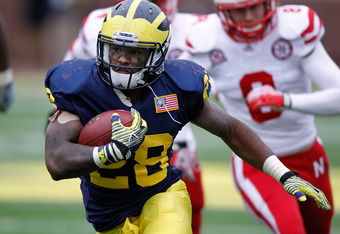 Gregory Shamus/Getty Images
The lack of a second running back in this class leaves an extra scholarship open for the Wolverines to grab an extra defensive back with 4-stars Armani Reeves (West Roxbury, Mass.) and Yuri Wright (Ramsey, NJ) showing a lot of interest in Michigan, or it will allow the Wolverines to potentially snag wide receivers Jehu Chesson (St. Louis, Mo.) and Jordan Payton (Westlake Village, Calif.).
During the time Michigan had projected Dunn as a member of their recruiting class, it was speculated the Wolverines would have room for just one receiver, but the extra scholarship gives them a chance to get both of them instead of the first one to commit.
Zach Dirlam is the Lead Editor for College Basketball and Big Ten Columnist for the website Sports at Work. Check out his blog, Dirlam's Dirty Dugout Sports Blog, which features this story along with other articles and video reports on the major sports. You can also follow his blog on Twitter, which will provide you with the latest updates about what will be posted on the blog!