No More Magic in Orlando: Dwight Howard Knows Title Lies Elsewhere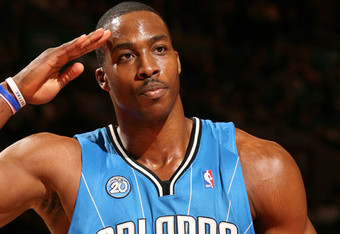 To win that elusive title, Howard must bid farewell to Orlando.

It's time for Dwight Howard to realize the time is right for a change. Of scenery, uniform and chances of winning that elusive NBA title.
After all, he's not getting any younger. Being just this side of 25 doesn't have a straight line to the monogrammed walker, but his chosen career isn't exactly comprised of interstate commutes, meetings at the water cooler (if there are places of business where such things still exist) and being on careful lookout for the "buy one, get one" special at the grocery store.
Eight seasons dealing out and absorbing punishment in the NBA has the occasional tendency to age an athlete faster than expected. Athletic skills and those chances of taking home the gaudiest piece of hardware in the NBA are dwindling sometimes faster that the athlete realizes. One night you're bending iron while free-falling from the ceiling, the next night some 17-year-old indestructible infant is leaving his sneaker marks in a straight line from your toes to temple.
It's also time for fans of the Orlando Magic to realize change is part of the game. No matter how good an exceptionally talented player as Howard is, no matter how he is deified in a city where renovation of a downtown fountain is considered broadcast-leading news, and no matter how media talking heads seek to brew and belch bile at one who would even consider leaving those who "made him what he is today," the bottom line is elementary and simple to grasp.
Dwight Howard is a championship-caliber person and player. In a sport too often populated with weed-toking, deadbeat dads, Howard is a rare class act on and off the court. He has given the Magic every ounce of his athletic soul since the first instant he squeaked shoes on their hardwood. He has spent more time reaching out to the local community with his time and effort than plenty of his self-centered peers. He doesn't whine. Doesn't slam teammates under the grinder wheels. Doesn't play the standardized NBA thug card between the lines. And he truly does let his play speak for itself.
Opening day of practice was, to say the least, interesting.
In this new NBA sphere, his chances of hoisting the Larry O'Brien trophy in Central Florida are about equal to those of the now-defunct Orlando United Football League franchise coughing up cash to those they left holding worthless paychecks and invoices before they and their carpetbagger bosses split town.
It's time to go.
It's also time for Magic fans to stop buying into and spewing the laughable lines about how Howard will be "turning his back" on Orlando and morphing into another greedy professional athlete. These the absent-minded who conveniently forget Howard jumped at the chance to sign a new deal when his initial one ran out in 2007. There was never a doubt he would remain in Magic colors because he gleaned that run at a title in the near future.
Times change. Rosters change. Management changes. Fortunes change.
Despite his desire to remain, those who know the inner workings of the game are solid in their belief Howard has long wanted to wear the colors of the Los Angeles Lakers. Then again, doesn't everyone? A shot to play for a franchise that is always in contention for a title, not just a playoff berth, is what every athlete drives for. And the Lakers have even cleared the decks in recent days, sending Lamar Odom to Dallas and thus gracing themselves with a valuable trade exception.
The Lakers want Howard. Howard wants the Lakers. While he has indicated and may yet be granted a wish to toil for the Bronx-bound Nets, a player as talented and classy as Howard is better served performing nightly for Jack Nicholson and the Hollywood glitterati.
If Dwight Howard doesn't end up playing for the Lakers or Nets by the time the trade deadline hits on March 15th of 2012, it will rank as the single greatest upset in NBA history since Allen Iverson showed up for practice without turning on the diva.
When he leaves Orlando, Howard will do so with mixed emotions. Unlike many of his hooping buddies, Howard actually has a conscience and honestly wants to be perceived by Magic fans as one who cares about the franchise and the fans. That's because he truly does care. While the majority of NBA players were off looking for playing gigs in China and popping bottles of Christal during the lockout, Howard spent a good amount of his time in Central Florida holding clinics for kids and charity games to keep the basketball fires burning.
And in recent days, when some tide of public and media opinion started to turn against him for possibly departing Orlando, despite every single positive thing he has done for that community and their franchise, Howard wisely backtracked on his statements of wanting to be traded and left the locker room door ever so slightly ajar about possibly ending his career in Mickey's backyard. Sure, it may have been only for show, but there's no doubt Howard wants to cushion the blow and treat the fans there with that measure of respect.
You can't state it in any simpler fashion. Dwight Howard is just a good guy who doesn't want to see anyone's feelings hurt because of something he may or may not do. It's just not in his nature to be a jerk. Which, of course, means he almost has no right being a professional basketball player.
But he cannot stay in Orlando. That dance card has been filled. If he wants to have a genuine chance at wining a title, he must head for franchises better suited to make the run.
No offense to the Magic, mind you. Stan Van Gundy is one of the most underrated coaches in the NBA and he certainly possesses the cunning and strategic thinking of a championship coach. But the recent lightning-strike departure of John Weisbrod as GM smacked of some real internal discourse in the front office. We've all heard the "needing to spend time with my family" excuse before and rarely has it had anything to do with the wife and kids.
Howard is that rare pro jock who actually has working brain cells in more than single digits. He doesn't need an agent, adviser or soothsayer to understand what's going on. Should he remain, the supporting cast will be populated by what at first glance seems to be a hodgepodge of leftover pickings.
Jason Richardson, a talented former first-rounder who is already on his fourth team in 10 seasons—likely due to the fact there's not a lot of faith he can dribble and shoot with any remaining consistency. Glen Davis, who fell disastrously short of what was expected of him in Boston.
And like everyone else around the NBA, Howard has to see how over-matched new GM Otis Smith already is. Barring the taxpayer-funded arena going into receivership, the Magic will make the postseason. Then again, doesn't everyone south of Toronto and Minnesota, east of Sacramento and west of Cleveland?
This one really isn't about the money. It's about one of the most talented and responsible NBA players of his generation having the foresight to see into his future. One that could be lined with either trophy gold or runner-up silver. Knowing that even should he decide to leave Orlando, he will leave behind a solid legacy of one who made the franchise what it is today. Dropped every ounce of competitive sweat every night for his colors. Did everything he athletically and socially could to be a positive force for others. Thus, he should not be punished for seeking to improve his fortunes in life, where you truly do get only one chance to get it right.
Now, it's time to do something for himself. And should he depart, the people of Orlando would be best served to vigorously thank him for making them more than just that sleepy, little village up the road from Walt Disney World.
That would be the classy thing to do. Class is what Dwight Howard has been all about since his first professional tipoff, and he therefore has earned the right to leave with not one shred of animosity.
LeBron James and more than a few of Howard's peers would do well to take the hint.
Ed Berliner has been covering sports since before peach baskets were used as basketball hoops. When not angering Central Florida sports fans, he is Managing Editor at "Sports Media Masters". (http://sportsmediamasters.com)
This article is
What is the duplicate article?
Why is this article offensive?
Where is this article plagiarized from?
Why is this article poorly edited?

Orlando Magic: Like this team?