Chip Kelly vs. Mike Bellotti: The First Three Years Comparison
December 29, 2011
Steve Dykes/Getty Images
Chip Kelly's three-year head coaching record is extremely gaudy: a 33-6 record for a win-loss percentage of .846.  Wow.  That got me thinking about how Chip's predecessor Mike Bellotti began his highly successful run as Oregon's head coach.
Bellotti's first three years, 1995-97, earned him a 22-13 record for a perfectly respectable win-loss percentage of .626.
Next, let's take a look at how each coach performed in bowl games during those first three years.  Kelly has taken his team to three straight BCS bowls.  He lost the Rose Bowl to Ohio State (who turned out to be cheaters, I might add) in 2009. 
2010 brought Kelly and his team right to the brink in the "so close we can almost taste it" BCS Championship Game with Auburn, whose stars, Cam Newton and Nick Fairley, are currently burning up the NFL.  We will soon know the outcome of Kelly's third bowl appearance—Monday's Rose Bowl matchup with Big 10 champ Wisconsin.  The Ducks are currently a six-point favorite.
Bellotti, taking over Rich Brooks' 1995 Rose Bowl team (who lost to Penn State in the Ducks' first Rose Bowl appearance in 37 years), made it to two bowl games in his first three years as head coach.  The 1995 campaign brought the Ducks to 9-3 and a losing trip to the Cotton Bowl.  1996's record was a mediocre 6-5 with no bowl appearance.  But the Ducks bounced back in 1997 with a 7-5 regular season and a winning trip to the Las Vegas Bowl.
So, comparing bowl appearances, the nod goes to Kelly, although Bellotti did win a bowl in his first three years at the helm.  And, yes, I understand that the Las Vegas Bowl is not the BCS Championship Game, so it's apples to oranges.  But still.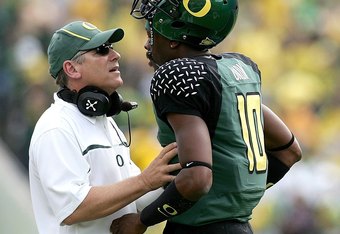 Jonathan Ferrey/Getty Images
How did Kelly and Bellotti do against their arch-rivals, the Huskies and Beavers?  For those of you who are relatively new to the Ducks bandwagon, this used to be the only stat that truly mattered. 
First, the Huskies—Kelly has won three straight against the Dawgs (two out of three games in Seattle) and given them a fairly strict beat down all three years.  This, alone, is enough to anoint him "Ducks coach for life" in many eyes.
Bellotti started out well, winning a heart-pounder by two measly points in Seattle.  But his team faltered badly the next year in Eugene and lost 33-14—a loss to the Huskies in Eugene.  Unforgivable. 
He did rebound in his third year with a three-point bookend win in Seattle.  But, alas, edge to Kelly on this important qualifier. 
Both Kelly and Bellotti took it to the Beavers their first three years as head coach.  Again, for those of you newly enamored of the Ducks, beating the Beavers was not always a sure thing (Hint: Find a chart and check out 1964-74, but only if orange doesn't blind you.)  This push shows that both coaches know which side their bread is buttered on.
How have Bellotti and Kelly fared in national AP rankings?  Anyone who has not spent the past three years trekking in the Himalayas will not be surprised that Kelly wins this one hands down. His AP high was No. 7 in 2009, No. 1 (!) in 2010 and No. 3 this year.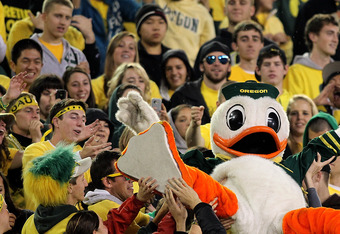 Jonathan Ferrey/Getty Images
Bellotti's team got as high as No. 10 in 1995 but only managed 25 in 1996, and couldn't break the AP Top 25 in 1997.  It is important to note here, however, that 13 of 14 Bellotti teams were, at some point in the season, ranked in the AP Top 25.  Will Chip meet or surpass that milestone?  Will Charlie Sheen live to see it?
All public employees in the state of Oregon (which includes University of Oregon employees) are eligible to participate in PERS, the Oregon Public Employees Retirement System.  Let's compare Kelly and Bellotti's pensions. 
Oh wait, Chip isn't drawing his yet as he is still employed.  For the sake of comparison then, I will compare Bellotti's monthly PERS benefit to what my mother, who worked at an elementary school in a rural Oregon community, earns from hers.  Bellotti gets $41,000 every month deposited in his bank account; my mother gets $330.58. 
Now, to be fair, Mom probably didn't do as much for economic development in the state as Mike did.  I'm sure it's equitable.