SEC Football: A Christmas Gift for Each Conference Team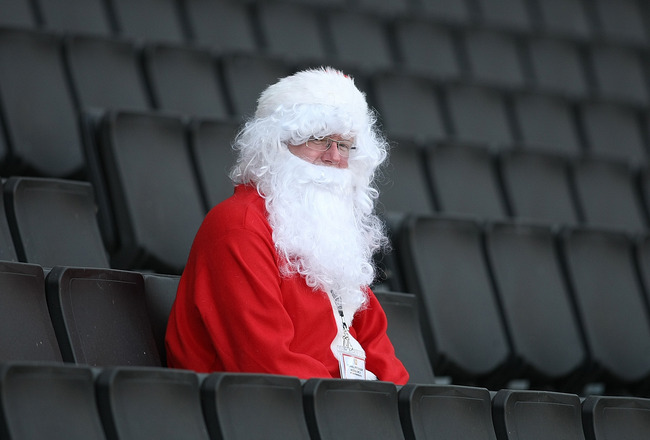 Pete Norton/Getty Images
As the 2011 SEC regular season fades into the bowl season, it is beginning to look a lot like Christmas.
In light of the season and in the spirit of giving, I am going to pick out a gift for each SEC program.
All of the teams need something for 2012, some just need more than others.
In this slideshow I will tell you what I have put under the proverbial Christmas tree for each Southeastern Conference program.
They are listed in order of my pre-bowl game power ranking of the SEC...
Ole Miss Rebels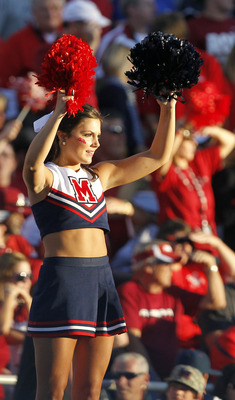 Butch Dill/Getty Images
For Ole Miss I have selected a new set of pom poms for its holiday gift.
After a train wreck of a 2011 season and a second straight year without no bowl invitation, the Rebel program and its fans need something to cheer about.
Ole Miss is welcoming in new head coach Hugh Freeze, the former head coach at Arkansas State, to replaced much-maligned head man Houston Nutt.
No one with the program should spend too much time looking back. Turn your eyes, and your new pom poms, to the future. If Freeze gets the job done, the Rebel faithful may actually have something to cheer about.
Tennessee Volunteers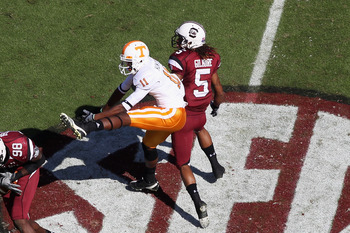 Streeter Lecka/Getty Images
Under the Volunteers' tree I am placing a first aid kit.
Throughout the season, Tennessee lost key members of its offense and defense.
Stud wideout Justin Hunter was leading the SEC in receiving after three weeks of play, averaging over 18 yards per catch, before being injured in week four and lost for the season.
Talented quarterback Tyler Bray also missed time this season, after breaking his thumb in the Georgia game.
On defense, Tennessee lost Herman Lathers before the season started. Lathers was Tennessee's second leading tackler in 2010 and was a big loss.
They also lost strong safety Brent Brewer, a starter for all eight games before hurting his knee.
While injuries are always a part of football, the Volunteers were hit harder than usual with the injury bug.
With these players healthy, Tennessee is more than likely preparing to play in a bowl game right now.
Kentucky Wildcats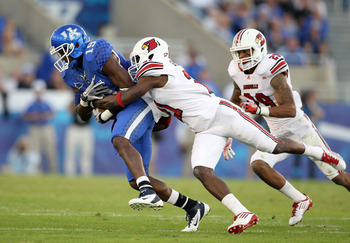 Andy Lyons/Getty Images
For Kentucky, I am giving the gift of a stud offensive lineman recruit.
The Wildcats gave up 35 sacks this season, ranking them least in the SEC in protecting the quarterback.
Young QB Max Smith is showing promise and needs more time in the pocket to effectively make his progressions and lead the offense.
Kentucky also struggled to run the ball with consistency and could use a big body to help clog up defenders and open running lanes.
Maybe I can stuff a big offensive tackle, like 4-star Omari Phillips (6'6", 270 pounds) from Venice, FL, into the Wildcats' stocking.
Vanderbilt Commodores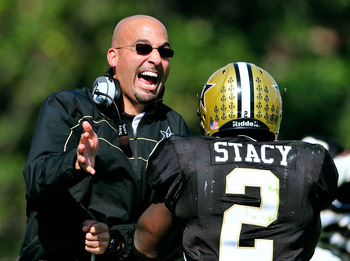 Grant Halverson/Getty Images
For Vanderbilt, and first-year head coach James Franklin, I am gifting 19 points.
Unfortunately, the Commodores can't use these points in the past; because if they could, Vanderbilt would be sitting here with a 10-2 record, a top 25 ranking.
In an impressive season in Nashville, even most of the losses were solid performances.
Vanderbilt lost by just five to Georgia, by just a field goal to Arkansas, by five to Florida and by just six to Tennessee.
Not too many teams in the nation could have played these four teams this close.
With a few more points, say 19, an already successful season could have been even more impressive.
Florida Gators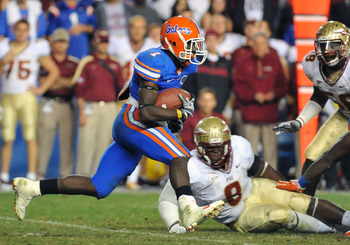 Al Messerschmidt/Getty Images
The Florida Gators offense struggled through another season this fall.
For Christmas, I will wrap up a big-play receiver for the Gators.
Ever since losing Percy Harvin to the NFL three seasons ago, Florida has been looking for a go-to wide out.
This season no wide receiver had more than 19 catches all season. A running back, Chris Rainey, leads the team with 28 receptions. The wide receiver group has been a disappointment for Florida for two straight seasons.
No matter who the Gators hire at offensive coordinator, they will need a big target to throw the ball to next season.
Gator fans would love to wake up Christmas morning to Dorial Green-Beckham under their tree. At 6'6", 220 pounds, the big wideout is the kind of target they need for their offense.
Mississippi State Bulldogs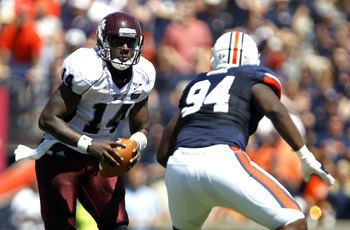 Butch Dill/Getty Images
This Christmas I am giving Mississippi State an elite quarterback.
Senior QB Chris Relf had a painfully disappointing 2011, passing for just nine touchdowns against seven interceptions and failing to generate consistent offense for the Bulldogs.
At mid-season, sophomore Tyler Wilson stepped in and showed promise at time. However, he completed just 53 percent of his passes and doesn't give State much of a vertical passing threat.
With third-string quarterback Dylan Favre transferring, Mississippi State is thin at the quarterback position.
To back up Wilson and potentially replace him, if the Bulldogs want to have any shot to challenge the top teams in the SEC West, I will give the program a blue-chip quarterback.
A guy like 4-star QB Anthony Alford from Petal, MS is a dual-threat quarterback with a strong arm and could be a nice holiday treat for the Bulldog fans.
Auburn Tigers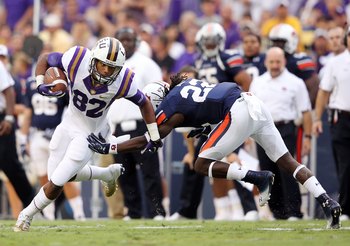 Jamie Squire/Getty Images
The defending national champions have a shot at an eight-win season with a win over Virginia in the Chick-fil-A bowl.
However, there is quite a bit of change happening on the Plains, and it is sure to be an interesting offseason for the Tiger program.
My gift, in a time where several changes are needed, is a top defensive coordinator.
While Auburn needs some key recruits to top off its top 15 ranked recruiting class and an offensive coordinator to replace departed Gus Malzahn, the defense was Auburn's main problem this past season and a top defensive coach is needed.
For Auburn, I will place Randy Shannon in my sleigh.
Georgia Bulldogs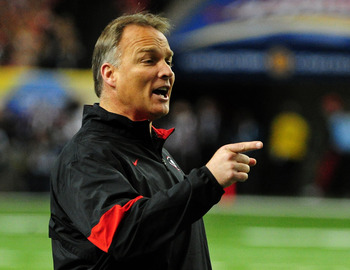 Scott Cunningham/Getty Images
I have purchased a new seat for Georgia.
The hot one has been thrown out. After a 0-2 start to the season, Georgia head coach Mark Richt was on a very hot seat, and many believed he would be fired.
However, the Bulldogs went on to win 10-straight games and the SEC East title to earn a spot in the SEC Championship Game.
Richt is now getting an extended contract in Athens and will need a new and cooler seat.
South Carolina Gamecocks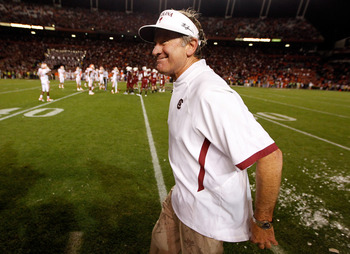 Streeter Lecka/Getty Images
For South Carolina's gift I am sending Steve Spurrier a new visor.
With all of the problems on and off the field with his quarterbacks, the coach famous for throwing down his visor in times of frustration must have dirtied his headgear of choice often this season.
Senior starting quarterback Stephen Garcia had off-the-field problems before the season and went on to make multiple mental errors in each of his starts.
Backup Connor Shaw replaced the problematic Garcia and struggled at times to make plays with his arm.
While Shaw was able to get the Gamecocks to 10 wins, it wasn't without many visor tosses from the Ole Ball Coach.
Arkansas Razorbacks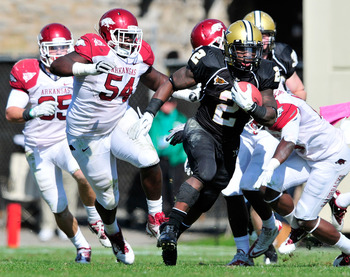 Grant Halverson/Getty Images
This holiday season I am giving Arkansas a pass-rushing linebacker.
The Razorback offense has been the strength of the team and looks set for a solid future. Defense is another story.
Arkansas is bringing in former Ohio State defensive coordinator Paul Haynes in to fix what has been and underwhelming Razorback defensive unit.
For Haynes and the Arkansas faithful, I will put a fast and athletic outside linebacker, maybe 4-star OLB Ben Brown from Florence, AL, under the Razorback tree.
Alabama Crimson Tide
Butch Dill/Getty Images
My Christmas gift for Alabama will be a new field goal tee.
Alabama missed 11 field goals this season, connecting on just 62 percent of their kicks.
As has been well documented, the Tide missed three crucial kicks in their only loss of the season. Losing by just three to LSU, theoretically those field goal misses cost Alabama the game.
Even with the misses and the loss, Alabama was able to make it into the BCS National Championship Game.
The questions now are will it come down to a field goal again, and will they make it?
Maybe the new tee, and the intense focus I am sure Nick Saban is putting on special teams during bowl practice, will help.
LSU Tigers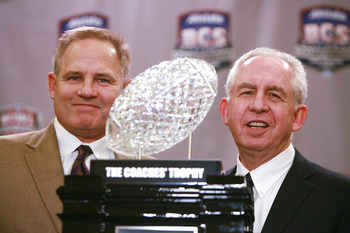 Doug Benc/Getty Images
This Christmas I am getting LSU a new trophy case.
They will need more space for the new hardware coming into town.
The 2011 SEC Championship trophy has already been earned by the Tigers, and I am projecting a national championship victory as well.
It could be a very merry Christmas and happy new year in Baton Rouge.
Keep Reading