Chad Ochocinco Finally Catches Something: A Dinner Bill
December 14, 2011
Chad Ochocinco still has it. He hauled in a perfectly thrown dinner bill on Tuesday night.
The Patriots' wide receiver and his fiance Evelyn Lozada took Emerson College's social media class out to dinner at the All Star Sandwich Bar.
If only there was a medium we could turn to in order to find out more about Ocho and a social media class dining together. Oh, surprisingly, Ocho tweeted all about it.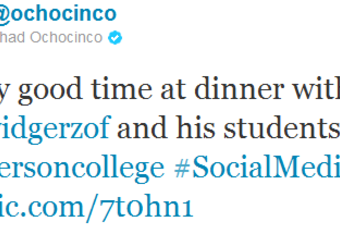 The class instructor also got in on the tweeting, and it appears that Mr. and soon to be Mrs. Ochocinco made a fine impression on the class' instructor, David Gerzof.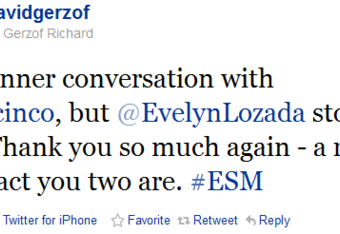 To accommodate this dinner, the sandwich shop appeared more than happy to turn themselves into a private domain.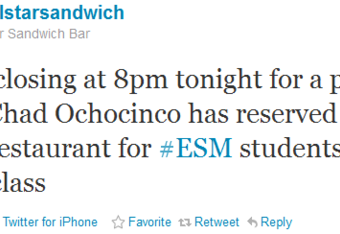 Gerzof has used Chad as an example to help teach his class on how to build your brand on Twitter. The class then reached out to Ocho on Twitter and ultimately got him to commit to being a guest teacher for the day.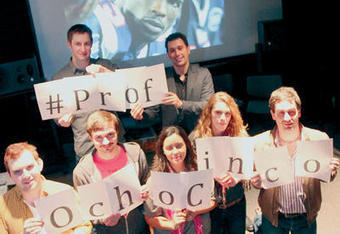 That turned into the dinner. And as you can see in this photo, Cinco has the posture down to be a college professor.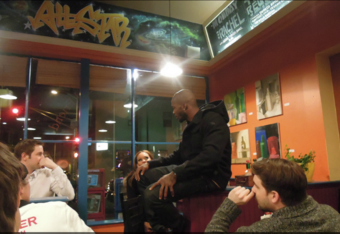 Steve Annear of Metro reported before the dinner took place that Chad planned on telling the class that the key to Twitter was to  "have fun with [what you tweet]."
He would also add that, "I have no filter, I say what's on my mind. It is somewhat frowned upon, but I say whatever it is I feel and deal with the consequences later. I hold no punches."
This was definitely a nice gesture on Chad's part, and he can now add a new activity a the top of his list of stunts. While it is frightening to ride a bull, that has nothing on the bravado it took to pay for the dinner bill of an entire college class.