Jo-Wilfried Tsonga: Looking Back and Ahead; Is He Ready to Battle the Big Four?
December 14, 2011
Clive Brunskill/Getty Images
I became an instant fan of Jo-Wilfried Tsonga as I watched his run in the Australian Open 2008. I've always had a preference for attacking tennis played with variety and touch and Tsonga did just that. 
When he, the 38th ranked player in the world at the time, bruised aside Rafael Nadal, of all players, 6-2, 6-2, 6-2 in a flawless semifinal display, I was sure I was looking at a future top five player.  
In a time where most players favour the long baseline rallies, Tsonga is a fresh input as he rushes to the net and pulls an exquisite drop volley on his opponents' passing shot. Needless to say, Tsonga is not all touch and subtle drop volleys. 
He is very much a power player and has a classic big serve that he can hit at 140 plus mph and a forehand that is just as big. The backhand is his weaker side, but just as Rafael Nadal he can fire bullets with it, when he chooses to. 
As flashy and powerful the big Frenchman is on the court, as kind and shy is he off it. Tsonga is not exactly timid in person, but he is certainly not brash and he has a boyish charm about him as he often breaks into a smile or grin after answering a question. 
The 2003 US Open junior champion has had to battle through injuries for his entire career. He didn't break into top 100 until he had turned 22, largely due to injuries. And even as he finally broke through with that Australian Open performance, injuries have still followed him. 
For a guy with his frame—he's 6-foot-2 and weighs about 200 pounds—injuries are hard to avoid on a tennis court. This year, though, Tsonga has been largely fortunate and quit his former coach with the goal of becoming more spontaneous on the court again.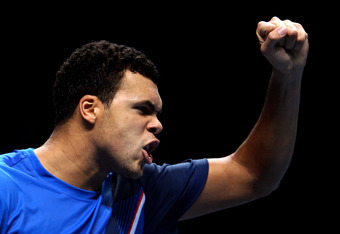 Julian Finney/Getty Images
So far, that move has paid dividends. So far, he's roared back from a position outside the top 15 to world No. 6, a repeat of his best ever ranking. 
He also did what no other man had ever done in a Grand Slam as he came back from a 2-0 in sets deficit against Roger Federer in the Wimbledon quarterfinal.  
He beat Federer again in Montreal and he beat Nadal on his way to the the final of the World Tour Finals. 
Now, at the age of 26, he is back as a true contender for the slams and the top spots.
Tsonga has the rare gift of being able to take the opponent out of the match, when he's playing at his best. He's one of the few players outside the Big Four, who can not only play with them, but beat any of the Big Four even when they are playing well. 
For that reason, he is one of the very few players outside the Big Four, who has a somewhat realistic chance of making a slam final let alone win it. 
What makes the quest hard is the incredible consistency among the Big Four. For any player outside the Big Four to win a slam these days, he would most likely have to beat at least two and possibly three of them. 
Take Robin Söderling at the French Open 2009 and 2010. He beat the world No. 1 both years, but lost to the world No. 2 in the finals. Take Tomas Berdych at the 2010 Wimbledon, where he beat Federer and Djokovic only to fall meakly to Nadal in the finals.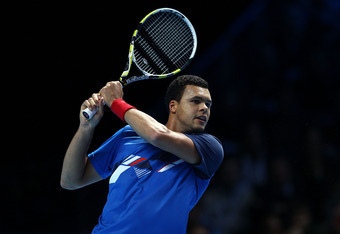 Julian Finney/Getty Images
Or take Tsonga at this year's Wimbledon and this year's US Open, where he would have had to beat Federer, Djokovic and Nadal in a row to claim the title. 
The only non Big Four player to successfully go through that hurdle is Juan Martin del Potro, who beat Nadal and Federer for his 2009 US Open title and got Marin Cilic instead of Andy Murray in the quarters. 
In this respect, Tsonga's slam prospects are not good.
But if he can have another injury-free year, there's a great chance that he can play the part of the spoiler to the Big Four in the slams just as he did against Federer at Wimbledon.
And if things go his way, maybe even make another slam final or even win one. His game is surely big enough to do it. 
And while his consistency and return of serve are not quite at the level of the Big Four, his aggressive, attacking game can make up for that, when he's firing on all cylinders.