2012 NFL Mock Draft: The Ideal Pick for Every Team
Chris Graythen/Getty Images
Another Sunday, and I have an updated 2012 NFL Mock Draft. The biggest changes this week are due to an adjustment in the draft order; teams such as the Tampa Bay Buccaneers, Cleveland Browns and Washington Redskins continue to lose games and move up in the order.
One player who continues to push up the board is Alabama's Courtney Upshaw. He is a potential fit for any 3-4 team looking to add an outside linebacker. At this point, the Buffalo Bills and San Diego Chargers appear to be likely landing spots.
USC's Matt Barkley remains slightly ahead of Baylor's Robert Griffin III, but the gap continues to close. On the other hand, Oklahoma's Landry Jones has seen his stock continue to drop.
No. 1 Indianapolis Colts: Andrew Luck, QB (Stanford)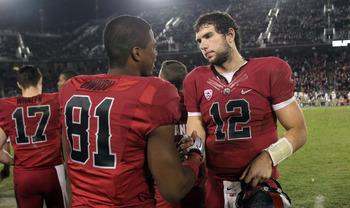 Ezra Shaw/Getty Images
Owning the top overall pick is a blessing and a curse. It allows a team to add the top available player, but it also forces their hand.
The Indianapolis Colts have to use this pick to select Stanford's Andrew Luck. Because of his talents, Luck is considered a once-in-a-decade prospect, and he gives the Colts their next great quarterback.
Peyton Manning appears to be working his way back to full strength, which puts Indianapolis in a tough situation. They need to decide if they are willing to move on without Manning or have Luck sit for a few years.
However, I don't pity the Colts; they have an opportunity to move from the Manning era right to Luck.
No. 2 St. Louis Rams: Jonathan Martin, OT (Stanford)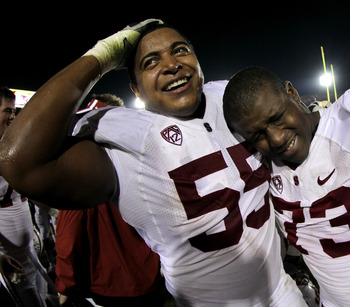 Stephen Dunn/Getty Images
The health and ineffectiveness of Jason Smith and Rodger Saffold will force the St. Louis Rams to address the tackle position early in the 2012 draft.
Stanford's Jonathan Martin is a fluid athlete who plays with balance and strength. Because of his quick feet, he excels at protecting the quarterback. Martin has a natural bend, which allows him to maintain leverage and push defenders off the line.
St. Louis needs to surround Sam Bradford with the proper pieces to succeed—this includes a steady offensive line that can provide him with good protection. Adding Martin allows the Rams to rotate Saffold to right tackle and Smith inside to guard, effectively improving several offensive line slots.
No. 3 Minnesota Vikings: Matt Kalil, OT (USC)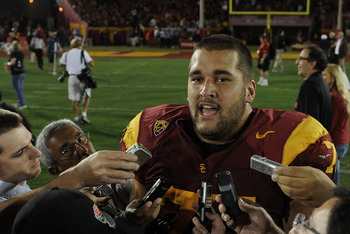 Harry How/Getty Images
USC's Matt Kalil has officially entered the 2012 NFL Draft, and should be a Top Five selection.
The Minnesota Vikings lack an elite left tackle, which is a role that can be filled by Kalil.
Because of his combination of size and athleticism, Kalil could become an All-Pro left tackle. His long arms, quick feet and balance allow him to effectively protect the quarterback. In the running game, Kalil uses leverage and a strong leg drive to move defenders off the line.
The Vikings were forced to start an Indianapolis Colts castoff, Charlie Johnson. He is best-suited for a backup role or a shift inside to guard. The left tackle position's importance means that it cannot be filled by a below-average player.
Many have Kalil rated ahead of Jonathan Martin, but I have a different opinion.
Martin is a more fluid athlete and better equipped to handle the NFL speed-rushers. He also possesses better change-of-direction abilities, which help him adjust to counter moves. Both players are terrific prospects and are only separated by some minor details.
No. 4 Carolina Panthers: Morris Claiborne, CB (LSU)
Scott Cunningham/Getty Images
The weakness of this Carolina Panthers team is their defense, which lacks playmakers.
LSU's Morris Claiborne is an exceptional talent who constantly makes game-changing plays. His ability to lock down a receiver provides the defensive coordinator with a lot of options.
However, Claiborne's biggest contribution is his ability to create turnovers. Because of his ball skills, he is always a threat to pull down an interception.
Selecting in the early part of the draft forces a team to consider value, as some players are not worthy of this selection. Top Five picks need to make a major impact, and missing on an early pick could set a franchise back.
Carolina needs defensive tackle help more than they need a cornerback, but picking one here would be a reach.
No. 5 Washington Redskins: Matt Barkley, QB (USC)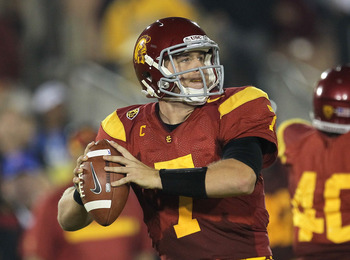 Stephen Dunn/Getty Images
Matt Barkley's steady and consistent play makes him a safe pick.
The Washington Redskins need a young quarterback who is able to immediately contribute.
Barkley fits that description, as he gained a ton of experience at USC. His time at USC involved running a pro-style offense, which will help his transition. However, his ability to accurately locate the football is what will allow him to make an immediate impact.
Washington has gone through three starting quarterbacks in the last two years. At one point, Mike Shanahan felt that Donovan McNabb, Rex Grossman and John Beck were the answer to his quarterback problems. However, all three have disappointed and left the Redskins searching for answers.
Barkley fits the Redskins' win-now mode, while Baylor's Robert Griffin III might take some time to develop.
No. 6 Cleveland Browns: Justin Blackmon, WR (Oklahoma State)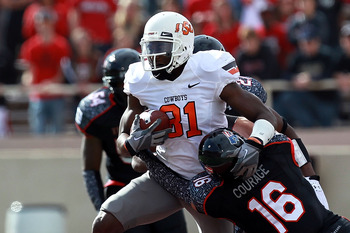 Ronald Martinez/Getty Images
The Cleveland Browns don't need a new quarterback—they need playmakers on the outside.
Oklahoma State's Justin Blackmon knows how to light up a scoreboard, scoring 35 touchdowns the past two seasons. He is a big target capable of making the tough catch in traffic. Because of his size and leaping ability, he is a great addition for a developing quarterback.
Colt McCoy hasn't solidified himself as the long-term answer at quarterback. However, a lot of that has to do with a lack of weapons. His top target, Greg Little, leads the NFL with 12 dropped passes, and McCoy also dealt with the absence of Peyton Hillis.
Providing McCoy with a reliable target like Blackmon would provide him with the pieces needed to succeed.
Cleveland might feel the need to replace McCoy. If that is the case, they will target USC's Matt Barkley or Baylor's Robert Griffin III.
No. 7 Miami Dolphins: Robert Griffin III, QB (Baylor)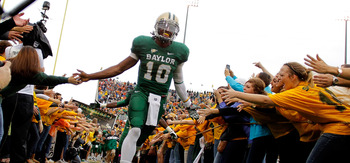 Sarah Glenn/Getty Images
Baylor's Robert Griffin III will be the second-most coveted prospect in the 2012 NFL Draft. Griffin III's potential is sky-high, arguably higher than Cam Newton's was at this time last year.
The Miami Dolphins lack a face of the franchise—a role Griffin III will easily fill.
Griffin III is not just a terrific athlete, he is a quarterback. His accuracy allows him to efficiently operate a game plan. Griffin III loves to push the ball down the field and pressure the secondary. He takes risks, but he still makes sound decisions.
Miami's offense looks a lot better with Griffin III under center, and he would complement current stars such as Reggie Bush and Brandon Marshall.
No. 8 Jacksonville Jaguars: Quinton Coples, DE (North Carolina)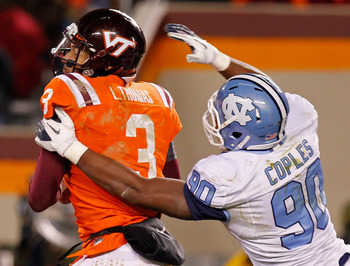 Geoff Burke/Getty Images
The Jacksonville Jaguars could greatly improve their defense by adding a legitimate pass-rushing threat.
North Carolina's Quinton Coples possesses the quickness and balance needed to generate pressure. His quick first step allows him to fire off the ball and attack the edge.
And Coples isn't just a pass-rusher—he also does a good job holding up against the run.
Jacksonville spent a lot of resources attempting to bolster their pass-rush, including the addition of Aaron Kampman and the drafting of Derrick Harvey. However, neither of those additions panned out. Coples is capable of stepping in and making an immediate impact.
No. 9 Tampa Bay Buccaneers: Alshon Jeffery, WR (South Carolina)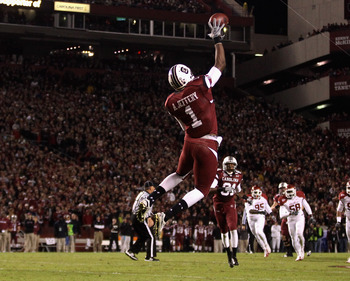 Streeter Lecka/Getty Images
The Tampa Bay Buccaneers need a game-changer who is capable of winning in one-on-one situations.
South Carolina's Alshon Jeffery uses his size and leaping ability to put pressure on the defense. His skill set allows him to be especially effective in the red zone.
Josh Freeman's top target is Mike Williams, who has had two productive seasons. However, the lack of other playmakers puts a ton of pressure on Williams. The addition of Jeffery would draw coverage away from Williams, while also providing Freeman with another target.
Tampa Bay could also target some defensive help—possibly a linebacker like Arizona State's Vontaze Burfict.
No. 10 Kansas City Chiefs: Trent Richardson, RB (Alabama)
Kevin C. Cox/Getty Images
Alabama's Trent Richardson works tirelessly to be a big-time playmaker. His ability to pick up the tough yardage and break off a long run makes him a complete player.
The Kansas City Chiefs need explosive players on the offensive side of the football, and Richardson will provide them with a player capable of putting points on the board.
Jamaal Charles will be back next season, but he isn't capable of carrying the load. The tandem of Charles and Richardson is one every team will fear. Both players are versatile enough that they can even be on the field at the same time.
The Chiefs might also consider drafting a quarterback if the new coaching staff doesn't buy into Matt Cassel. Oklahoma's Landry Jones is the top remaining quarterback on the board.
However, if the Chiefs decide to target a quarterback, look for them to trade up.
No. 11 Buffalo Bills: Zach Brown, LB (North Carolina)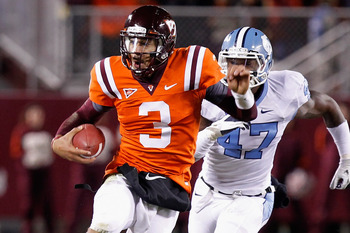 Geoff Burke/Getty Images
The Buffalo Bills' defense has the least amount of sacks in the entire NFL. Their lack of a pass-rush puts a lot of pressure on the entire team.
North Carolina's Zach Brown possesses the quickness and tenacity needed to develop into a top-level pass-rusher. Brown fits in as an outside linebacker who can rush the passer, stuff the run and drop into coverage.
Chris Kelsay and Spencer Johnson have combined for three total sacks. That lack of production is unacceptable from the outside linebacker position. Buffalo hoped Shawne Merriman's injury problems were behind him and he would provide a pass-rush. But he has been unable to remain healthy, which makes this position a major need.
Alabama's Courtney Upshaw potentially could land in this spot. He and Brown will be fighting for the right to be the first linebacker selected.
No. 12 Philadelphia Eagles: Riley Reiff, OT (Iowa)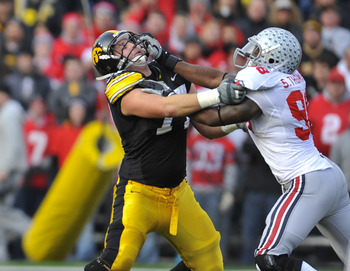 David Purdy/Getty Images
The Philadelphia Eagles have a need at the right tackle position, and Andy Reid isn't afraid to select an offensive lineman in the first round.
Iowa's Riley Reiff emerged as a legitimate Top 15 prospect and the No. 3-rated offensive tackle. His quickness makes him an ideal candidate to play left tackle, but he also fits on the right side.
Philadelphia's offensive line has received a lot of criticism this season. They struggled to protect Mike Vick, which resulted in a few injuries for the quarterback. Left tackle Jason Peters is an All-Pro, but continually struggles with injuries. The addition of Reiff would improve the right side of the line, but it will also provide a capable replacement for Peters.
Adding a linebacker is also a possibility for the Eagles' first-round selection. Boston College's Luke Kuechly or Arizona State's Vontaze Burfict are the top middle linebacker prospects.
No. 13 Arizona Cardinals: Courtney Upshaw, LB (Alabama)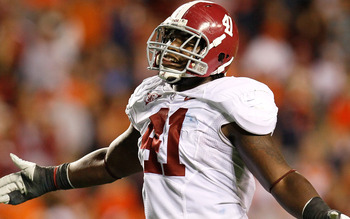 Kevin C. Cox/Getty Images
Alabama's Courtney Upshaw possesses the versatility to fit any defensive system, but he is an ideal fit for a 3-4 system. The Arizona Cardinals need someone capable of rushing the passer and setting the edge against the run.
Upshaw fits the needs of the Cardinals' defense.
Sam Acho has done a nice job this season and appears to be a keeper. At the age of 34, Clark Haggans is slowing down and needs to be replaced. The combination of Acho and Upshaw would enhance the play of the entire defense.
Arizona could also look to bring in some help along the offensive line. Iowa's Riley Reiff would be a great addition.
No. 14 Seattle Seahawks: Landry Jones, QB (Oklahoma)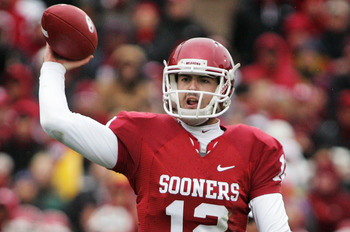 Brett Deering/Getty Images
Oklahoma's Landry Jones possesses the physical tools needed to be an elite quarterback. His arm strength allows him to attack all parts of the field.
The Seattle Seahawks need a quarterback capable of winning games on his own, and Jones provides them with a potential game-changing quarterback.
Tarvaris Jackson is playing decent football, but he possesses limited upside. Jackson would be the perfect mentor for Jones, who needs a few seasons to develop. While in Minnesota, Jackson went through a tough situation (Brett Favre) and handled it like a pro; this is the type of leadership that a young quarterback needs to witness.
The Seahawks could also look at bringing in secondary help. Alabama's Dre Kirkpatrick would really bolster Seattle's defense.
No. 15 San Diego Chargers: Vontaze Burfict, LB (Arizona State)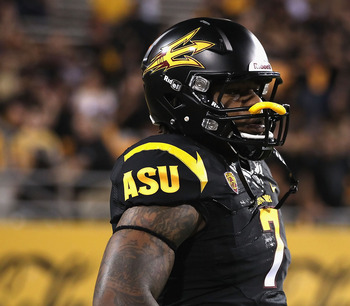 Christian Petersen/Getty Images
Arizona State's Vontaze Burfict is an electric football player who loves to deliver punishing hits.
The San Diego Chargers need a defender who can strike fear in to an offense, and Burfict's tenacity helps him make plays all over the field. He doesn't just rack up tackles—he also has good blitz timing.
San Diego could use Burfict at either inside or outside linebacker. He would be able to replace Takeo Spikes, Donald Butler or Travis LaBoy; ideally, Burfict would be able to fill in for LaBoy and provide some pressure off the edge.
The Chargers also have needs along the offensive line. Iowa's Riley Reiff or Stanford's David DeCastro would immediately upgrade the unit.
No. 16 Chicago Bears: Michael Floyd, WR (Notre Dame)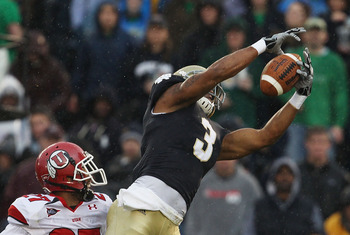 Jonathan Daniel/Getty Images
The Chicago Bears lack offensive fire power, especially at the wide receiver position. Jay Cutler is forced to rely on the unreliable Roy Williams as his lone receiver with size.
Notre Dame's Michael Floyd would provide Chicago with a playmaker on the outside, and his combination of size and quickness will immediately improve the entire Bears' offense.
Chicago's receiving corps consists of smaller targets who possess speed. However, their lack of size puts pressure on Cutler to always be accurate. Floyd's ability to out-jump defensive backs will allow for completions even if Cutler is off-target.
Adding an offensive tackle like Ohio State's Mike Adams is another option for the Bears. They need someone capable of stabilizing the left tackle position.
No. 17 Cincinnati Bengals (from OAK): Dre Kirkpatrick, CB (Alabama)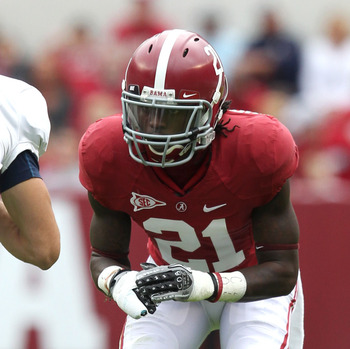 Mike Zarrilli/Getty Images
Alabama's Dre Kirkpatrick will be the second cornerback off the board behind LSU's Morris Claiborne. Kirkpatrick provides the defense with a physical corner who excels at disrupting the timing of a receiver's route.
Cincinnati would love to add a talented cornerback to replace Johnathan Joseph.
The Bengals lost Joseph in free agency to the Houston Texans. They decided to bring in Nate Clements as a replacement, but he is only a short-term solution. Kirkpatrick would join Leon Hall to form one of the top cornerback tandems in the league.
Cincinnati potentially could add another offensive playmaker. Andy Dalton's development surprised everyone, but he still could use some more offensive weapons. Notre Dame's Michael Floyd or Miami's Lamar Miller are potential targets.
No. 18 Dallas Cowboys: Alfonzo Dennard, CB (Nebraska)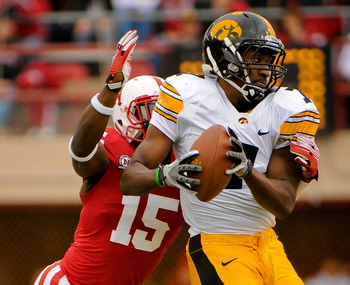 Eric Francis/Getty Images
The Dallas Cowboys' secondary can no longer be counted on to shut down their opponents' passing attack. Mike Jenkins and Terrence Newman have been inconsistent at best, making adding a cornerback one of their top priorities.
Nebraska's Alfonzo Dennard possesses the skill set to step in and make an immediate contribution.
Dennard is a physical cornerback who loves to play close to the line of scrimmage. His ability to quickly close on the football makes him an ideal fit for a zone scheme. However, he also possesses strong bump-and-run skills. He has the potential to develop into a true shutdown cornerback.
Wisconsin's Peter Konz is another option for the Cowboys' first-round pick. He would provide an immediate upgrade at the center position.
No. 19 Tennessee Titans: Brandon Thompson, DT (Clemson)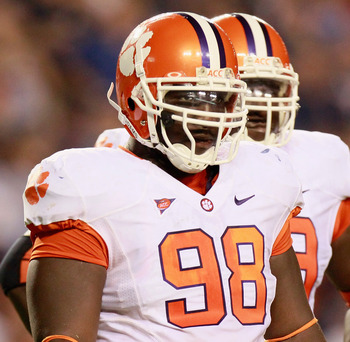 Kevin C. Cox/Getty Images
Clemson's Brandon Thompson boasts Top 15-type talent and could go much higher than this spot. The Tennessee Titans will be very happy if Thompson falls into their laps at No. 19. He immediately upgrades the interior of their defensive line, and his ability to occupy blockers also helps the linebacking corps flow to the football.
Adding Thompson alongside Jurrell Casey gives Tennessee a strong inside presence. Both are capable of occupying blockers, as well as collapsing the pocket. Thompson will command double-teams, which will provide Derrick Morgan with some one-on-one opportunities.
The Titans might look to bring in a playmaking wide receiver, and they need someone opposite Kenny Britt to help stretch the field. Baylor's Kendall Wright would be a nice fit in the Titans' offense.
No. 20 Cincinnati Bengals: David DeCastro, G (Stanford)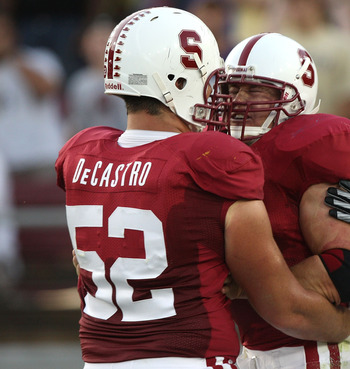 Jed Jacobsohn/Getty Images
The Cincinnati Bengals need to find a long-term replacement for guard Bobby Williams; at the age of 35, Williams is approaching the end of his career.
Stanford's David DeCastro possesses the skill set necessary to step in and make an immediate impact. His experience in Stanford's pro-style offense will assist his transition to the next level.
Cincinnati has several key pieces in place, but they need to make sure they have a steady offensive line. Adding DeCastro to the unit will improve both the running and passing attacks. The Bengals play in a division with the Pittsburgh Steelers and Baltimore Ravens, who excel at controlling the line of scrimmage. Any hope for success will depend on the play in the trenches.
Miami's Lamar Miller is also a possibility here as a replacement/complement for Cedric Benson.
No. 21 Denver Broncos: Devon Still, DT (Penn State)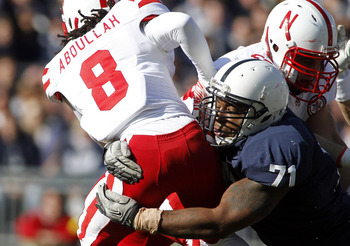 Justin K. Aller/Getty Images
The Denver Broncos are winning football games because of their strong defensive play. Their defensive success comes from their ability to create pressure, and Penn State's Devon Still would help increase the disruption of the Broncos' defense. He spent the majority of his season in opponents' backfields, disrupting the timing of the offense.
Denver has Brodrick Bunkley at one of the defensive tackle spots, but he doesn't possess the ability to penetrate. Bunkley excels at occupying blockers, allowing the linebackers to cleanly flow to the football.
Still's ability to penetrate would be the perfect complement to Bunkley. Opposing offenses will struggle to keep Still, Von Miller and Elvis Dumervil out of their backfield.
No. 22 New York Giants: Luke Kuechly, LB (Boston College)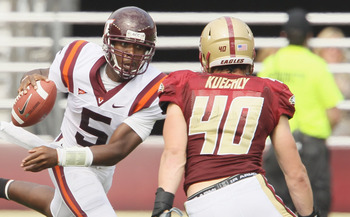 Elsa/Getty Images
The New York Giants' middle linebacker situation has been a sore spot since the retirement of Antonio Pierce. Boston College's Luke Kuechly possesses the ability to step in and start from Day 1. He is an instinctual linebacker, excelling at reading the keys of the offensive line, and he will immediately contend to for the team lead in tackles.
This season, New York was forced to start the likes of Chase Blackburn, Greg Jones and Mark Herzlich. None of these players showed enough to lock down the future starting position. Kuechly possesses more upside than all the current linebackers on the roster.
New York also needs to address the offensive line. Wisconsin's Peter Konz, Stanford's David DeCastro and Ohio State's Mike Adams are all possible selections.
No. 23 Detroit Lions: Janoris Jenkins, CB (North Alabama)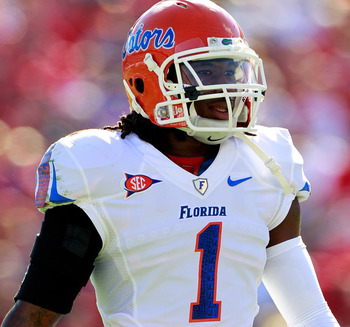 Sam Greenwood/Getty Images
North Alabama's Janoris Jenkins excels at reading the eyes of the quarterback and breaking on the football. His instincts allow him to jump a route and create turnovers.
The Detroit Lions need a cornerback capable of making big plays. Because of his ball skills, Jenkins has the ability to pull down more than a few interceptions.
Current starters Chris Houston and Eric Wright provide steady but unspectacular play. Both benefit from Detroit's pass-rush, which limits the amount of time they need to be in coverage. Jenkins would be an immediate starter in this defense. The combination of his ball skills and the Lions' pass-rush could provide some explosive plays.
No. 24 Houston Texans: Kendall Wright, WR (Baylor)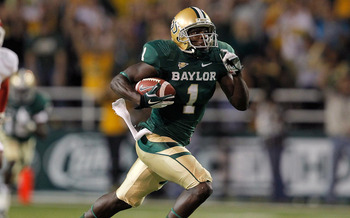 Sarah Glenn/Getty Images
Baylor's Kendall Wright exploded onto the scene this season as a potential game-changing receiver. Wright excels at stretching the field and gaining yards after the catch. The Houston Texans desperately need to add a game-changer opposite Andre Johnson.
Houston's offense has dealt with a wide array of injuries to several superstars. Andre Johnson, Arian Foster and Matt Schaub have all missed time this season. Johnson's injury might be the most concerning because it is now consecutive seasons where he has missed significant time.
The selection of Wright isn't only to complement Johnson but also a potential replacement.
No. 25 New York Jets: Melvin Ingram, DL/LB (South Carolina)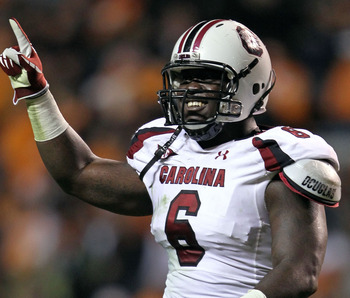 Andy Lyons/Getty Images
Rex Ryan's ability to develop defensive schemes to fit his personnel makes the New York Jets' defense dangerous.
However, this unit could use another edge-rusher who can consistently bring pressure.
South Carolina's Melvin Ingram possesses the quickness to attack the edge and generate a pass-rush.
Ingram is a terrific athlete who boasts extreme versatility. At South Carolina, Ingram has lined up at outside linebacker, defensive end and defensive tackle. He possesses the potential to fill many different roles and be a four-down player.
New York might also address the offensive line, more specifically right tackle. Georgia's Cordy Glenn is a potential target at this point in the draft.
No. 26 Cleveland Browns (from ATL): Cordy Glenn, OL (Georgia)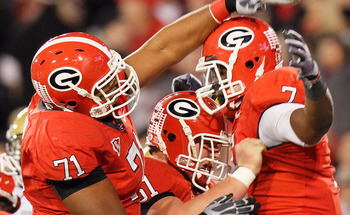 Kevin C. Cox/Getty Images
The Cleveland Browns' offense is one of the worst in the entire NFL. They lack explosive playmakers and strong offensive line play.
Georgia's Cordy Glenn possesses the versatility to fill several spots along the offensive line. His best fit is at either guard or right tackle, but he can fill in at left tackle in a pinch.
Joe Thomas owns the left tackle job, but adding Glenn on the right side would improve the play of the whole unit. The combination of Thomas and Glenn gives the Browns one of the top tackle tandems in the league.
Earlier in this mock, Cleveland used their first pick to select wide receiver Justin Blackmon. If the Browns decide to go quarterback with that selection, a wideout like Baylor's Kendall Wright would make sense here.
No. 27 New England Patriots: Mark Barron, S (Alabama)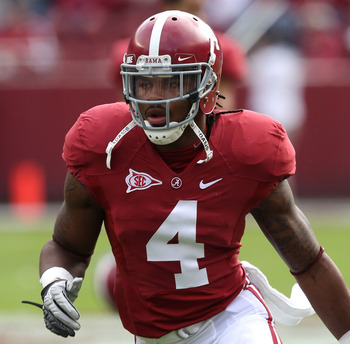 Mike Zarrilli/Getty Images
Alabama's Mark Barron is the lone first-round safety option. His strong play versus the run and pass is what makes him a first-round prospect.
The New England Patriots need a lot of help on the defensive side of the ball, especially in the back-end. Barron's experience against top-level competition in the SEC will help with his transition to the NFL. Bill Belichick knows how to utilize versatile players like Barron, so except to see several blitz packages designed to take advantage of Barron's skill set.
No. 28 San Francisco 49ers: Peter Konz, C (Wisconsin)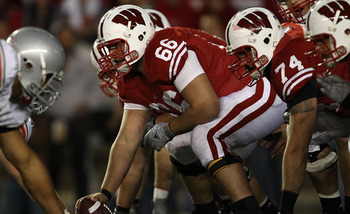 Jonathan Daniel/Getty Images
Jim Harbaugh knows that the strength of his team is the defense and rushing attack. He brought his run-heavy offense with him from Stanford, an offense that requires strong offensive line play. The San Francisco 49ers need to find a long-term replacement for center Jonathan Goodwin.
Wisconsin's Peter Konz possesses all the skills needed to be an elite center.
Konz's size,strength and smarts make him the complete offensive line prospect. He is capable of making all the offensive line calls, as well as winning one-on-one situations. The 49ers can rest easy knowing Konz is in the middle of their offensive attack.
No. 29 Pittsburgh Steelers: Stephon Gilmore, CB (South Carolina)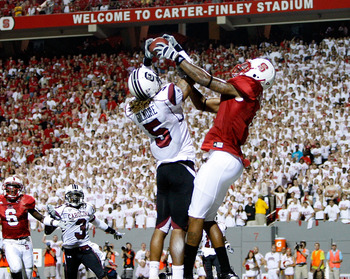 Streeter Lecka/Getty Images
The Pittsburgh Steelers need to add young talent on the defensive side of the ball. This unit remains very effective, but they are starting to show signs of their age.
South Carolina's Stephon Gilmore provides good coverage ability and physical play. He would be an upgrade over William Gay and a long-term replacement for Ike Taylor.
Because of his ball skills, Gilmore provides the Steelers with another playmaking defensive back. He is capable of capitalizing on the hurried throws created by Pittsburgh's pass-rush. The Steelers have utilized several draft choices to upgrade their front seven and now need to focus on the secondary.
Another potential draft focus could be help along the offensive line. Ohio State's Mike Adams would be an upgrade over the current offensive tackles.
No. 30 New England Patriots (from NO): Whitney Mercilus, DE (Illinois)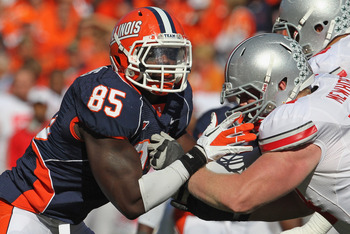 Jonathan Daniel/Getty Images
Illinois' Whitney Mercilus possesses the versatility needed to play for a Bill Belichick-coached team. He potentially fits at either defensive end or outside linebacker, depending on the scheme. The New England Patriots' lone pass-rushing threat is the 32-year-old Andre Carter.
Belichick needs to figure out what type of defensive system he wants to employ. However, adding Mercilus lessens the urgency of that decision because of his athleticism, multiple systems and positions.
However, his best skill set is his ability to rush the passer.
No. 31 Baltimore Ravens: Mike Adams, OT (Ohio State)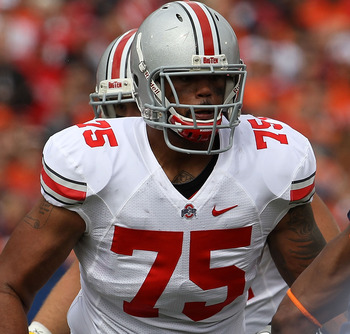 Jonathan Daniel/Getty Images
The Baltimore Ravens' sustained success is thanks to the play of their defense and offensive line. They focus on winning the battle in the trenches, which depends on strong line play.
Ohio State's Mike Adams will provide the Ravens with a long-term answer at left tackle.
During the offseason, Baltimore added veteran Bryant McKinnie to step in and replace Michael Oher at left tackle. This personnel decision makes me believe that they don't see Oher as a legitimate left tackle. Because of his quick feet and balance, Adams projects as a left tackle in the NFL.
I could also see the Ravens targeting a center like Wisconsin's Peter Konz as a long-term replacement for Matt Birk.
No. 32 Green Bay Packers: Ronnell Lewis, LB (Oklahoma)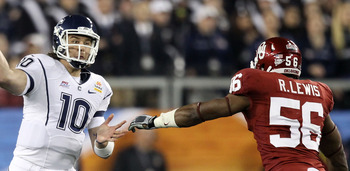 Christian Petersen/Getty Images
Last season, the Green Bay Packers used a combination of Aaron Rodgers and defensive pressure to win the Super Bowl. Rodgers has continued to shine, while the pass-rush hasn't equaled last season's production.
Oklahoma's Ronnell Lewis possesses the skills needed to generate pressure.
Opposing offenses are placing a lot of focus on stopping Clay Matthews, which is why Green Bay needs another edge-rusher. Eric Walden has only contributed three sacks this season, a number Lewis can easily surpass. The addition of Lewis will force offenses to rotate some protection to his side of the field and ease up the focus on Matthews.
Green Bay could also use some help at the defensive end position. Connecticut's Kendall Reyes would be a good fit for the 5-technique.
Keep Reading