Nick Diaz and the 13 Strangest Personalities in MMA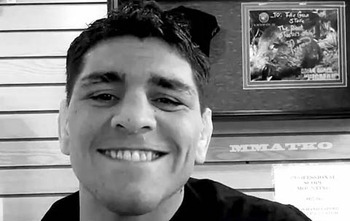 In the MMA world, there are fighters who captivate the interest of the fans thanks to their charm and skill displayed come fight time.
While fighters like Nick Diaz are as talented as they come, even the Stockton fighter has had some head-scratching moments that only help build his legend, thanks to his colorful and quirky ways.
13. Josh Barnett
"I plan to rank him amongst the dead, not amongst the living...by tearing him limb from limb, biting, clawing—ripping flesh from his body."
I know who I want to call when the world ends.
12. Brock Lesnar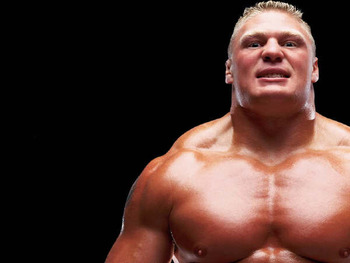 Frank Mir had a horseshoe up his ass. I told him a year ago. I pulled it out and I beat him over the head with it...I'm going to drink a Coors Light. That's right a Coors," as he looked down at the Bud Light logo on the mat. Bud Light don't pay me nothing. I may even get on top of my wife tonight.
Just one of the many memorable quotes from the enigmatic heavyweight, who's used his pro wrestling-esque skills to successfully transition himself to the mixed martial arts world.
11. Tom Lawlor
It's become ritualistic now for the colorful Tom Lawlor to come up with elaborate schemes for both the weigh-in ceremonies and his entrances into the Octagon.
Thoughtful and hilarious.
10. Phil Baroni
"The New York Badass" has always been a big fan of himself.
The self-proclaimed "greatest eva" has been in and out of the UFC for the better part of his career, though he's probably most well known for his loud and abrasive demeanor. Oh, and also maybe drinking cobra blood.
9. Steven Seagal
The self-proclaimed inventor of the infamous front-kick that both Anderson Silva and Lyoto Machida have utilized in the past, Steven Seagal has parlayed his skills form the screen to the cage.
He catches a lot of flack, but I think we all know that Steven Seagal is the single most important aspect in the success of Anderson Silva's career.
8. Diego Sanchez
There isn't another Diego Sanchez, and there probably never will be.
He's like a welterweight version of Tony Robbins, if Robbins could actually fight.
7. Jason Miller
Some of Miller's past times are walking on the beach, playing backgammon and scaring the crap out of EA MMA game developers.
6. Kazushi Sakuraba
Kazushi Sakuraba rose to prominence in his native Japan, not just because he was an amazing fighter who defeated several notable Gracie fighters, but because of the strange and quirky antics that he deems perfectly normal.
Whether it were in a ring in front of thousands of people or in the comfort of his own home by himself, Sakuraba would be completely comfortable doing things of this nature on an everyday basis.
5. Chael Sonnen
Easily the most candid man to put in front of a camera, there is never a dull moment when you're in the presence of the infamous Chael Sonnen.
Whether it's his besmirching remarks at the expense of Wanderlei Silva, Anderson Silva or the touted Nogueira brothers, Sonnen never leaves a dull moment, but he will leave a dull interview kind of like what he does here opposite of Michael Landsberg of "Off The Record."
Walk-off begins at 9:36
4. Yuichiro Nagashima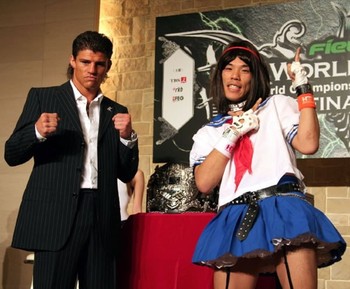 Can you tell which one is Nagashima?
The touted K-1 star is a talented kickboxer and holds a knockout victory over lightweight great Shinya Aoki under a mixed rules bout.
However, if you didn't already notice, Nagashima has a bit of a cross-dressing stretch that dates back to the early days of his career. Press conferences and in his walk to the ring, you will always see this Japanese star adorning some colorful hair and a tremendous skirt to boot.
3. Wes Sims
Easily the craziest and most colorful heavyweight fighter out there, what Sims loses in natural athleticism and skill he more than makes up for with his quick wit.
Wes Sims doesn't belong in MMA, the man was born for the WWE.
2. Nick Diaz
Nick Diaz is a boss, and if you've forgotten that, than you need to look no further than his interview with MMAFighting.com, where he was honest enough in suggesting that the reporter should endure a "slap" of sorts.
Than, as Diaz usually does, he wont on a long and drawn out diatribe about who knows what.
1. Viacheslav Datsik
Besides his obvious martial arts talent, Datsik is high and above the strangest man to ever grace a ring or a cage. Though he will always be remembered as the first man to defeat future UFC champion Andrei Arlovski, via knockout no less, he is perhaps more well known as a loose cannon.
A vehement anti-semitist, anti-Christian, anti-government supporter, Datsik has been declared to suffer form schizophrenia, thanks to his outlandish claims that have likened Jesus to an intelligence agent of Israel.
To boot, Datsik has also been arrested on several occasions, robbing phone stores and wielding several hand guns, eventually turning himself into Norwegian police after illegally crossing the border from his native Russia, just after escaping from a low-level mental institution.
Keep Reading