NFL: 5 Reasons Why Tim Tebow and TebowMania Is Nothing to Be Excited About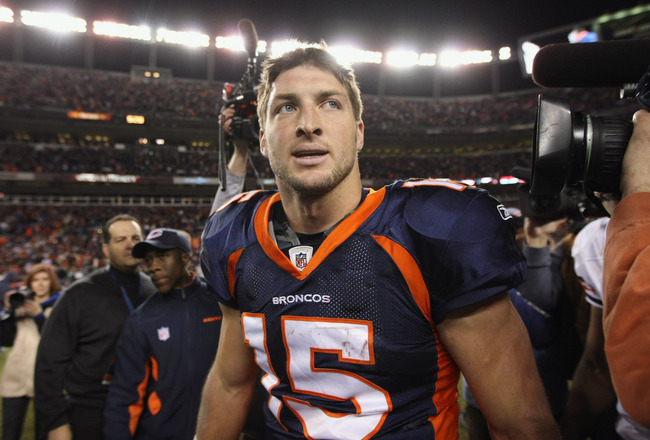 Tim Tebow has created excitement in Denver.
Doug Pensinger/Getty Images
Tim Tebow is the current hot topic of the NFL and ESPN.
Tim Tebow has the Broncos on a six-game win streak. Tim Tebow dominates the fourth quarter. These are the statements floating around in the world of the NFL.
Tebow has a 7-1 record currently as the Denver Bronco's quarterback. After starting 1-4, Denver has turned their season around and people in Denver say its all because of Tebow.
TebowMania is in full effect in Denver and with his fans around the country.
In a bit I saw last night on SportsCenter, it was said that Tim Tebow's legacy could rival that of John Elway's!
Wait, what?
Really?
So Tim Tebow being 7-1 as a starting quarterback makes him instantly have a legacy?
John Elway, who won two Super Bowls as Denver's starting quarterback, earned himself a legacy in Denver.
Apparently, now in Denver a legacy now starts after a 7-1 record as a starter. Wow.
Denver fans, you have a right to be excited. Your team is likely headed to the playoffs with Tim Tebow as your starting quarterback. But in the long run, all this hype may come back to blow up in faces of Broncos and Tebow fans throughout the country.
5. Weak Play in Quarters 1 Thru 3.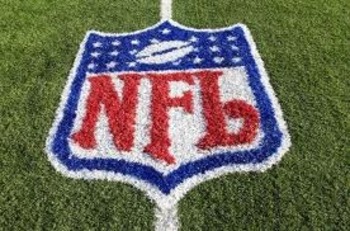 NFL games consist of 4 fifteen minute quarters.
Tim Tebow has been great in the fourth quarter. No one can argue that point, even if they tried.
All the analysts and fans are talking about how he knows how to dominate the fourth quarter. Quite frankly this, is a very valid point.
However, so is stating that an NFL game is four quarters, not one!
Tebow needs to learn how to play consistently during the course of the whole game.
All it's going to take is for the magic of Denver's defense to run out, allowing a solid offensive team to open up a big lead in the first three quarters. Then, it won't be so easy for Tebow to create another miracle comeback.
4. Overhyped Media Coverage

The media has overhyped Tim Tebow over the past couple of years.
In the world of sports news, when a new story breaks it is repeated for days and days.
The story of the success of Tim Tebow as the Denver starting quarterback this season is no different. I remember the good old days of being able to watch ESPN and hearing different opinions on different topics going on in the NFL.
Most would say its not Tim Tebow's fault as it's just the media choice.
I beg to differ.
In my opinion, Tim Tebow craves the spotlight. Tebow constantly praises his faith. Even going back to his days playing at the University of Florida with the famous image of John 3:16 on Tebow's eye black. I'm sure Tebow would say it's just him expressing his faith.
Let me point out.
There is absolutly nothing wrong with having your religous views and being vocal about them.
However, whether it is intentional or not, the way Tim Tebow constantly is vocal about his faith during games and in interviews is one thing that irritates many NFL fans.
Tim keep your views to yourself and go play the game you love. Stop using the media to try and promote your views.
Look at future Hall of Fame quarterback Kurt Warner, a devout Christian. He never used the media to bolster his views as Tebow does.
The point is this. For some reason, the media suckers into it, which allows for more time for the media to talk about Tebow.
Constant coverage from the media about Tebow has left many people who don't follow the NFL on a regular basis to believe that Tim Tebow is the next Peyton Manning when that is not the case.
The hype the media provides Tim Tebow with takes away from coverage of other up-and-coming stars in the league, not to mention current star NFL players.
The media has overhyped Tebow.
3. Tebow Is Overated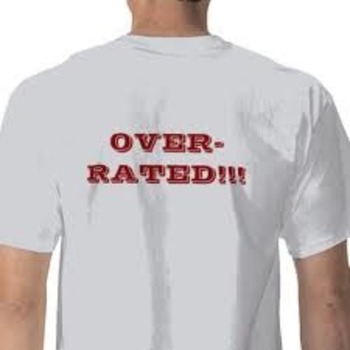 Tim Tebow was voted by NFL players as being the most overrated in the league.
Last time I checked, Tim Tebow is not the perfect NFL player. He doesn't even throw a perfect spiral on most of his passes.
Despite this, Tim Tebow is one heck of a competitor.
People want to say he is a great leader, a label that some fans and myself are not sold on yet. But this kid works his rear end off. I'll give him that.
So, yes, it's good to see him get his shot and he's making the most of it. But Tebow is overrated plain and simple.
Tebow is passing for less than 120 yards per game. He is completing less that 50 percent of his passes.
I know some of his fans are reading this and saying, "So what? He's winning!"
Yeah, He's winning. But its only been eight games. Most of those games are coming against teams that will watching the post-season from home this year.
The only stat in sports that matters is wins. But to gain a larger number of wins in his career Tebow will have to improve in those two statistical categories.
2. Teams Will Adapt to the Current Broncos Offense.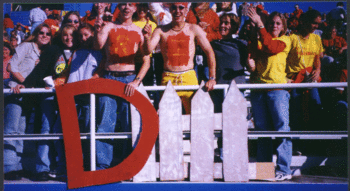 NFL Defenses are already adapting to the unique Denver offense,
The current offensive scheme of the Denver Broncos is a unique one to say the least. Their offense consists of many run and option plays, along with some pass plays to the flats. And for now, it's working for Denver. So why change it?
I wouldn't.
However, this is not the FBS. This is the NFL. The current offensive formula for Denver has worked. But again, I stress the point. All it's going to take is for a good defense to make the proper adjustments and Denver will be in shambles.
Denver has had a light schedule the past eight weeks. Two of the teams Denver has beat during their win streak have great defenses. Those being the New York Jets and Chicago Bears.
That makes two times that the unique Denver offense has been fortunate enough to win the game.
It may be working now, but in time with more observation and time in the film room by great coaches and NFL defensive players, the Denver offense will be doomed. That's the case unless Tebow improves his passing ability allowing for a more dynamic offense.
1. Misrepresentation of a 7-1 Record as a Starter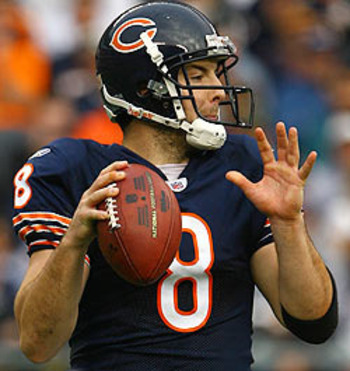 Rex Grossman was 13-3 as a the Starting QB for the 2006 Chicago Bears.
Wins. The only thing a sports franchise cares about when it comes to its success. It is wins that make a franchise successful after all. So below are the eight games Tim Tebow has started in along with the current records of the teams Denver has played as of Week 14.
Week 7 Denver won 18-15 (OT) vs. Miami Dolphins (4-9).
Week 8 Denver lost 45-10 vs. Detroit Lions (8-5).
Week 9 Denver won 38-24 vs. Oakland Raiders (7-6).
Week 10 Denver won 17-10 vs. Kansas City Chiefs (5-8).
Week 11 Denver won 17-13 vs. New York Jets (8-5).
Week 12 Denver won 16-13 (OT) vs. San Diego Chargers (6-7).
Week 13 Denver Won 35-32 vs. Minnesota Vikings (2-11).
Week 14 Denver Won 13-10 (OT) vs. Chicago Bears(7-6).
Fact—Tebow has a 7-1 record.
Fact—the majority of Tebow's wins have come against teams with losing records. Four. Those being Miami, Minnesota, San Diego, and Kansas City.
The three winning teams he beat include-
New York Jets (8-5)
Likely, will make the playoffs. This win over the Jets marked a quality win for Tebow and the Broncos.
Oakland Raiders (7-6)
Looking like a team that by season's end will be (7-9), Oakland has struggled as of late. They lost to the Broncos only two weeks after trading for Carson Palmer after their starting quarterback Jason Campbell was lost due to injury.
Chicago Bears (7-6)
After being (7-3) life was good in Chicago. Then, they lost Jay Cutler and Matt Forte to injury and now this team is anemic on offense and has lost three straight and looks as if they will be at home come this postseason.
The one loss with Tebow as a starter came against the
Detroit Lions (8-5).
Detroit is a solid team. With a solid defense, the Lions are looking like a team that will be playing in the playoffs.
The reason I show you this list is to breakdown the eight games Tim Tebow has started. He's 7-1. But you can make the case that the majority of his wins are against lackluster teams.
Is that Tebow's fault. No way.
However a 7-1 can be very misleading.
Look back to 2006.
There was a starting quarterback who was 13-3 as a starter and led his team to a Super Bowl berth.
That quarterback was Rex Grossman of the 2006 Chicago Bears.
While Tim Tebow has played well up to this point. Simply a 7-1 record is very misleading. Especially with the teams the Denver Broncos have played.
While Denver can't help the teams they play, they have had close calls with BAD teams such as Miami, Minnesota, Kansas City, and San Diego.
San Diego may look okay now. But when they played Denver they were in the midst of a terrible six-game losing streak.
With this being said, Tebow maybe 7-1, but its a very lucky 7-1.
Conclusion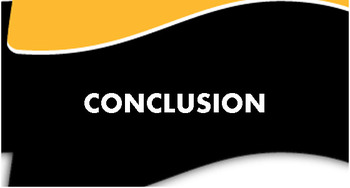 Tim Tebow is the hot topic of the NFL. Many fans are happy with this some are not.
This 24 year old kid got his shot in the NFL and he is making the most of it. He has capitvated many NFL fans along with annoyed others.
For now Tim Tebow is winning, but what's gonna happen if the wins stop. Will Tebow become just another after thought. Some say no some say yes.
Denver you have reasons to be excited about the coming weeks. However for the reasons just mentioned I believe the whole TebowMania needs to calm down. If Tebow ends up winning a Super Bowl I would understand all of the Tebow antics and praise.
But right now your (8-5) and last time I checked you haven't clinched anything. So for now give TebowMania a rest.
Keep Reading

Denver Broncos: Like this team?