12 UFC-Related Christmas Presents to Ask Santa for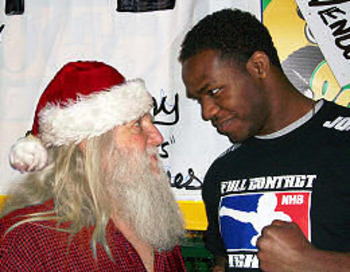 With less than a week before Old Saint Nick comes sliding down your chimney, people everywhere are getting their list ready so that he brings them the perfect gift. For those of us who are UFC and MMA fans, there is nothing wrong with going to the mall, sitting on Santa's lap and asking for a few UFC-related things.
Here I have compiled a short, 12-item wish list for the Mayor of the North Pole. In order of importance....
Wish #12: More NCAA Wrestling Coverage
Let's face it: the MMA world is dominated by powerful, skilled takedown artists. As fans, we are always looking for the next big fighter. There is no better place to look than NCAA wrestling.
The UFC is littered with former NCAA All-Americans—like Frankie Edgar, Cain Velasquez, Randy Couture, Josh Koscheck, Mark Munoz and Urijah Faber—whose wrestling base has helped them compete with the best practitioners of Brazilian Jiu-Jitsu, Judo and Boxing.
Absent a true UFC feeder system, fans have a tougher time getting to know up-and-coming stars. As the sport grows, expect more demand for wrestling coverage as fans begin to link NCAA wrestling with success in MMA.
Wish #11: Keep Strikeforce and Make It the UFC's Minor Leagues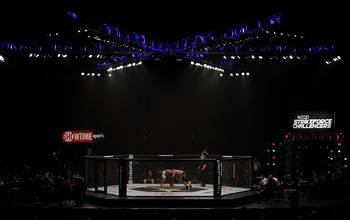 Christian Petersen/Getty Images
For the betterment of the UFC and the sport in general, Zuffa needs to establish a pecking order and find places to develop new stars from the ground up.
What better way than to keep Strikeforce around and make it the Developmental League of the UFC?
One of the the biggest obstacles to the UFC's development is that their fanbase has yet to fall in love with new stars. Rather, many are still waiting for Tito and Chuck to rise again.
Now don't get me wrong, I doubt the UFC can reach the level of transition that college football and the NFL have—where players grow into a star on Saturdays before getting drafted to Sundays. My argument and wish is that the system can be better at developing new stars.
Strikeforce on Showtime is the perfect place to give up-and-coming fighters a chance to show off their skills on national TV.
The organization can also be a place where lower level UFC veterans can compete one last time and be glorified gatekeepers.
In this new Strikeforce there would be no need for titles—just fun, young fighters in interesting match-ups.
Wish #10: Open Media Policy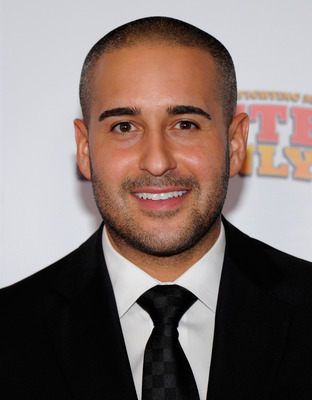 Ethan Miller/Getty Images
With the expansion of the sport and the UFC, the demand for new stories and media also increases.
However, because the UFC is a privately owned and operated company, it can control media access cageside. Well-known and reputable MMA journalists from ESPN and Sherdog have found themselves in the UFC doghouse before.
My wish for an open media policy is for the betterment of everyone, most importantly the fighters.
Writers and fans alike need to get to know how amazing these athletes are and learn about their life stories—information that is currently in limited supply.
As a fan myself, I hope that the UFC can see that almost all coverage can be good coverage and that the national media and public is behind the sport.
There is always going to be a contingent of people who disagree and stay away. But we should not let the troubles of a few limit the happiness and enjoyment of the many.
Wish #9: UFC Adds Hector Lombard, Ben Askren & Cole Konrad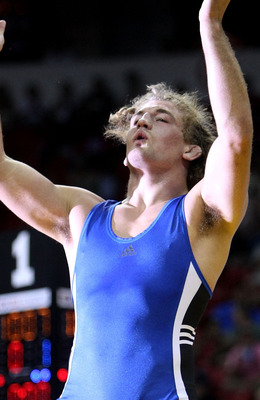 Jonathan Ferrey/Getty Images
In searching for the best talent around the world, the UFC need look no further than Bellator champions Ben Askren, Cole Konrad and Hector Lombard.
For those unfamiliar with the trio, Ben Askren is one of the best wrestlers in the world and the current Bellator welterweight champion. He has BJJ skills as well—he defeated current UFC 170-lb contender Jacob Volkmann to win the FILA No-Gi World Grappling Championship in 2009.
Heavyweight champ Cole Konrad has been a huge blip on the radar. A University of Minnesota standout, he reminds folks of another huge heavyweight: Brock Lesnar. Konrad, however, was even more successful.
Konrad went undefeated in his junior and senior seasons—winning two NCAA titles in the process. The heavyweight has used dominant wrestling to smother opponents en route to an 8-0 MMA record.
Middleweight powerhouse Hector Lombard is the most veteran of the group. His 31-2-1 and 1 NC record is impressive. Lombard has gone five years and 25 fights without a loss.
Though he lacks wins against top-level competition—both of his losses came in PRIDE in 2006—the judoka deserves his chance to fight the best. Over his last four years of fighting—that's 17 fights—he has been to decision just twice.
Wish #8: Increased Exposure for the Lighter Weight Classes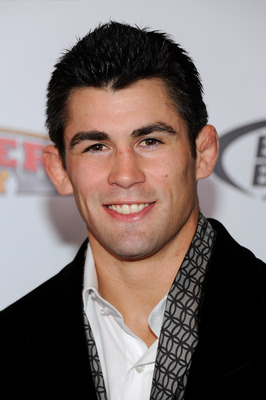 Ethan Miller/Getty Images
For fighters below the 170-lb weight class, it has always been tough to get respect from the public.
Though Edgar-Maynard III and Cruz-Faber II were both fight-of-the-year-worthy events, lighter weight headliners don't always bring in big ratings.
My wish is that soon all of the classes and champions will get the respect they deserve.
The UFC took a huge step toward this by showcasing bantam and featherweights on TUF. And the upcoming season on FX will feature current UFC featherweight champ Dominick Cruz will face his rival Urijah Faber.
For those who believe that the lighter weight classes are just as well known, let me tell you a little story:
Two years ago I was at the UFC Fan Expo in Vegas before Rampage-Rashad. And who do I find just sitting all by himself but then-WEC featherweight champ Cruz. I had to double take because every fighter I had had been swarmed by people.
To see a current champ sitting so quietly was shocking. So I walked over and chatted with him and he was a gracious guy. He signed my book and as I walked away people started passing him slower and you could see fans asking each other, "Was that a fighter? If so, who was it?"
Earlier that day we had an option to get one of three fighter's autographs: Junior Dos Santos, Gray Maynard and Martin Kampmann.
Who had the shortest line? That would be Vegas native Maynard who literally had whole conversations with each person while he waited for the next fan.
My hope is that as the UFC expands so does the fan's love for the smaller, often more exciting fighters that inhabit in the 125 to 155-lb weight classes.
Wish #7: Light-Heavyweight Title Fight Jones-Evans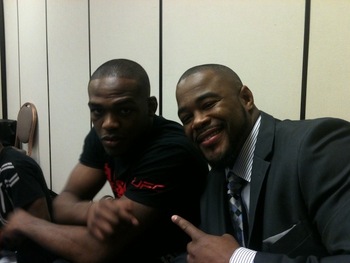 Oh Santa, can you please finally bring me the fight that everyone outside of the Jackson Submission camp has seen happen? I promise I'll be good for the rest of the year.
Very few things could bring me more happiness than seeing Jon Jones defend his UFC light-heavyweight belt against former champ Rashad Evans.
Fans everywhere are itching to finally see the grudge match that has been brewing for nearly a year.
Some may argue that other match-ups may be just as relevant and interesting for Jones—Dan Henderson and Anderson Silva immediately jump to mind—but this business needs to be finished first.
But first Jones must wait while Evans faces undefeated rising star Phil Davis in the main event of UFC on FOX 2. If Evans can get past Davis and come out the other end in good shape (a huge "if" since Evans has been getting hurt often lately) then we can finally have our grudge match.
Keep in mind that this will be the third straight fight Rashad has fought in which the winner is the No. 1 contender for the title.
Let's just hope he can pull through because until these two face off neither will be considered a true champion.
Wish #6: A Healthy Return for Georges St. Pierre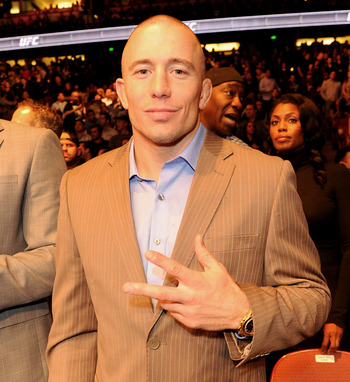 Jason Merritt/Getty Images
The current UFC welterweight champion and top three pound-for-pound fighter Georges St. Pierre is currently facing his biggest battle yet: recovery.
After tearing his ACL in training for his bout with No. 1 contender Nick Diaz—his first major injury that required surgery—he faces a nearly yearlong recovery.
GSP has won eight straight fights with the UFC championship belt on the line. However, he needs to be in the octagon to prove that he is more than the conservative, calculating fighter that many are starting to believe he has become.
Five of his last six fights have gone the distance.
Almost as importantly, GSP is one of the biggest, most respected stars in the sport both in the US and around the world.
His presence is needed for the sport to grow so the best wishes go to him and a speedy recovery.
Wish #5: TUF 4 Reboot, Bring on New Challengers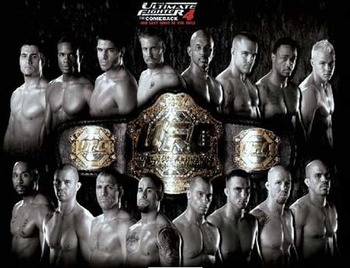 The UFC should bring back the concept of The Ultimate Fighter 4.
On that season veteran fighters who had yet to fight for the belt vied for the chance to face the current champion. I can't think of a better way to grow the current crop of contenders and make more fighters into household names.
Now obviously the most important part would be selecting the weight classes and the fighters. Though nearly every weight class would be entertaining, if I had to select two it would have to be light-heavyweight and lightweight.
Just imagine for a moment the possibilities of fights with both current No. 1 contenders having already been decided for some time. It would not hold the division back, rather elevate it to even greater levels as it could introduce and reintroduce a new crop of title contenders.
With FX's new live fight format it would make for must-see TV every week as each match-up would hold great significance. A mixture of up-and-coming and veteran fighters would lead to clashes as well as exciting fights. My wish is that after the Cruz-Faber season we get a chance to see the format return to bring a new level of excitement.
Wish #4: Big UFC on FOX Ratings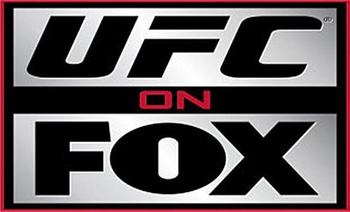 The UFC is gambling that it can draw big audiences on FOX. If it doesn't the brand and sport will cease to grow.
As fight fans we all want to see the sport grow to become mainstream and interesting to a more national audience.
We all want the UFC to be what boxing was in its heyday—if not bigger.
The UFC came out swinging, broadcasting the heavyweight championship bout this past November.
While the fight ended quickly and didn't live up to the hype, it was far from a failure as the organization found out what people wanted and learned from their mistakes.
The next event is now a triple-header and each fight has title implications. The fighters will be able to showcase their huge personalities to a national audience.
Big ratings on FOX will mean more eyes during pay-per-views and more growth for the sport. More sponsorship opportunities will enable fighters to fight full-time, elevating the level of the sport and competition.
Big ratings have so many positives that UFC fans can only be happy when it finally happens.
Wish #3: Middleweight Title Silva-Sonnen II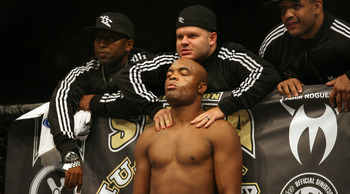 Tasos Katopodis/Getty Images
Silva-Sonnen II. Doesn't it just sound great? It just rolls off the tongue like The Thrilla in Manila.
Fans have been clamoring for this fight ever since they first did battle. I wish that we finally see the rematch, no matter where it is.
Neither man can be a complete champion (much like Jones and Evans) unless they go through the other.
As one of the lucky 18,000 who packed Oracle Arena in Oakland for their first fight, I can say that I have never been in a more electric atmosphere in my life. To see the destroyed champion find a way to keep his belt against all odds was incredible.
Currently Silva is rehabbing a shoulder injury while Sonnen is set to do battle in the co-main event for the UFC on Fox 2 in January. He will face a NCAA wrestling champion in Mark Munoz, who is also a former training partner of Silva's.
If Sonnen can earn the win—something that will not come easy—then the UFC will have no choice but to give the fans what they want.
Silva needs this fight just as much as Sonnen because he needs to prove that his last-gasp triangle wasn't a fluke and that he can defeat the man that proved to be his biggest challenge.
Let's just hope that the "Filipino Wrecking Machine" doesn't smash all of our hopes and dreams.
Wish #2: One Megafight Like Jones-Silva, Aldo-Cruz, Edgar-Aldo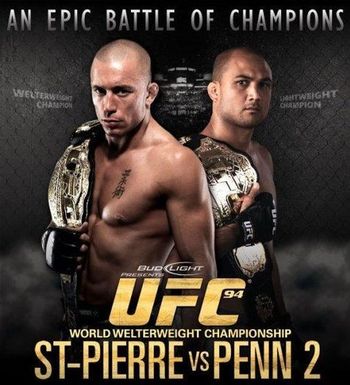 It has been 46 UFC pay-per-view events and counting since we saw what many would consider one of the biggest fights in UFC history.
At UFC 94: Champion vs. Champion, welterweight champ Georges St. Pierre defeated his long-time rival and then lightweight champ BJ Penn for the 170-lb belt.
Fans have clamored for a champ vs. champ format fight ever since.
With GSP out injured, the most intriguing crossover fight—between GSP and Anderson Silva—is out of the picture. But that doesn't mean there aren't other huge fights out there.
Here are the three match-ups, in order, that I wish Santa brings me for next year: Jones-Silva, Aldo-Cruz or Edgar-Aldo.
Both light-heavyweight champion Jon Jones and middleweight champ Anderson Silva have scores to settle—with Rashad Evans and Chael Sonnen respectively. But if they both win, it would create a clear and exciting path toward the fight.
What makes this fight the best mega-fight? Simple, we have seen Silva at 205 and know that his skills translate—if not amplify.
Most fight fans (except maybe those of Dan Henderson) would line up around the block to see two of the best pound-for-pound fighters do battle.
A fight between current bantamweight champ Jose Aldo and featherweight champion Dominick Cruz would be one of the most action-packed fights in the history of the UFC.
It was not too long ago people wondered what a Penn-Aldo fight would look like. And though I'd still love to see that—at 155 of course—a fight between these two dominant champs is just as intriguing.
Both have huge match-ups against Team Alpha Male fighters (Aldo versus Chad Mendes, Cruz versus Urijah Faber) and will have to earn the chance to give the lighter weight classes their crossover mega-hit.
Finally, a battle between current lightweight champion Frankie Edgar and Aldo could be an amazing battle of wills. Both fighters seem like a perfect match for each other with their size and skills.
Edgar is one MMA's best wrestlers while is Aldo a world-class BJJ artist. Edgar has a now-legendary chin while Aldo possesses one of the best striking games in the world. Pitting these two fighters, most likely at catch-weight of 150, seems like a surefire barnburner.
Wish #1: MMA Legalized in New York State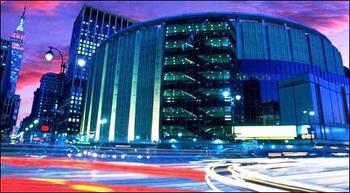 Come on New York. Join the party.
I'm tired of hearing the lame and asinine excuses for not legalizing mixed martial arts like all the other normal states.
You are costing yourself tens of millions of dollars. Fans who would otherwise spend their money in New York are traveling to places like Pennsylvania and New Jersey to see the UFC.
Think of the fights that could headline a Madison Square Garden card. If you thought UFC 100 was big, just wait til Dana White and Joe Silva finally get a chance to put this card together.
Santa, if you can't bring me anything else on my list, can you at least bring me the peace and happiness that comes with making MMA legal in New York State? I would greatly appreciate it.
Keep Reading