15 Best Power Forwards in the NHL Today and the Past Players They Resemble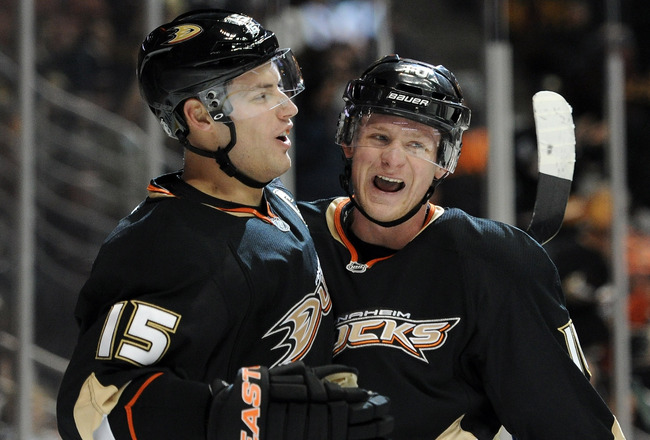 Harry How/Getty Images
The power forward is a rare species in today's NHL. With hockey evolving into a game of speed and skill, the physically gifted as well as physically imposing offensive threats are tough to find.
However, these types of players do still exist, just in a somewhat modified form. So what exactly qualifies a player as a power forward these days?
In my eyes, power forwards do it all: They score, they hit and they fight. A power forward plays as well on defense as he does on offense and is among the best competitors on the team.
The NHL may not have the Cam Neely-type power forwards of the old days, but the guys on this list represent what is left of the rare breed.
Johan Franzen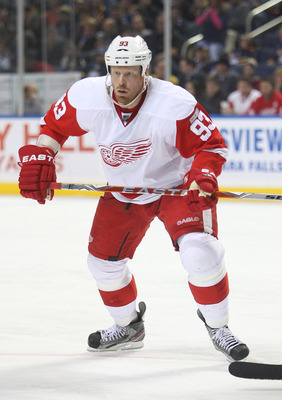 Tom Szczerbowski/Getty Images
An important role player for the Detroit Red Wings, Johan Franzen embodies a tough, hard-working playing style, scoring a lot of his goals by crashing the net. He can play the role of enforcer for the Wings but also has the hands to make plays in the offensive zone.
Player Comparison: Clark Gillies
Bobby Ryan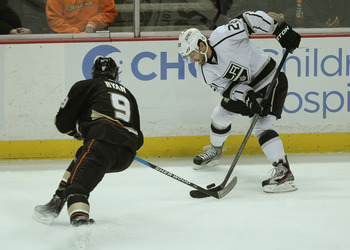 Stephen Dunn/Getty Images
All of Anaheim's top liners can be considered amongst the best power forwards in the NHL. Bobby Ryan uses his size to generate a lot of the Ducks' offense, as he had over 250 shots on goal last season. His physical presence was essential for the Americans in the Olympics last year.
Player Comparison: Shane Doan
David Backes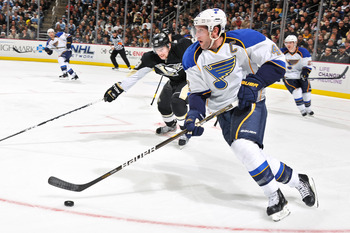 Jamie Sabau/Getty Images
David Backes has a nonstop motor and loves to throw his body around. His 266 and 213 hit totals from the last two seasons are evidence of that. In addition to being an offensive and physical threat, he is also a tremendous penalty killer.
Player Comparison: Scaled-Down Mark Messier
Eric Staal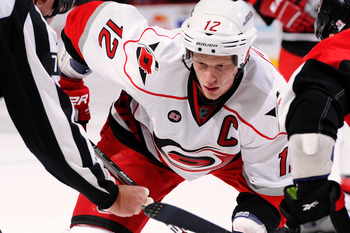 Phillip MacCallum/Getty Images
Eric Staal is as valuable to his team as any player on this list. He is a catalyst for the Carolina Hurricanes on offense. He is not an elite checker, but he is tenacious on the forecheck and creates plays in the offensive zone using his size and speed.
Player Comparison: John LeClair
Brenden Morrow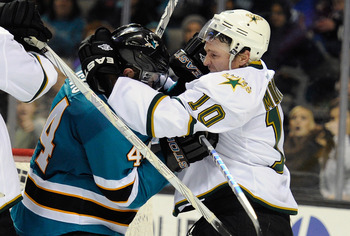 Thearon W. Henderson/Getty Images
Brenden Morrow is a bit undersized for a power forward at just 5'11", but he plays like the power forwards of old. Morrow is physical and does the dirty work in front of the net.
You would be hard pressed to find a more competitive player on both ends of the ice than the Dallas Stars captain.
Player Comparison: Wendel Clark
Milan Lucic
Jamie Sabau/Getty Images
Milan Lucic plays old-school hockey. He draws comparisons to former Bruins legend Cam Neely because of the tenacious nature of his playing style.
Lucic is not just an intimidator, though; he also has a surprising package of offensive talents that make him a dangerous dual threat up front for Boston.
Player Comparison: Kevin Stevens
Joe Thornton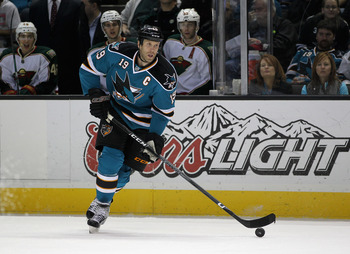 Ezra Shaw/Getty Images
Like Rick Nash, Joe Thornton has the size and scoring ability one looks for in a power forward, but his physical play leaves something to be desired. He had just 113 hits last season, a number that does not put him among the league's top five power forwards.
Player Comparison: Eric Lindros
Rick Nash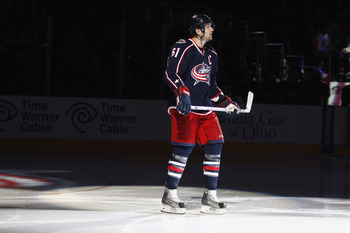 John Grieshop/Getty Images
Standing at 6'4", Nash has the size and scoring ability of a traditional power forward.
However, in recent years Nash has not exhibited the level of physical play necessary to find himself in the top five of this list.
Player Comparison: John LeClair
Shane Doan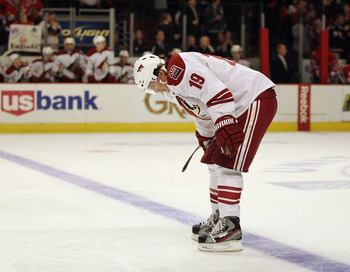 Jonathan Daniel/Getty Images
Shane Doan is one of the most consistent players on this list, with at least 49 points in each of the last 11 seasons.
Perhaps most impressive is the fact that Doan has managed that production without the help of elite talent around him.
At 6'2", 225 pounds, Doan has piled up hits and points for the Coyotes throughout his great career.
Player Comparison: Eric Lindros
Ryan Malone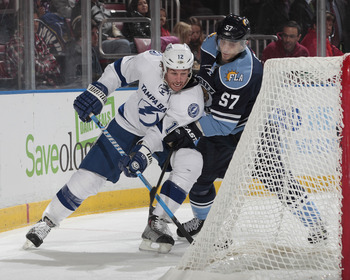 Joel Auerbach/Getty Images
Ryan Malone's physical play tends to get him banged up a bit, but despite that he has managed to net at least 25 goals and 1.5 hits per game over the last three seasons.
Malone is always willing to do the dirty work in front of the net for the Lightning, and the numbers show that.
Player Comparison: Clark Gillies
Corey Perry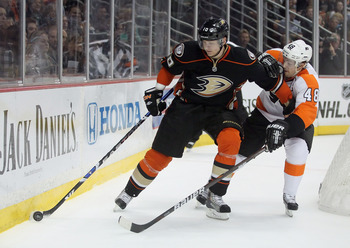 Jeff Gross/Getty Images
Corey Perry helps make up one of the meanest, most powerful lines in the league in Anaheim. An outstanding forechecker, Perry took home the Hart Trophy last season after a career year.
Player Comparison: Cam Neely
Alexander Ovechkin
Bruce Bennett/Getty Images
While he is most known for his offensive prowess, Alexander Ovechkin's statistics mirror those of an elite power forward. As a matter of fact, Ovechkin is the only player in the league with both 25-plus goals and more than 180 hits in each of his last four seasons in the league.
Player Comparison: Phil Esposito
Jarome Iginla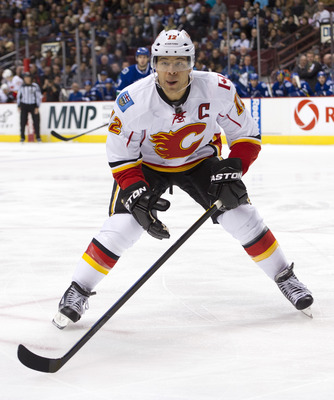 Rich Lam/Getty Images
Once the unquestioned top power forward in the league, Jerome Iginla's game has tailed off recently, though he is still among the best in the business.
Iginla embodies all the characteristics of a great power forward with his scoring ability, physical play and willingness to drop the gloves. Add to that Iginla's leadership, and he is still one of the NHL's five best power forwards.
Player Comparison: Brendan Shanahan
Mike Richards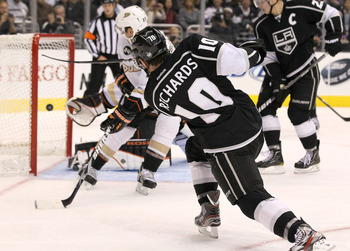 Stephen Dunn/Getty Images
Mike Richards lacks the size to be considered a true power forward, but his two-way game is amongst the league's best.
The former Flyer captain has the skill set of a playmaker but plays like a power forward. Richards is a consistent scoring threat and is not afraid to drop the gloves with anyone.
The Canadian-born center is also one of just three players who has scored 25 goals and averaged 1.5 hits per game in each of the last three seasons.
Player Comparison: Keith Tkachuk
Ryan Getzlaf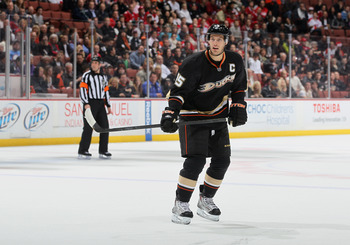 Jeff Gross/Getty Images
The purest power forward at the center position in the league, Ryan Getzlaf combines his great size with a ton of playmaking ability and a cannon for a shot.
In addition, Getzlaf is a tremendous leader for the Ducks and has been the centerpiece of one of the most productive scoring lines in the NHL.
Player Comparison: Eric Lindros
Keep Reading