NBA Free Agency: Nuggets Re-Sign Nene, Trade for Rudy Fernandez, Corey Brewer
December 14, 2011
Doug Pensinger/Getty Images
NBA free agency was rung in with a bang Friday night. Nearly four days in, there had been hardly more than a peep heard out of Denver.
The Nuggets, after losing Kenyon Martin, J.R. Smith and Wilson Chandler to China and having Nene and Arron Afflalo off the books, were set up with nearly $30 million under the cap.
Friday night, Denver signed undrafted rookie Julyan Stone, a 6'7" point guard who can guard three positions and led UTEP (Tim Hardaway is second) and Conference USA in career assists, to a two-year, $1.1 million deal.
And while the move provides depth, it was small in comparison to the Nuggets' need to re-sign Nene in many people's eyes.
Three days went by without a word on Denver re-signing the Brazilian-born big man who has spent all of his nine NBA years in the Nuggets' baby blue and yellow. The Nets offered him a four-year deal worth $70 million, but we still have no details about what Denver had offered.
Then, on Tuesday evening, Nuggets brass Masai Ujiri and Josh Kroenke pulled off a masterpiece of a deal, scoring Rudy Fernandez and Corey Brewer for their 2016 second-round pick.
Wildly, Brewer was part of the Melo mega-deal and was sent to New York from Minnesota in the spring, and Fernandez was sent to Dallas in Denver's draft-day deal that brought in Andre Miller and Jordan Hamilton to the Mile High City. Both were used to make previous Denver trades work, and the Nuggets now have both working for them. Amazing.
Fernandez and Brewer are young, athletic backups that provide depth for Denver. Brewer's deal is for two years at $6 million, while Fernandez is in the final year of his deal and is leaning toward playing professionally in his native Spain (for a higher salary) at the end of the season. And even if Fernandez were to leave, getting his services for a season and Brewer for two years is well worth a second-rounder.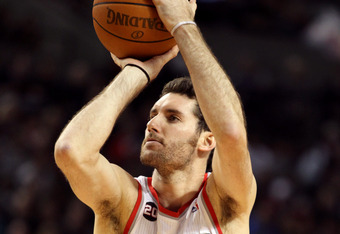 Tom Hauck/Getty Images
Fernandez is a solid three-point shooter (36.4 percent career) who can drive the hoop and create scoring chances off the dribble. Last season in Portland, the Spaniard averaged 8.6 points, 2.5 assists and 2.2 rebounds per contest off the bench.
Add in the wrinkle that he and Nuggets backup point guard Andre Miller spent the last two years playing together with the Trail Blazers, and it creates instant chemistry on the bench.
Brewer, a 6'9" forward, is a worker that will backup Danilo Gallinari at the three spot, and he will bring defensive effort and short-range scoring. In Minnesota and Dallas last year, Brewer averaged eight points, 2.5 rebounds and 1.3 assists per game in a reserve role.
Then the big news broke that Denver had landed its Brazilian big.
Ujiri and Kroenke struck again late Tuesday night, re-signing their highest-priority free agent—the best one on the market—in Nene to a five-year, $67 million deal that will likely keep him in the Mile High for the rest of his career.
Nene can be a beast on the court, using his 6'11", 250-pound size to out-muscle opponents on the offensive end. His 61.5 percent field-goal shooting was tops in the NBA last year as he averaged a near-career-high 14.5 points and 7.6 boards.
And while he seems to have reached his potential after nine years of professional play, Nene's numbers could improve if he is indeed moved back to his natural power forward position.
George Karl talked of the move to the Denver Post 10 days ago, saying, "We've talked a lot (in the past) about how he'd rather play power forward than center, well, I think this is the year he can get that opportunity (with Timofey Mozgov at center)."
That change of position would help Nene immensely, because he'd be playing against slightly smaller players, meaning he could be an even more dominant force on both ends of the floor. He's always been quick-footed for a big man, and his strength would out-match nearly any other power forward in the game today.
At the end of the day, the Nuggets became a deeper, younger and more athletic team Tuesday.
Fernandez and Brewer will fill the voids that J.R. Smith and Wilson Chandler left when they flew to China—albeit with a little less explosiveness on offense—and they both come in at a cheaper price as well.
And securing Nene, one of the best-scoring bigs in the NBA, was necessary for the Nuggets, because not only will he provide a presence down low, he can also bring veteran leadership to the extremely young Denver team that averages 25.6 years of age.
Last on the Nuggets' list of free agents they'd like to acquire is Arron Afflalo, and according to David Aldridge, the team is moving closer to re-signing their starting shooting guard.
"We're moving, and it's going good," Ujiri told Aldridge. "He's our final piece. We're going to close and make sure we get that done. He's a huge part of our team."
So the future of the Nuggets looks bright, fans, and now it's up to Karl to mold all these talented players into a cohesive, contending team.
Rich Kurtzman is a freelance journalist actively seeking a career in journalism. Along with being your CSU Rams Examiner, Kurtzman writes for Blake Street Bulletin, Stadium Journey, Bleacher Report and Mile High Hoops.
Follow Rich on Twitter for breaking news, need-to-know retweets and interesting insight on the Rams and everything Colorado sports-related.
Follow Rich on Facebook to links to all his pieces and breaking news.