Cleveland Browns Need to Build Depth, Not Blow Up the Team
December 14, 2011
Jared Wickerham/Getty Images
As I scan the Cleveland Browns page here on Bleacher Report, I see three article about the draft, one predicting who will get cut at the end of the year and one crazy guy attempting to predict how the finals three games will go.
Seriously? That's what we are?
While listening to sports talk radio today I heard lengthy discussions about if head coach Pat Shurmur should be fired and if hiring Mike Holmgren was a mistake.
I've heard people say this Browns team is worse off now than it's been since the team came back in the league in 1999.
I have one message for Browns fans:
Calm the eff down.
Let's get a little perspective and stop being, as Colin Cowherd says, a "prisoner of the moment."
Think back to only two years ago when the Browns were sitting at 1-11 (that one win coming in a 6-3 thriller at Buffalo in a contest on par with the "Game of the Century") and were getting national attention for having an offense so bad it might be the worst of all time.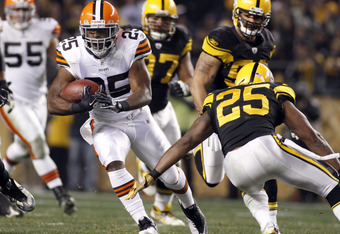 Justin K. Aller/Getty Images
I dare say the Browns were in worse shape then than they are today. And that was only two years ago!
So, let's stop with all this crap. There are still three games left in the season, two of those against division rivals. There is a lot more that we can learn about this football team.
If Miami offensive coordinator Brian Daboll got a second season, Shurmur most certainly will.
And if anybody expects a team president to turn a terrible team around in two seasons, you're delusional. Holmgren had to tear down the entire fabric of this franchise and rebuild it from the ground up.
The Browns have at least seven players in their first or second season either starting or getting serious playing time on offense. They have another four on defense.
I'm not sure what you all expect from this team considering.
What the Browns need to do is to continue to build depth on this roster that will challenge the players who are currently in starting spots.
A quarterback needs to be brought in to challenge Colt McCoy to make him better. That might be through the draft (even in the first round, possibly, but we're not going there until the season is over) or through free agency. I'm not saying he needs to be replaced per se, just challenged.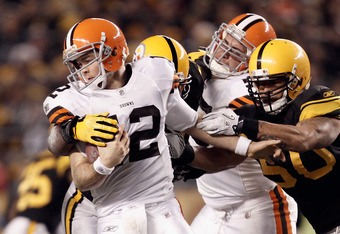 Jared Wickerham/Getty Images
We need to see much more depth at line backer. Scott Fujita needs to prove he belongs on this team. Chris Gocong needs to show more consistency and make us believe the guy who came up with four straight stops on the goal line in Pittsburgh can be there every day. And I don't think there's anything wrong with challenging D'Qwell Jackson to be even better than he already is (and he just might be the best player on this team).
The Browns sorely need depth at defensive back. Sheldon Brown has not had to worry all year about losing his starting spot. Who was going to take it from him? Buster Skrine? Please. And as with Jackson, I'm also all for bringing in another elite corner to compete with Joe Haden over who will guard the opponent's best receiver.
And speaking of receivers...well, you know.
The offensive and defensive lines need to be beefed up. I will say this though: I've seen enough of Tony Pashos, he can go. Like, today.
I could go through every position in depth, but I think you get the point.
When these guys showed up to training camp after the lockout we all basically knew who the starters were at every position. There was no real competition because this team has no depth.
So let's not freak out and fire the coach, GM and president just yet.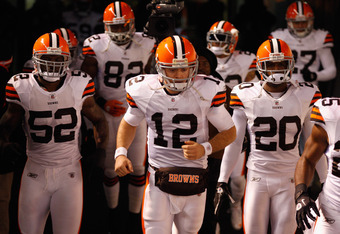 Jared Wickerham/Getty Images
Plus, this team is not as bad as people are making it out to be.
For as bad as the run defense has been (31st in the NFL) the pass defense (second) has been outstanding, putting the Browns ninth in the league in total defense and eighth in scoring defense.
And there are plenty of worse offenses as well. The Browns rank 29th in total offense, which is pretty bad. However, for as much we complain about McCoy and the receivers, they're actually 22nd.
Don't get me wrong, I'm not happy or satisfied with that. If Cleveland ever expects to be good, it needs to improve (duh).
But let's get's off the ledge and realize there are quite a few teams in the NFL that would take the situation the Browns are in right now over what they have going on.
Perspective.
Don't be a prisoner of the moment.
Believeland.
You can follow Benjamin Flack on Twitter @ClevelandFlack