22 Best Fights of the NHL Season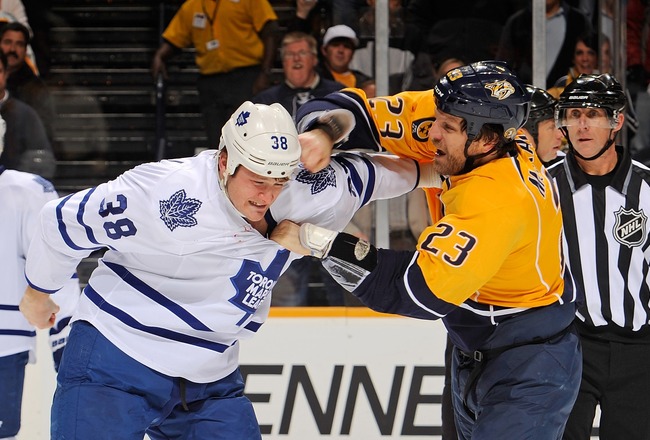 Frederick Breedon/Getty Images
There is plenty of debate by NHL fans discussing whether fighting should be taken out of hockey. Although there is plenty of evidence to take it out, there is no debating that when a fight breaks out, teams and fans alike get excited.
There have been plenty of great fights this season and I will be counting down the top 22. What makes a great fight? Is it length? A big knockout punch? The players taking part in the fisticuffs? In my opinion, it takes a little of all three, but that's not to say that a big fight can't happen with two no-names.
Let's get it started.
22. Tom Kostopoulos vs. Mike Brown
Date: October 15th

Length: 41 seconds
This one was over before it even got it started. Brown threw what looked like nine punches and Kostopoulos was down. Hardly any resistance at all.
21. Zenon Konopka vs. Mark Fraser
Date: December 8th

Length: 56 seconds
Konopka appears for the first time on this. As the commentator says, Konopka isn't one of the top heavyweights in the league, but he definitely is one of the toughest in the league.
20. Sheldon Brookbank vs. Derek Dorsett, Round 2
Date: October 30th

Length: 44 seconds
The second fight of the night between these two, this is ranked lower because of the way it ended. I mean seriously, how do you end a fight by almost by putting a guy in a hammer-lock?

19. Jay Rosehill vs. Brandon Prust
Date: December 5th

Length: 42 seconds
I just have to laugh at the end of this fight. In fact, it might be the only reason why this fight makes the countdown. Both players try to throw one more haymaker and they both go twirling down.

18. Jordin Tootoo vs. Aaron Volpatti
Date: October 20th

Length: 26 seconds
The only time that a member of the Nashville Predators not named Brian McGrattan makes it onto the list. This was already good and if the refs didn't break it up so early, it could have been much better.

17. Braydon Coburn vs. Steve Downie
Date: November 20th

Length: 42 seconds
I like to call Pierre Maguire "The King of the Painfully Obvious." Everything he says is known by even the youngest of hockey fans. Saying that Coburn vs. Downie is a mismatch? Hmmm, I never knew that a man that is 6'5" is significantly taller than a man that is 5'9".
You have to hand it to Downie though, he stood in there with Coburn for as long as he could. In the end, however, Coburn's size was just too much.
16. Jared Boll vs. Shawn Thornton
Date: November 17th

Length: 47 seconds
What makes this fight is what happens before the first punch even gets thrown. They size each other up for almost 15 seconds.

15. Cam Janssen vs. Micheal Haley
Date: November 25th

Length: 1 minute, 20 seconds
I thought that the NHL wanted to eliminate staged fighting. This is one of a few staged fights on this list and it doesn't look like the NHL has done anything to try to stop it.
14. George Parros vs. Brian McGrattan
Date: October 29th

Length: 59 seconds
Brian McGrattan's first appearance on the list and surprisingly, Parros' only appearance. I wonder, if Parros didn't have the stitches mentioned in the video would he have fought harder? You know that Parros can do better that that.

13. Zac Rinaldo vs. Corey Tropp
Date: December 7th

Length: 13 seconds
I really didn't know what to write about this slide until I watched it a few more times and I don't know why I didn't catch it earlier. Rinaldo was pretty close to hitting his head on the ice. With Tropp's weight on top of him, that could have been very bad for Rinaldo.

12. Zenon Konopka vs. Mike Brown
Date: November 12th

Length: 18 seconds
Okay, I hate to say this, but Konopka dominated this fight. Brown only got seven or eight punches in there—and most of them weren't even that good.

11. Arron Asham vs. John Erskine
Date: December 1st

Length: 20 seconds
This fight was revenge for a fight that will appear later on in the countdown. Erskine goes right after Asham and avenges Jay Beagle very quickly.

10. Wayne Simmonds vs. Brandon Prust
Date: November 26th

Length: 56 seconds
These two were going at it all game and this was the culminating moment between them. As the commentators note, Prust pretty much wins the fight, even though Simmons had the reach advantage.

9. Sheldon Brookbank vs. Derek Dorsett, Round 1
Date: October 30th

Length: 27 seconds
The commentator puts it just about as simply as you can. "Not a lot of defense here. They're just throwing bombs."
8. Jared Boll vs. Brian McGratton
Date: November 19th

Length: 30 seconds
Every player that fights Brian McGrattan and actually gives him a good fight should be nominated for the Bill Masterton trophy, because it take some real guts to stand up to him. I mean, all he does is fight. In 182 games, he only has 14 points—as opposed to 58 fighting majors.

7. Matt Martin vs. Zack Kassian
Date: November 29th

Length: 29 seconds
This was probably the first of many fights in Zack Kassian's career. Although someone should have told him to tie down his jersey. Heck, even his pads got pulled off. I guess lessons have to be learned.

6. Gregory Campbell vs. Joe Vitale
Date: December 5th

Length: 30 seconds
The commentator absolutely makes this fight better than it is. He's just rooting for his player and all of a sudden, he goes down. Even the reason for Campbell going after Vitale was a little weak. The initial contact between Vitale and Bruins' netminder Tim Thomas was not even that bad and the Penguins pushed him farther into Thomas.
Whoever said you have to be objective when covering sports?
5. Tanner Glass vs. Cody McCormick
Date: November 8th

Length: 14 seconds
This is a good fight and Rob Ray says this the best fight he's seen in two years, but I just can't get over Rick Jeanneret's voice. Whenever a Buffalo highlight comes on SportsCenter, I have to turn it down because I find his voice so overbearing. I know he's a legend in Buffalo, but boy can he get annoying.

4. Jay Beagle vs. Arron Asham
Date: October 13th

Length: 8 seconds
Not much can be said about this fight. One perfect punch to the jaw was all it took to KO Beagle, who has still not returned to the Capitals line-up.
3. Cam Janssen vs. Brian McGrattan
Date: October 15th

Length: 1 minute, 46 seconds
This fight isn't really all that spectacular. It ranks so high because of Janssen's attitude in the fight. He continually took the punishment from McGrattan and then literally asked for more. You have to respect that.

2. Mike Brown vs. Kris Newbury
Date: October 27th

Length: 7 seconds
I saw this fight when it first happened and all I could think of saying was "Holy Crap!" This fight was so fast that I want to challenge anyone to count the total number of punches thrown in this fight.
It's also funny that the commentators mention that Brown and Newbury were teammates with the Leafs. Not so, as Newbury departed the Leafs organization after the 2008-09 season and Brown wasn't acquired by the Leafs until the 2010 Draft.

1. Jay Rosehill vs. Brian McGrattan
Date: November 17th

Length: 41 seconds
Hands down, this is the best fight of the season. They start out like two rabid dogs before losing their breath and still manage to throw more punches. The only thing I don't like about this fight are the punches that McGrattan throws to the back of Rosehill head at the end.

Keep Reading