NFL's Best Tight End: Rob Gronkowski or Jimmy Graham—Who Ya Got?
December 14, 2011
The question is simple. Who is the best tight end in the NFL: Jimmy Graham or Rob Gronkowski?
Gronk and Graham have taken the NFL by storm this season and elevated themselves to the head of the tight-end class—a class that still includes Jermichael Finley, Jason Witten and Antonio Gates.
I'm sure there's going to be objection from loyal Gates fans down in the SoCal area, but the fact is he's taken a back seat to these two.
Anyway, back to the matter at hand. It's time to break these two studs down.
Graham, the former Miami Hurricane, has 1,101 yards and eight touchdowns on the season, and had a stretch of four straight games earlier in the season in which he recorded at least 100 receiving yards.
Graham leads the New Orleans Saints in yards, catches, touchdowns, yards per game and targets—simply amazing for a tight end—and in an offense that features seven players with at least 50 targets.
At 6'6" and 260 pounds with 4.50 speed, he's a matchup nightmare for linebackers because they can't keep up with him, and corners and safeties are just not big enough to compete with him for the ball.
He's an exceptional athlete, and along with the help of Drew Brees, he is quickly becoming a superstar in the league.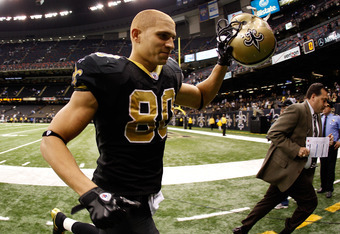 Chris Graythen/Getty Images
Far north from the reaches of the Big Easy, Rob Gronkowski is redefining the tight end position in his own way.
Gronk currently ranks second on the New England Patriots in receptions (71), yards (1,088), yards per game (83.7) and targets (100)—trailing only Wes Welker in all those categories.
What he doesn't trail Welker in is touchdowns. He leads the entire NFL with 15 receiving scores and 16 total end zone trips.
This past Sunday, he broke the single-season record for touchdowns by a tight end, previously held by Gates and Vernon Davis, when he scored his 14th touchdown on an 11-yard pass from Tom Brady.
He finished the record-setting day with 160 yards and two scores in the Pats' win over the Washington Redskins.
He actually has a small chance of becoming only the third pass-catcher in NFL history to reach 20 touchdowns—something that would be unprecedented coming from the tight-end position.
And much like Graham in New Orleans, Gronk has his own all-pro QB in Tom Brady, helping make his run to superstardom as likely as Graham's.
What does all this tell us? Stats say a lot, but do they tell everything? No. They don't.
The hard-nosed stats person will argue Gronk is the best TE in the NFL because he leads the league in touchdowns and it doesn't look like anyone can stop him.
The out-of-the-box thinker may argue in Graham's favor, because while he doesn't have the flashy touchdown numbers, he leads all Saints receivers in every major statistical pass-catching category—and also leads Gronkowski in receptions and yards.
They're both on pace to eclipse Kellen Winslow Sr.'s TE record of 1,290 receiving yards, which he set back in 1980.
With the single-season touchdown record broken already in Week 14, there's no reason both of these guys shouldn't break the yardage record.
What may decide who's the better player are the fundamentals, like blocking.
Graham is what you would call the "new-age" tight end. He's long and lean and is built more for running routes than run blocking.
Gronk, on the other hand, is very much a throwback. He's a big guy with speed, but punishes defenders when he finishes off a play—drawing comparisons to former New York Giants great Mark Bavaro.
He also thrives on run-blocking, as Nate Davis from USA Today reports in a recent interview with Pats head coach Bill Belichick. 
"He likes to block and takes pride in having a good block. He gets excited about that. I think he enjoys that part of the game. He does a pretty good job," Belichick said.
He seems very polished in this part of the game, in which Graham still has room to improve.
Either way you look at it, whether you're Gronkin' or you're Grahamin', you really can't go wrong. They're both amazing.
Check out more of Brian Dezelske's articles.
Brian can also be found at Out of My League, where he compiles fantasy football rankings each week.
Follow Brian on