WWE Retrospective: The 25 Best Matches of 2011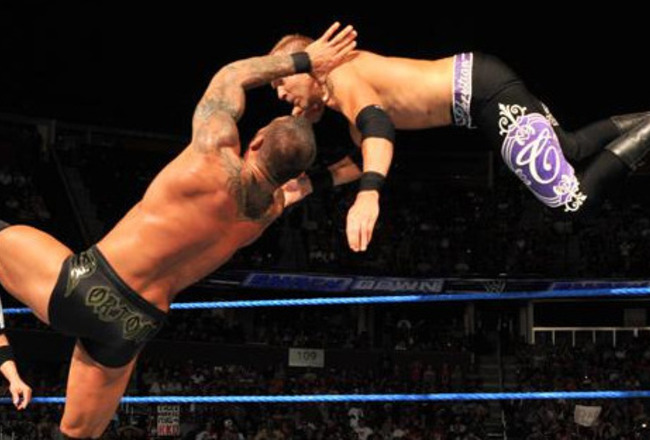 2011 was a banner year.
One that saw great rivalries, veterans finally getting their due, new contenders entering the fray and a bold new direction for the company.
During this time, we were witness to many sensational matchups that truly highlighted every pay-per-view.
Sure, there were a few duds, especially around WrestleMania time, that are just better forgotten than anything else.
However, the influx of good matches far outweighs the bad. In fact, there were well over 30 matches in the WWE that can be looked back upon with great admiration by the fans and the wrestlers. Many of which could end up living on as legendary bouts.
Matches that can be heralded as some of the best if not the best matches of these stars' careers both young and old.
There were so many great ones that it is hard to pick the best out of the lot; however, with due diligence, an attempt can be made
The following are many of those said matches, including the top 25 this year.
Honorable Mention
It is hard to make a list like this when you know what matches you are excluding, so I decided to name many of the matches that just barely missed the cut.
Christian vs. Randy Orton @ Capitol Punishment - I don't think that there can be any doubt that the match ups between these two were phenomenal. Put two of the greatest WWE performers in history in the ring, and magic happens. This was their second weakest bout. As a forewarning, there will be many mentions of these two's matches.
Dolph Ziggler vs. Randy Orton @ Raw October 29 - A match that can be heralded as the true turning point for Ziggler on Raw, he gave his all against a phenomenal in ring psychologist, and the fans were begging for more at the end.
Randy Orton vs. Mark Henry @ Hell in a Cell - Brutal, hard-hitting, and the final piece of the puzzle for Henry. Great storytelling that made Henry the monster that simply couldn't be stopped even by SmackDown's biggest star.
Mark Henry vs. Daniel Bryan @ SmackDown November 29 - The most recent bout on this list, Daniel Bryan saw his first brush with the main event here. Hopefully, it will lead bigger and better things in the future. The storytelling here was excellent, and Bryan can make everyone look good especially a monster like Henry who was doing the best work of his career.
Daniel Bryan vs. Alberto Del Rio @ SmackDown August 19 - Another Bryan match (there will be some on the main list), this was technical wrestling at its finest. Give these two double that time, and you would have a wrestling purist's dream.

Daniel Bryan vs. Imposter Sin Cara (Hunico) @ SmackDown September 16 - This match was a showing of something special. Rarely will you ever see a good cruiserweight match these days. While we saw a short but good one from Sin Cara and Evan Bourne, this was a much more complete showcase that shows what both men can do given only ten minutes to perform.
25. Air Boom vs. Dolph Ziggler and Jack Swagger @ Vengeance
The best tag team match of the year and a reminder that the future can be bright for this division.
This is a criminally underappreciated match that had everything you could hope for except time.
It was only given a minute more than their previous match at Hell in a Cell but the speed, action, and intensity shined through nonetheless.
It also helps to have a star like Ziggler in this match who just makes every bit of offense from Air Boom look amazing and lethal.
24. Big Show vs. Mark Henry @ Vengeance
I know what you're thinking!
How could this match even be considered better than other matches before it?
Big Show and Mark Henry are too slow. All you are remembering is the Brock Lesnar rip-off finish.
Actually, I sat through this match start to finish and can honestly say that it was the best big man match I've ever seen.
The action between these two was perfectly paced and just powerful.
There was very little laying around or rest holds in this one.
From start to finish, I have never seen a better match between two superheavyweights.
23. Daniel Bryan vs. William Regal @ Superstars November 10
This match deserved more time and a bigger stage; however, saying that... this is Daniel Bryan facing off against William Regal! How do you beat that?
This match has been a dream match of mine to watch on a big stage, but I guess this is the closest I will ever get. (My dream was to see Regal capture the World Heavyweight Title and carry it to WrestleMania XXVIII where Bryan beats his teacher in a thirty exhibition. I know, but I can dream, right?)
Anyway, the match itself would be considered slow by some, but honestly I didn't care. It was a technical masterclass from start to finish, and it was made better by the crowd.
This was in England, so Regal was the face in the match, making Bryan the heel. If you have ever wanted to see what a heel Bryan would be like in WWE, here it is.
Just a fun match that I personally watch way too frequently.
22. CM Punk vs. Rey Mysterio vs. Alberto Del Rio @ Raw June 20
Have you ever wondered if a triple threat match could work with all three men in the match almost the entire time? This match basically gives you that.
There is not a dull moment in this match. It is heart pounding action from start to finish.
It was just a complete master showcase between three amazing wrestlers, helped by surprising chemistry between Del Rio and Punk.
It was all topped off by a promo that would be the catalyst for the following which was, well... it.
21. Sheamus vs. Randy Orton @ SmackDown June 10
This is a just a great TV bout.
Sure, it wasn't for the World Heavyweight Title (though the two's match was also great), but this was simply about two things: brutality and Christian.
Yes, Christian who play an instrumental part in this match by the end.
This match was just a great No Disqualification match that would begin Sheamus's resurgence.
20. John Cena vs. the Miz vs. John Morrison @ Extreme Rules
This match comes down to one man: John Morrison.
Sure, the cage match itself was fine and good, but the match would not have been the same without Morrison.
Morrison did so many crazy things in this match that he was MVP and probably should have been given more after this contest.
Instead, he was injured and then disappeared.
But this isn't about Morrison leaving, it is about the pinnacle of Morrison's acrobatics which were shown off incredibly well in the stretch from the Royal Rumble to this contest.
19. Randy Orton vs. Christian @ SmackDown May 6
The first contest these two ever had can be considered one of the best television bouts not only of that year but of all time (that goes for the two above it as well).
Honestly, this could probably be higher though it seems crazy to place it too much higher with two other bouts coming up later.
These two have some of the best chemistry in the business.
No two stars except maybe Punk and Cena can make every match between them exciting and different.
Sure, it will always be remembered for the result which is still not remembered kindly, but the match itself was stunning.
18. Rey Mysterio vs. Cody Rhodes @ WrestleMania XXVII
The beginning of Cody Rhodes' career truly began with Rey Mysterio.
Mysterio went down at WrestleMania to the Undashing One in a phenomenal bout that can only be rivaled by one other match that night.
These two used their athletic prowess to put on a great show that would have been a phenomenal cruiserweight match back in the day.
Nothing more can be said other than that this match was great.
17. CM Punk vs. Dolph Ziggler @ Raw November 21
A sneak peek to 2012?
It is possible that the next time these two compete it won't be shown on television.
The natural chemistry between these two was apparent before the bell was even rung,
These guys wrestled a near perfect match from start to finish (other than Punk's botch on the finish).
Athletic, technical, charismatic, if this is what the future holds, I'm all game.
16. Daniel Bryan vs. Wade Barrett @ Summerslam
Wait? Daniel Bryan wrestled Wade Barrett recently?
Yes, some foolish WWE writer allowed Bryan to wrestle on PPV in a singles match, and we all saw just what Bryan can do when he hits the big stage.
I swear this match was the the third side of the trifecta of great matches at Summerslam, and nobody even remembers it.
Bryan and Barrett put on a show that should have been impossible considering the two were still only one year rookies.
Their styles meshed so well that they could have gone a good ten minutes longer without a second thought.
This is another view into the future as the next time these two meet on SmackDown it will certainly be for the World Heavyweight Championship.
15. CM Punk vs. Randy Orton @ Extreme Rules
Extreme Rules is still considered one of the best PPVs of the year for a reason.
One of those reasons is this match right here.
CM Punk vs. Randy Orton is already an enticing match possibility (as their WrestleMania was a good match), but it is even better when it is a match like this (Last Man Standing).
These two are just phenomenal performers in the ring shown best in this amazing match.
14. John Cena vs. CM Punk vs. Alberto Del Rio @ Hell in a Cell
Hell in a Cell matches will never be as great as they used to be. The brutality is just not quite there anymore.
However, this match might be the best Hell in a Cell match we have gotten single the PG restrictions made this match less brutal.
Sure, Punk wasn't blinded by blood, but it didn't matter. You could tell by the end that Punk had taken an amazing amount of brutality.
The final sequence with Del Rio and Punk in the cage is still the pinnacle of Del Rio's heel run so far as he was brutal, effective, and won cleanly.
The match was brutal, smart, and nearly perfect for its direction with three great in ring competitors.
13. CM Punk vs. Rey Mysterio @ Capitol Punishment
Punk and Mysterio in a match is basically already guaranteed to be a hit; however, you can never expect enough from these two.
This contest between Punk and Mysterio can now be considered one of the best of both of their careers.
No gimmicks, no stipulations, these two just hit the ground running and never stopped.
Truly the sort of match that any wrestling fan can be happy with.
12. Mark Henry vs. Randy Orton @ Night of Champions
Was this the best technical contest of 2011? No.
Instead, it was possibly the best told story in the ring in 2011.
17 minutes Orton and Henry went, and it was absolute domination.
Now, I'm not saying that Henry/Orton was a squash. No.
Henry/Orton was the story of a man being simply unable to beat the monster is in front of him. In an era where the superheroes rule, this was such a shocking turn around that it truly sticks out.
Henry will never be able to work a quick or an incredibly long match, but he is one of the best big men out there in simply showcasing brutality and dominance.
The story of this whole feud was told in this match. There was no need for any promos. That is just masterful work when you can say that a match truly created the story of your feud.
Honestly, I feel compelled to put this even higher for being so unique and powerful, but, in the end, it sits here as the best example of in ring storytelling this year.
11. SmackDown Elimination Chamber @ Elimination Chamber
Recently, I have been watching every Elimination Chamber in WWE history.
With the exception of the ECW Extreme Elimination Chamber match (which was still decent), every single Elimination Chamber is a beautiful sight to hold.
The psychology, build up, and story telling are complimented by effective brutality.
This match for SmackDown joins those ranks fairly well. In fact, it is definitely in the top half thanks to great work by everyone involved including a final showdown between Mysterio and Edge that was honestly the best singles work they have ever done together (which is saying something).
I still remember this best for McIntyre though who looked like a main eventer here as much as anyone else with aggression and focus that told you he wanted to show the world what he could do. Sad how things have turned out.
In the end, this was Elimination Chamber wrestling at its finest (though missing some blood).
10. CM Punk vs. Alberto Del Rio @ Survivor Series
Some would say I place this too high. Personally, I almost feel it is too low.
The technical ability of these two sparkled in this match.
Many ignored it as boring which is a shame as these two really gave a great mat wrestling exhibition for a while before turning it on in one of the best final five minute stretches you'll ever watch.
It was all capped off by a phenomenal ending with Punk finally reaching the pinnacle of the company and reaching that spot he had dreamed about for so long.
I will never forget that monstrous reaction from Madison Square Garden when Punk won.
9. Edge vs. Dolph Ziggler @ Royal Rumble
We will miss you Edge.
Edge's last great action was helping begin Ziggler's rise to fame in this phenomenal contest.
Sure, the gimmick surrounding the match was distracting, and, with the way things fell apart afterwards, Ziggler probably should have won here.
In the end though it didn't matter as this was Ziggler's second best outing of his career (his first being against Bryan last year at Bragging Rights), and Edge was his usual phenomenal self.
Just great modern wrestling at its finest,
8. John Cena vs. CM Punk @ Summerslam
The second of the bouts these two fought on pay-per-view, Cena and Punk delivered once again.
It was not as good as their first bout, but that is about the only bad thing you can say about it.
The chemistry between these two is phenomenal as they were just great start to finish.
The unclean finish was not great, but it was okay as Punk still won.
I will be talking more about these two soon, so moving on.
7. SmackDown Money in the Bank Ladder Match @ Money in the Bank
So many great Money in the Bank matches.
This match is always a highlight of the year.
This year, the SmackDown was made especially great for a few reasons.
First, it managed to beat the hype against it and deliver a much better product than Raw on the night even with a "weaker" talent pool. Even Heath Slater made this match great.
Second, the spots were phenomenal especially the Sheamus ladder powerbomb that destroyed Sin Cara.
Finally, it was Daniel Bryan's moment. I admit his emotion was overwhelming and affected me as well. This is a guy who has killed himself just to get where he is, and now he had a chance to reach the pinnacle. Hopefully, it all leads to WrestleMania.
Just an exciting and emotional match.
6. Christian vs. Alberto Del Rio @ Extreme Rules
This match still has my favorite moment of the year (which is hard to pick with so many big ones).
Christian, after years of living in Edge's shadow, stepped out into the spotlight and became World Heavyweight Champion.
It may not have lasted long, but this match and that moment are still unbeatable in my eyes.
Seeing a bloody and worn out Christian finally hold the Holy Grail in his hands. It was well-deserved.
The match itself is overshadowed though it was an absolutely fantastic ladder match and one of the best matches of both men's careers.
5. Christian vs. Randy Orton @ over the Limit
What is this? The third contest between between Orton and Christian on this list?
Yes, this match was on a scale all of its own as far as the singles, no stipulation matches between these two went.
The chemistry between the stars never shined brighter than here, and it was great to see.
I still look back and feel that this might have been a better time for Christian to drop the belt, giving him a little bit more time to hold the thing though the story behind each of these matches was phenomenal.
Barely anyone can do what these two did on this night without a single gimmick.
4. The Miz vs. John Morrison @ Raw January 3
This match was the contest that should have been on PPV. Instead, it was wasted as a TV match. One of the best TV matches ever seen.
Morrison and Miz were at the top of their game on this night showing off exactly what they future could hold for the company.
The spots were exciting. The hits were brutal.
In the end, it would be one of the biggest victories of Miz's career.
For some reason, it would not lead Morrison to a higher place in the company.
3. Undertaker vs. Triple H @ WrestleMania XXVII
A match that began with much trepidation, Triple H and Undertaker showed just why they are legends here.
These two put on a brutal clinic in the ring that I thought no one would top this year.
Earlier, I called Henry/Orton the best told story in a match this year though this and the two following matches have a legitimate claim to that title as well.
There was magic in the wrestling this two did as HHH seemed poised to beat Taker. He hit the tombstone, and you could almost feel a chill in the air. It was possible to believe at that moment the Streak was over.
Instead, he would kick out eventually leading to the final sequence with Triple H forced after a full minute in the Hell's Gate to tap out.
Not many stars today could get anywhere this match.
2. Christian vs. Randy Orton @ Summerslam
This match was technically not the last match in this rivalry, but it was the true ending to the feud.
Christian and Orton wrestled a spectacular contest with both men using the No Holds Barred stipulation to its fullest extent.
The match would end with the phenomenal RKO on the steel steps which you knew was the nail in the coffin for Christian as he very appropriately fell into the exact same position that would first lose him the title. Poetic work.
I put three matches in the top twenty-five between these two with one as an honorable mention, but they are all testaments to what these men can do in the ring.
Randy Orton is the greatest in ring psychologist in WWE today while Christian is a pure veteran with instincts and ability that is unparalleled. All these matches are must watch, and they entirely came about this year.
Yet one match was better, and everyone probably knows which match that is.
1. John Cena vs. CM Punk @ Money in the Bank
The first match to receive a five star rating from Dave Meltzer since 1997.
The most unpredictable and masterfully orchestrated contests in WWE history.
Is it the greatest contest this year? Yes.
Is it one of the greatest contests in WWE history? Absolutely!
The atmosphere with the hot home town crowd in Chicago just perfectly orchestrated a match that was not just great it was legendary.
John Cena and CM Punk had such amazing chemistry that even their slight botches fit perfectly. The ending sealed the deal as WWE managed to swerve every thought and prediction and leave the WWE fans in utter shock.
One most matches, I left a highlight reel for the video. Instead for this, I left the promo for the match which is the greatest WWE promo I personally have ever seen.
No match topped this this year and not many can lay claim to being better this entire decade.
***
Thank you for reading!
Comment!
Keep Reading