2011 FCS Football Playoffs: Semifinal Preview and Predictions
It's the Final Four of FCS college football, ladies and gentleman.
The FCS playoffs enter the semifinals this weekend. The Montana Grizzlies will venture to Huntsville, Texas to take on the Sam Houston State Bearkats Friday night at 8:00 p.m. Eastern on ESPN. On Saturday, the North Dakota State Bison will be visited by the Georgia Southern Eagles in a 2:30 p.m. Eastern showdown on ESPNU.
It will be an exciting weekend of FCS College Football, as teams are only one game away from a trip to the FCS National Championship in Frisco, Texas.
Semifinal Round (Dec. 16/17)
No. 4 Montana @ No. 1 Sam Houston State
No. 3 Georgia Southern @ No. 2 North Dakota State
Begin Slideshow

»
Sam Houston State is still the only undefeated team in the FCS an extremely impressive 13-0. Additionally, whatever doubts I had in the Bearkats in playing a medicore schedule were shattered in a 49-13 stomping of the Montana State Bobcats.
The Bearkats put up 501 yards of offense against the Bobcats, with 428 of those on the ground and an average of 10.4 yards per rushing attempt.
Throughout the entire season Sam Houston State has put up 3,297 yards of rushing offense leading the Southland Conference. This is more than double of McNesse State's rushing total of 1,629 yards which is second in the Southland.
Additionally, running backs Tim Flanders and Richard Sincere are first and second respectively for total rushing yards in the Southland Conference.
Montana may be on even more of a roll than the Bearkats. The Grizzlies have now won nine straight, including the last three against FCS playoff opponents. Additionally, they have been winning games comfortably. Their last five victories have been won by an average of 30 points per game.
Montana's quarterfinal match up with Northern Iowa was no different. The Grizzlies sparked in the second quarter and never let up, leading to a 48-10 pounding over the Panthers.
Grizzly quarterback Jordan Johnson played outstanding overall. He completed 13 of 20 passes for 196 yards for three touchdowns, and rushed for 86 yards and one touchdown. Among Montana's great tandem of running backs, the Grizzlies rushed for 267 yards.
This game is honestly a toss up. These are the two hottest teams in the FCS right now. However, Montana has been playing more consistent as of late, and the Grizzlies have more weapons on defense to slow down Sam Houston State's offense. Expect the Grizzlies to upset the Bearkats in this shootout.
Prediction
Montana 41
Sam Houston State 37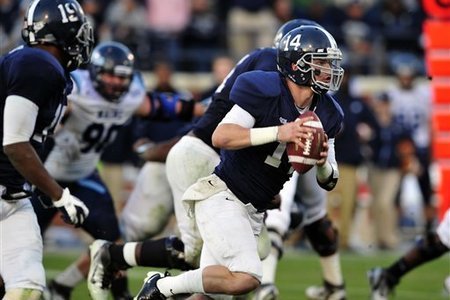 North Dakota State is simply playing great football. The Bison shut out the Lehigh Mountain Hawks in the quarterfinals of the playoffs 24-0.
The Bison stampeded to 221 yards on the ground behind running backs Sam Ojuri and D.J. McNorton. Wide receiver Warren Holloway hauled in eight catches for 96 yards and one touchdown.
North Dakota State's defense has also been outstanding. Along with shutting down Lehigh quarterback Chris Lum and the Mountain Hawk's pass happy offense, the Bison have only given up an average of 13.7 points and 322.8 yards for game.
The Bison have also had an impressive five interceptions returned for touchdowns throughout the season.
Georgia Southern has continued to play outstanding football, including a 35-23 victory over Maine.
The Eagles stormed to 360 yards on the ground behind running backs JJ Wilcox and Dominique Swope. Quarterback Jaybo Shaw also had a nice game, completing seven of eight passes for 116 yards and a touchdown.
The Eagles lead the Southern Conference in average points per game with 37.3, and have also had 442.8 yards per game of total offense, second in the conference to Wofford.
Additionally, the Georgia Southern defense is stacked. Led by defensive lineman Brent Russel and defensive back Laron Scott, the Eagles are second in the Southern Conference in rushing defense with 1783 yards given up on the ground per game, and total defense with 349.4 yards per game.
I am very excited to see these two downhill rushing teams go at it which will make for a very entertaining game. However, Georgia Southern has slightly more talent on the offensive side of the ball. Look for the Eagles to move on to Frisco, Texas to play for the National Championship.
Prediction
Georgia Southern 31
North Dakota State 24