Indianapolis Colts 1st Pick Trade: Best Option for Fans and Franchise
December 13, 2011
Thirteen games into the season and the Indianapolis Colts have all but locked up the first overall pick in the 2012 NFL Draft.
The only teams that could possibly compete for this dubious reward are the Minnesota Vikings and St. Louis Rams, which each have two wins a piece.
Of those teams, only Minnesota would draft Andrew Luck. Despite the fact that Christian Ponder has shown flashes of brilliance, and good things to come in limited play this season.
The Rams have invested too much money in their own recent first overall pick. Sam Bradford will spend as much as $50 million in guaranteed money on a rookie contract. With that said about both teams, should the Colts go on an improbable and nearly impossible three game win streak, there is about zero percent chance either team takes Luck. 
Although their record is absolutely unacceptable and embarrassing for fans and ownership alike, one can't help but to get the sense that the personnel under-performing is not the Colts' biggest concern.
Since their Superbowl loss to the Saints in 2010, Jim Caldwell has taken a Superbowl championship caliber team to the deepest depths of the NFL. Starting in 2002 under the watchful eye of Tony Dungy and behind the rocket arm of Peyton Manning, Indianapolis made the playoffs an incredible nine years in a row.
A team of such prominence simply does not go 0-16 after losing one player. No matter who the player might be.
It is a clear cut coaching problem. More unpreparedness than incompetency perhaps. 
On draft day, it would not be in the best interest of Vice Chairman, and shot-caller Bill Polian to announce that the Indianapolis Colts select Andrew Luck as the first pick. Such a statement will tear the franchise apart at the seams.
First of all, your (assuming) 0-16 team is going to perform how well with a quarterback who has never taken a NFL snap?
This is a veteran team full of champions. The Colts are not in a situation where they can rebuild. As highly touted as he is, Andrew Luck will not bring them a championship while Mathis, Freeney, Wayne, and Clark are still young men.
At that point, Why are you paying Adam Vinatieri that exorbitant amount of money for? He is a clutch kicker built for the playoffs. That is his only purpose.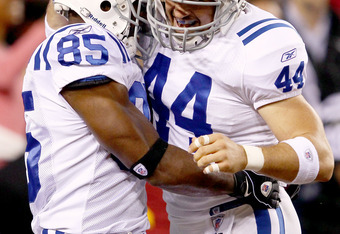 Win McNamee/Getty Images
Second, you infuriate your fan base. Their four time MVP quarterback who brought them their first Superbowl since moving from Baltimore, the man who nine out of every ten fans dawn his jersey, and most importantly one of the most fun, entertaining, and amazing professional athletes in the world, is gone.
If you haven't kept track of NFL trades lately here is how most trades usually go down:One team always gets screwed. The other team usually makes out like bandits. Everyone else is left scratching their heads wondering how the trade ever went through.
If the Colts were to somehow trade Manning and his big dollar paycheck, then the return would not be anywhere near what you would expect in a fair return. Consider who would take Manning at this point?
Every single NFC team minus the Washington Redskins have either big money or big hopes invested in their current quarterbacks.
You might get Kevin Kolb and some spare parts from Arizona. That's about the best you would do in the NFC. Then again, you've drafted Andrew Luck. Kolb would be his sad 2010 self sitting on the sidelines.
Look at the AFC, among the non AFC-South teams you have Cleveland and Miami offering you meager scraps for the future Hall of Famer. Trade Manning and you get this: you dare to draw the ire of your fans when Peyton comes to town to play his old team.
Fans would give him a standing ovation, which is obvious and doubtless. It is completely predictable that some would go as far as to root for Manning during that game, and not their own team. So scorned by the trade, and remembering the good old times with their old hero. You have your own fans actively pulling against the home team.  
Third and maybe something that perhaps nobody has thought about, you invest your pick in a position where you currently have zero need. You do not pick again until 31 other teams have improved themselves taking important support players.
According to recent scouting, there is a superb mix of position players available in the top 32. If your team has a very specific need, then there is that special player out there that will be available to you barring a deep playoff run.
Jeff Golden/Getty Images
The Colts last option is to give Manning his outright release. In doing this, they gain nothing.  Say "thanks for the memories, but it's time we both move on", to one of the best players the NFL has ever seen.  
This leaves the door open for the Jacksonville Jaguars or Tennessee Titans to acquire Manning in what would be the worst possible scenario imaginable. A division rival would vastly improve, and in doing so, probably sweep the Colts for the next four to five years in a row.
That leaves the Colts with one choice and one choice only. They must trade the first overall pick. Move down into the top 10, select a very promising young man who can jump in the same year Peyton makes his triumphant return, and help the team back to the playoffs. In addition, put an embarrassing year behind them.
Following success, nobody will remember the 2011 season. Among the top five players available you can select: USC offensive lineman Matt Kalil, someone to help protect your still franchise quarterback. Morris Clairborne is the top defensive back available, and the Cots need a stud in the secondary to replace the oft-injured but still great Bob Sanders.
You can give Manning another weapon to exploit in Justin Blackmon who is widely considered the top receiver in this year's draft. Finally, someone to take pressure off Reggie Wayne.
Not only do you get a crucial player of your choosing, but in trading down with the first overall pick you are very likely to acquire that all important second rounder at a decent position, or a bevy of late round picks on top of that first rounder you've secured. 
There are quite a few more scenarios the Colts should explore. Because they have so many options at the ready, there is no need to make a brash decision.
Cast off the face of your franchise and burn the number one overall pick on someone who at this point is all hype. Luck may be the best quarterback since Peyton Manning, but the fact is the Colts already have Peyton Manning. They don't need to draft him again.
Everyone forgets that before his neck injury, Peyton was the NFL's next iron man. Ready to take a run at Brett Favre's consecutive starts record. Simply put, it does not matter if Manning has missed the season.
He has gotten plenty if not too much rest. He will be back. Due to his style of playing, which entails knowing when to get rid of the ball quickly and avoiding unnecessary hits, Manning should be in the NFL well into his late 30's. If not able to play at 40.
Manning is that talented, and if there is one player who can have the career longevity of Favre, it is without a doubt number 18.