Seattle Seahawks: Top Seahawks Quarterbacks of All Time (1976-2011)
Except for the Shaun Alexander era, and perhaps now, with Marshawn Lynch beasting out of the backfield, the Seattle Seahawks have generally been regarded as a passing team.
Some great receivers and running backs have lined up in blue and green—but here are the best QBs to ever toss the pigskin at the now-departed Kingdome or at what is known as CenturyLink Field.
Players had to have played at least 20 games in a Seahawks uniform to be considered.
(Stats from Pro Football Reference)
Begin Slideshow

»
Jed Jacobsohn/Getty Images

Moon didn't spend a whole lot of time in his native Seattle, but he still ranks sixth all time in Seahawks passing annals.
25 games, 458-of-786, 58.3 percent, 5310 yards, 36 TD, 24 Int
Andy Lyons/Getty Images

The Notre Dame grad never lived up to his advance billing, but still put up some big numbers in four seasons in the Pacific Northwest.
55 games, 814-of-1523, 53.4 percent, 9094 yards, 41 TD, 56 Int
Otto Greule Jr/Getty Images

Still active in the NFL with the Dallas Cowboys, Kitna helped get the Seahawks to the playoffs in their last season in the Kingdome in 1999, and also led them to their final AFC West championship that year.
39 games, 658-of-1130, 58.2 percent, 7552 yards, 49 TD, 45 Int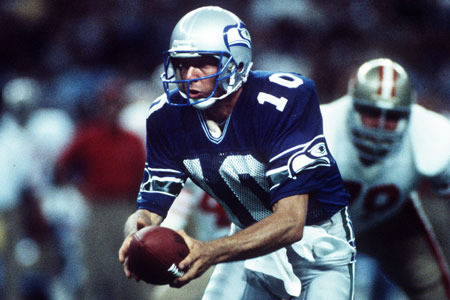 The Seahawks' first-ever quarterback, Zorn is also third all time in franchise history with 126 games played, and also averaged nearly five yards per rush (1491 yards, 17 TD).
He is now the QB coach with the Kansas City Chiefs.
126 games, 1593-of-2990, 53.3 percent, 20,122 yards, 107 TD, 133 Int
Stephen Dunn/Getty Images

A. Messerschmidt/Getty Images

The Seahawks' all-time passing leader and the only QB to guide Seattle to the Super Bowl, Hasselbeck holds franchise passing records for games played, completions, attempts, completion percentage and yards.
Originally a Green Bay Packer, he is now with the Tennessee Titans.
138 games, 2559-of-4250, 60.2 percent, 29,434 yards, 174 TD, 128 Int