NHL Carolina Hurricanes: 5 Biggest Reasons Behind Their Dreadful Start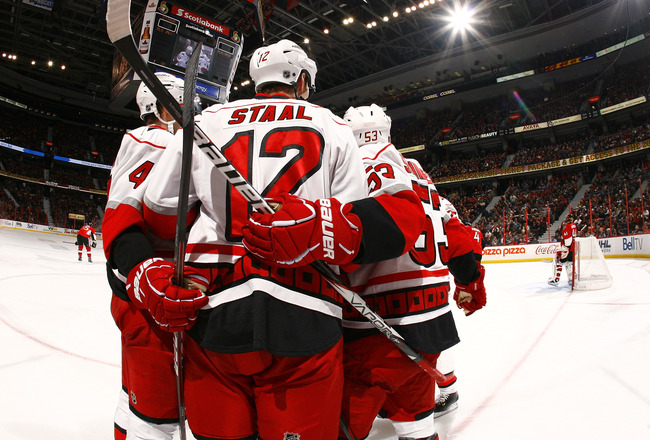 Phillip MacCallum/Getty Images
The 2011-12 season hasn't been kind to the Carolina Hurricanes.
A year after falling one win shy of the playoffs, the 'Canes have taken several steps backwards, currently occupying last place in the Eastern Conference standings.
A lot has gone wrong in the past few months, leading to the dismissal of head coach Paul Maurice. General manager Jim Rutherford went out on a limb and hired Milwaukee Admirals head coach Kirk Muller as Maurice's replacement, hoping to re-energize a team that Rutherford believes has the tools to succeed.
Unfortunately, Muller has been unable to change Carolina's fortunes thus far; the 'Canes have lost six of the first seven games under his tenure.
Let's take a look at the five main reasons why the Hurricanes have fallen apart.
Eric Staal's Horrendous Play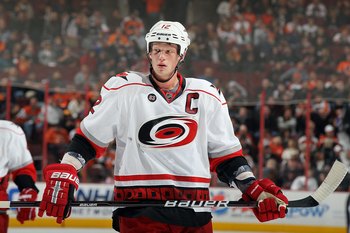 Jim McIsaac/Getty Images
Eric Staal's nightmare start to the 2011-12 season has been well-documented.
Carolina's captain has underperformed at both ends of the ice, failing to score at an acceptable rate and playing some of the worst defense of his career. Through 32 games, Staal has a mere seven goals and 20 points; and his minus-18 rating is currently the worst in the league.
For most of Staal's career, the 'Canes have leaned heavily on his typically All-Star-worthy production, and his drop-off illustrates just how much he means to his team.
Continuing Defensive Woes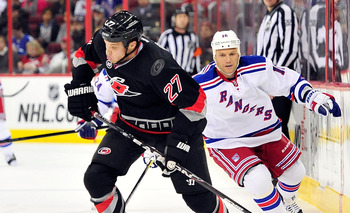 Grant Halverson/Getty Images
The Hurricanes defense has been historically mediocre, and this year's group is right up there with the worst. Carolina currently sports a 3.38 goals-against average, ahead of only the Ottawa Senators; their 31.8 shots allowed per game is also among the worst in the league.
Not one single player on Carolina's roster has a positive plus/minus rating. Anthony Stewart, Drayson Bowman and Jaroslav Spacek are all even, while the rest of the team is in the red.
To make matters worse, the Canes' defense weakens as the game goes on: They've allowed 44 goals in the third period this season, the most in the NHL.
Ineffective Special Teams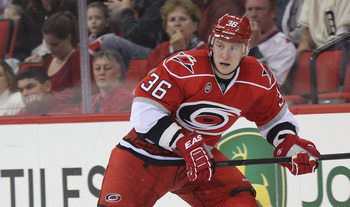 Bruce Bennett/Getty Images
The Hurricanes have had issues with their special teams for a long time, and this season is no exception.
Carolina has converted on only 13.6 percent of their power-play opportunities thus far, and that number gets even worse at home at the RBC Center, where they are 7-for-67 (10.4 percent) on the man-advantage. However, since Muller's arrival, the Hurricanes have seen some improvements in this department, going 5 for 26 (19.2 percent) in the past seven games.
Carolina's penalty kill sits at 79.3 percent, good for 25th in the NHL. While they lead the league in short-handed goals (six), the Hurricanes' ineffectiveness on the PK has played a major role in the team's poor start.
Lack of Depth Up Front
Bruce Bennett/Getty Images
After losing former fan favorite Erik Cole to free agency, Carolina has been unable to find a serviceable replacement.
Alexei Ponikarovsky was brought in during the offseason to fill in the vacant top-six role that Cole had held for the better part of nine seasons, but so far his production has been highly disappointing. Couple that with Staal's rough start, and you've got an incredibly under-performing offense.
The 'Canes goals per game is down from significantly from last season, dropping from 2.82 to 2.5.
Inability to Come from Behind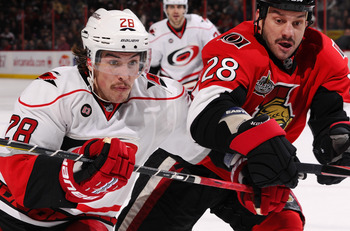 Phillip MacCallum/Getty Images
Comebacks have been few and far between this year for Carolina.
The Hurricanes are 3-13-1 when surrendering the first goal of the game and are winless when trailing at any intermission: They're 0-11 when down after one period and 0-12-2 when down after two.
Carolina's inability to play from behind is a strong indication of their fragile psyche. This season has been emotionally taxing on the 'Canes, and while they haven't given up by any means, their collective mentality has clearly carried over on to the ice.
Keep Reading

Carolina Hurricanes: Like this team?