Green Bay Packers: Should Aaron Rodgers Be Rested?
December 13, 2011
Jonathan Daniel/Getty Images
What good can come from playing your all-world quarterback, Aaron Rodgers, in games that essentially don't matter?
I know, I know. The Green Bay Packers haven't clinched the top NFC seed yet, but don't you think that it'll happen next week when they play the Kansas City Chiefs? Don't you also think that backup Matt Flynn could take care of business?
I do. The Chiefs, you need to remember, are God awful.
After an injury scare from Greg Jennings last week (just a sprained knee), I started wondering what the heck Rodgers was doing out there. If you're Mike McCarthy, you have to get Rodgers' butt on the bench as soon as possible.
What Could Go Wrong
Let's assume the best- and worst-case scenarios: Best-case scenario is that the Packers earn the top seed, and it's all because of Rodgers. If Green Bay had played a backup at any point other than garbage time when the win is well in hand, they would've lost.
Okay, so in that scenario, Rodgers is the sole reason the Pack gets the top seed, so there's some value to playing him.
Worst-case scenario is that he goes out and tears his ACL next week against Kansas City in a game they're sure to win almost no matter what. He's out for the season, and the Pack has to go with Flynn against the likes of the New Orleans Saints and San Francisco 49ers.
Do the potential benefits outweigh the potential costs? Hardly.
Furthermore, the only way Green Bay will miss out on the top seed is if they lose their remaining three games, and, either the Saints or the 49ers win the rest of their three. Obviously, home field advantage is all but theirs.
Prediction Instead of Post-diction
What happened when Wes Welker went down in 2009 against the Houston Texans with a torn ACL at the end of the season? The talking heads were going crazy, claiming Welker never should've been out there, and that head coach Bill Belichick made a huge mistake in playing him.
Thanks for the expert analysis, Sherlock. Where were you in the pregame?
What I'm trying to say is that as soon as my worst-case scenario (or any scenario where Rodgers gets hurt) comes true, the airwaves will be filled with reports, analysts and other "experts" bashing the Packers for playing him.
Here's me actually suggesting it before it happens.
Ulterior Motives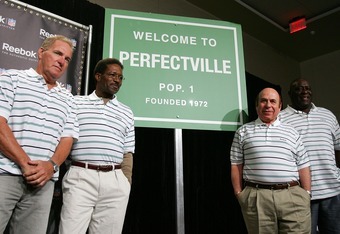 Jim McIsaac/Getty Images
If Green Bay's aim is to go undefeated in its bid to repeat as Super Bowl champions, I completely understand playing Rodgers. Even if they lose in the playoffs, going 16-0 is much rarer than a championship and immortalizes teams in a unique way.
For example, who won the Super Bowl in 1977? Not a Raiders fan? It's understandable. Now, who are the two teams in NFL post-merger that have posted undefeated seasons? Well that's the '72 Miami Dolphins and the '07 New England Patriots, of course.
Voila.
If, however, that's not the objective, then playing Rodgers is the definition of stupidity.