Mike Missanelli: "The Flyers Aren't That Important in Philadelphia"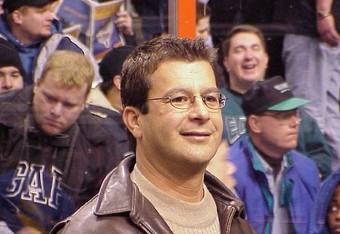 I was on my way home from work listening to some music when I decided to flip through the channels and put on 97.5 FM, "The Phanatic." I tend to stray away from The Phanatic because I don't seem to agree with much of the stuff the guys on there talk about. Not only that, but every time I seem to turn them on, all they're ever talking about is the Eagles and football.
I thought Philadelphia sports radio meant you cover all sports; I guess I was wrong. Since the Flyers announced that Claude Giroux had a concussion today, I figured I'd put it on for a bit and see if they talked about it at all.
I caught the tail end of the "Harry Mayes and Tony Bruno Show" with about 5-10 minutes left in their segment. Mike Missanelli was on the show as well, since his show comes on following Bruno and Mayes'. They were indeed talking about Claude Giroux but not necessarily about his concussion.
Instead, the three of them were having a discussion about how important the Philadelphia Flyers are in the Philly sports world. Missanelli was asked what percentage he thought the Flyers meant to Philly sports, to which he replied "8 percent". That had my blood boiling a little bit, and I think it was Bruno who actually defended the Flyers, saying he would label them at about "twenty five percent".
Missanelli then went on to say that the Claude Giroux story "wasn't that big of a deal" in Philly sports, and that the "Philles are more important." It didn't surprise me much, as he usually only ever talks about the Eagles on his show, yet is still labeled as a "Philadelphia sports radio host" on The Phanatic. Maybe if he keeps talking about the Eagles enough, he can bring a Super Bowl here for once.
About 10 minutes later, when Missanelli's show started, he did indeed talk about Giroux and the concussion, but didn't have a whole lot to say other than it was a shame for it to happen and begun to compare it to the Eric Lindros scenario.
What do you think about Missanelli's comments?
Now, don't get me wrong. I realize that Philadelphia is mostly a "football city," but last time I checked, the Eagles haven't had the greatest season. Yet, that's all I continue to hear about. When you're labeled a Philadelphia sports radio personality, isn't it your job to cover all sports? Not only that, but personally, I don't think it's very professional to compare who likes what team more. I'm a Philly fan, that means I care about all my teams. Not just one or two.
Really, Mike? Are we talking about the same team here?
The same Philadelphia Flyers who brought Philadelphia two back-to-back Stanley Cups in Philadelphia? The same Philadelphia Flyers who make the playoffs just about every season? The same Philadelphia Flyers that made it to the Stanley Cup Final two years ago? The Philadelphia Flyers, who currently boast the NHL's leading scorer?
I'm not so sure other Philadelphia Flyers fans agree, Mikey. Which brings me to another point.
Mike is planning on having Eric Lindros and John LeClair on his show tomorrow. Why exactly? Didn't he just get done saying they aren't that important? Where I'm from, that's called a hypocrite.
So, what do you think about these comments? Does it make you mad? Or does it not really bother you?
Follow me on Twitter @ManayunkMike for news, rumors, and updates.
This article is
What is the duplicate article?
Why is this article offensive?
Where is this article plagiarized from?
Why is this article poorly edited?

Philadelphia Flyers: Like this team?