Giving Credit to the Denver Broncos Coordinators, Dennis Allen Edition
December 13, 2011
Doug Pensinger/Getty Images
The Denver Broncos make national news on a regular basis these days. Much of that attention is garnered by Tim Tebow, but in order to be 7-1 in their last eight games surely there must be more going on than just one player.
Head coach John Fox is slowly creeping into the conversation of being the NFL Coach of the Year for completely restructuring a team on the fly. However, it is not John Fox alone that has had to adapt drastically to their current situation.
Offensive coordinator Mike McCoy and defensive coordinator Dennis Allen have as much to do with this turnaround as anyone, and for the first time in a long time, the Denver Broncos might start next season with the same two coordinators from the previous season.
Starting on the defensive side of things, Dennis Allen made his way from the bayou in New Orleans to take over a much-maligned Denver defensive squad.
It cannot be understated how atrocious that many experts felt this defense was heading into 2011. An aging defensive backfield and completely talentless interior defensive line were the main reasons for the Broncos' demise in 2011.
Dennis Allen seemed to be in over his head early in the season as his defense was exposed for lack of toughness on opening night against Oakland, lack of coverage ability against both Cincinnati and Green Bay and the inability to generate turnovers against Tennessee.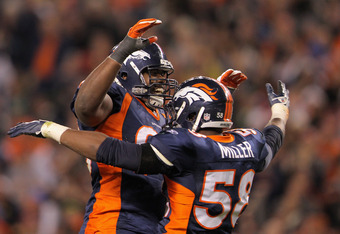 Doug Pensinger/Getty Images
What was happening was that Allen realized his new team could not play defense in the same way that his previous squad did in New Orleans.
Studying under Gregg Williams and playing behind a high-powered offense with the Saints meant that their defense could afford to gamble. It was okay if an aggressive blitz or coverage call got their defense burned occasionally because the Saints offense could usually overcome that.
The key in New Orleans, much like in Green Bay, is generating turnovers at any cost because their offense has such a great conversion percentage. The occasional burn was offset by the ability to score easily with the ball on offense.
Upon arriving in Denver, Allen found a defense that could not boast the same confidence in their offense. Even now the Denver offense is ineffective for most of the game, so the ability to gamble is reduced for fear of falling into too big a hole for the offense to climb out of.
Dennis Allen has had to completely revamp his defensive philosophy, and by all accounts it seems to be working very well. What was once the weakest part of the Broncos team, defense is now their strongest attribute.
There is still a lot of room to grow and Allen is benefited immensely by the emerging talent of Von Miller. Still, look at a player like Andre' Goodman who is making the most of his opportunities this season.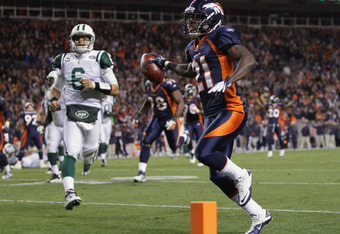 Doug Pensinger/Getty Images
Allen knows that with Champ Bailey and Brian Dawkins' help, he can cut Goodman loose in coverage for better or worse. Occasionally, it results in Goodman looking foolish, but other times it results in Goodman having the confidence and knowledge to jump a route on Mark Sanchez and save the game for Denver.
Allen could not come in and create a mirror image of the New Orleans Saints defense, which is a good thing because the personnel is not the same on both sides of the ball. Yet, he has been able to blend that style with the more conservative approach that has helped the Broncos remain competitive in every game.
Just like the Broncos offense, the defense has to pick and choose when to take their shots. They cannot be over aggressive and try to force the issue on teams for fear of getting burned and creating too much of a gap for the offense to close.
Still, for the first time in a long time, the Broncos defense looks comfortable enough to stop thinking and just react.
Going forward, Dennis Allen might look to the bayou for more defensive help in the draft with a plethora of NFL talent coming out of LSU, but either way he seems to be making the most out of what he has.
Broncos fans should be encouraged for Allen to return and continue building this defense with John Fox. Their only worry could be that someday Allen's name joins the list of NFL head coaches in waiting.
That's finally a "good" problem for the Broncos to have on defense.
Check back later for an evaluation of the growth of offensive coordinator Mike McCoy in Part 2 of this series.