Offseason Keep, Trade or Cut Decisions for Every Houston Texans Starter
December 14, 2011
Bob Levey/Getty Images
We all know that major player movement via trade is quite uncommon in the NFL. In fact, major turnover on an NFL roster from season to season is usually quite low, unless a team is either unlucky enough to have numerous free agents at the same time or they are looking to rebuild.
The 2012 Houston Texans will not encounter either scenario.
With their incredible depth, as evidenced by their success through devastating fortune in injuries, the Texans will be satisfied to get back a lot of guys whose season were cut short in 2011.
But in taking a look at every starter (and a few who have become starters this season), we will analyze their chances of being traded, cut or let walk in free agency when the 2011 season comes to a close.
Chris Myers, C
Chris is a free agent at the end of the year, and I fully expected an extension to happen by then. If not, I think he'll test free agency but will re-sign with Houston for a raise.
Jason Allen, CB
Allen is another guy who is a free agent at the end of the year. He will probably find someone willing to give him a multi-year deal as a starter. I think the team lets him walk.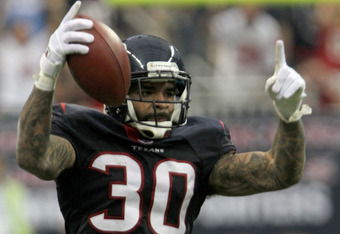 Thomas B. Shea/Getty Images
Johnathan Joseph, CB
I think the franchise might let any other player on the roster go before Joseph, who is an elite cornerback and a likely all-pro this season.
Kareem Jackson, CB
Everyone's favorite whipping boy has showed much improvement this season, and it is likely enough to keep him around for another year at least.
Antonio Smith, DE
A leader on the field and in the clubhouse, after restructuring his contract last year to enable the team to make other moves, no doubt that he is back in 2012.
J.J. Watt, DE
I don't think there is any situation under God where Watt isn't a Texan for the next decade.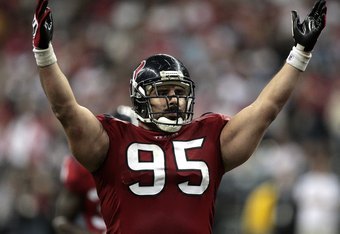 Bob Levey/Getty Images
Shaun Cody, NT/DT
While Cody is having a terrific season, I think he will stick around in 2012, but he might be a backup if the Texans opt to get a space-eater in the draft next year.
James Casey, FB
Casey was having a terrific start before receiving a nagging injury to his pec that has slowed his performance. The team loves him, though, and he will be back.
Lawrence Vickers, FB
After a slow start, Vickers has excelled in run-blocking for Foster and Tate. He will certainly be back after supplanting James Casey as the starter due to injury.
Mike Brisiel, G
Don't let the injury he had last Sunday fool you, the Texans want to keep this offensive line together for the foreseeable future.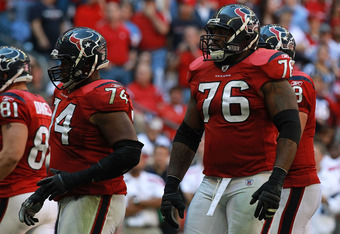 Ronald Martinez/Getty Images
Wade Smith, G
See Mike Brisiel, above. The chemistry with these guys is undeniable, and they'll be kept together.
Brian Cushing, ILB
Not only do I think Brian Cushing will be here next season; I think he will get an extension before the end of 2012.
DeMeco Ryans, ILB
This one is scary. While he has played decently, he still hasn't regained his pre-injury form. With his large contract, he could be a cap-casualty next season.
Neil Rackers, K
Rackers is becoming a growing concern with how he seems to miss anything over 45 yards. But not enough to see him replaced. Yet.
Connor Barwin, OLB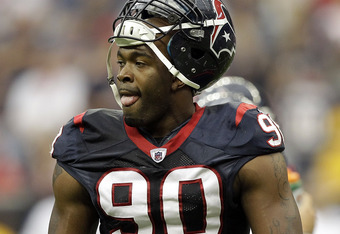 Bob Levey/Getty Images
After blowing up this season, look for Connor to possibly receive an extension in the next year or so.
Brooks Reed, OLB
The essence of a "home-run pick" in the second round, there is no way Brooks isn't here next season. In fact, he may be the long-term starter.
Mario Williams, OLB
This is the holy grail of questions among Texans fans. Do they break the bank to keep the former-No. 1 pick or let him walk? With what he'll get on the open market, I think they may let him go.
Brett Hartmann, P
What a bummer of an injury for "The Hitman" this season. After a rookie campaign that saw him getting better each week, he's likely kicking deep for Houston again next season.
Matt Schaub, QB
Short of TJ Yates leading the Texans to an improbable Super Bowl victory, there is no way Matt Schaub isn't your starter on Day 1 of training camp next season.
Matt Leinart, QB
The emergence of TJ Yates pretty much spelled the end for Matty Ice in Houston. He'll get a backup job elsewhere after Houston cuts him.
TJ Yates, QB
If anything, Yates has proven himself to be the Texans quarterback of the future. Unless some team just blows the Texans away with a trade offer, he's here to stay.
Arian Foster, RB
He's a restricted free agent, meaning that once the Texans slap a qualifying offer on him, a team would have to not only pay him big money, but give the Texans a first- and a third-round draft pick for him. He's a Texan in 2012.
Ben Tate, RB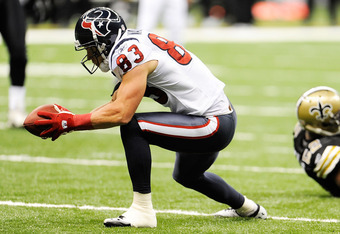 Stacy Revere/Getty Images
As much as I'd hate to see it, I think the Texans could entertain trade offers for the young backup. He has a starter's talent, and Houston will get calls for him. I think they keep the duo together another season, though.
Danieal Manning, S
He's the best safety in Texans history. He's here until his contract is up.
Glover Quin, S
Playing at his natural position, Quin will be kept around regardless of if Houston takes another safety in the draft. He's versatile and can still play corner if needed.
Duane Brown, T
Duane has had a pro-bowl season, and he has another year left on his rookie contract. This is another guy who may be in-line for an extension before he hits the open market.
Eric Winston, T
For as much crap as Texans fans give Winston, he's still a very good player. He will be here next year, but I could envision Houston drafting his eventual replacement this year.
Owen Daniels, TE
Finally healthy again, OD has reclaimed his spot among the elite tight ends in all of football. He's earning every penny of his shiny new contract. He's here to stay.
Andre Johnson, WR
To think of Andre on another team is sheer lunacy. But due to him proving to be an injury-prone guy this year, look for the team to draft his eventual replacement and Andre to mentor him. However, Johnson is here until he retires. The fans would burn down Reliant if he wasn't.
Kevin Walter, WR
As much as Walter does that doesn't show up on the stat-sheet, I think his bloated contract gets him cut in the offseason. I'd be sad to lose him, but you have to grade value over performance sometimes.
Jacoby Jones, WR
Fans were ready to sell off Jacoby for a bucket of used mouthpieces a couple of months ago, but he will be back next year. His value as a punt returner alone keeps him on the roster.
So, as I've said in the past, I look for pretty much this same team to be back next year with a few losses and a few additions via free agency. If Mario Williams does walk, the team will spend big on a wide receiver to take some pressure off Andre. But with this year being diminished by so many injuries, they'll keep this core group together to take another shot at it in 2012.