Georgia Bulldog Fans Look in the Rear View Mirror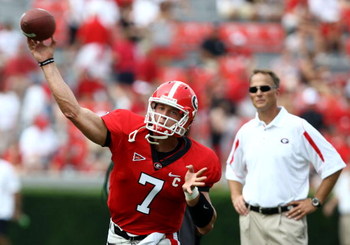 The team that started the season as the nation's most heralded finds itself on its way to Orlando for the Capital One Bowl.
With its longest road trip in decades, two losses to the best teams in the SEC and its first loss to its in-state rival in eight years behind them, the Georgia Bulldogs are more than a respectable 9-3.
The road to Orlando for the Dawgs was long and difficult, but the rewards are plenty.
Dreams and Determination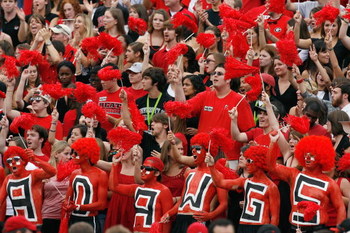 With the dominating performance in the 2008 Sugar Bowl, and the off season accolades pocketed for future reference, Georgia gridiron aficionados had a full eight months to contain their excitement and exude their confidence.
A preseason ranking of "numero uno" only fueled the fires that the Bulldog Nation used to stoke their enthusiasm for a season they saw as theirs to take. The schedule looked tough, but the roster looked stacked with talent.
By the start of two-a-days, mania was already at a fever pitch.
Crutches Trump Green Jerseys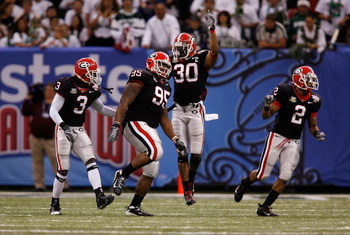 By the end of summer, coaches expect to see a few green (non-contact) jerseys. But in Butts-Mehre's backyard, there seemed to be an increasing number of crutches.
All-SEC left tackle Trinton Sturdivant never saw a snap in 2008, and line coach Stacy Searels earned every dime in his contract shuffling and re-shuffling his line, and continuously getting them ready to protect quarterback Matt Stafford and open holes for running back Knowshon Moreno.
Another huge loss was Jeff Owens, who barely played a down before he left Sanford's turf with torn knee ligaments.
And without their star defensive tackle, the defense was not the same team that terrorized Hawaii quarterback Colt Brennan in New Orleans last season.
Two Wins, More Questions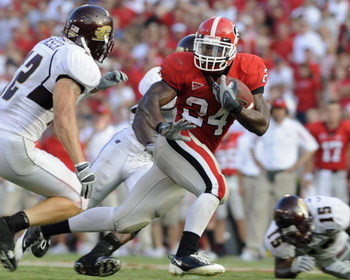 The Dawgs opened the season with wins over Georgia Southern and Central Michigan.
But, despite the large margins of victory (24 over the Eagles and 39 over the Chippewas), fans seemed to have more questions than answers after a long offseason of dreaming and speculating.
In fact, there were enough questions looming that fans were a little worried about the season's first road trip—to Columbia, South Carolina.
A Defensive Stand
Georgia walked confidently into Williams-Brice and found a team of Gamecocks up for the challenge.
With yards and points hard to come by for its offensive stars, the Dawgs found themselves backed against their own goal line with the game on the line.
That was when linebacker Rennie Curran blasted into South Carolina running back Mike Davis as he challenged for the goal line, forcing the ball loose where cornerback Asher Allen recovered it.
As the offense failed to close the game out, the defense would come up big again with an interception by Reshad Jones with 13 seconds left.
"Darth Visor" was defeated for at least another year.
Dawgs Dazzle in Desert Heat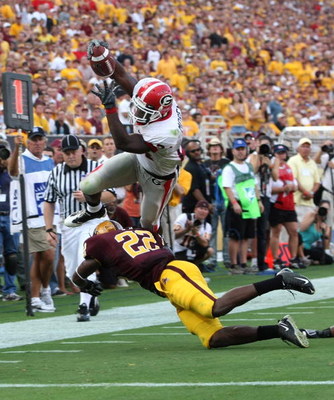 AJ Green had his coming-out party on national television as the Bulldogs traveled out west for the first time since 1960 to take on Arizona State.
The true freshman had eight catches for 159 yards, Knowshon showed he could fly in the "House of Heat," and Georgia cruised to a 27-10 victory over the Sun Devils.
And Dawg fans showed Pac-10 fans how well the SEC travels.
We'll see how many Sun Devil fans show up at Sanford next September.
Black Eye'd Blackout
ESPN Gameday on campus, first blackout since the Sugar Bowl, night game—it all added up to a Beatdown by 'Bama.
The game was so bad, the Dawgs went into the locker room at halftime trailing 31-0.
Perhaps inspired by the boisterousness and resiliency of their fans, the Bulldogs came out in the second half and at least made the final score somewhat respectable.
Defense Rules Vols and 'Dores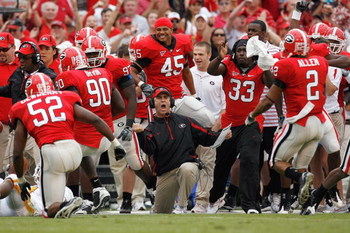 With a bye week to focus on fundamentals, the defense returned to Sanford Stadium and held Tennessee to a single yard rushing, and both teams from the Rocky Top state to under 250 yards offense.
The wins moved Georgia's record to six wins and one loss heading down to the Bayou.
And once again, fans were dreaming of a possible rematch with Alabama in Atlanta.
Gamble Pays Dividends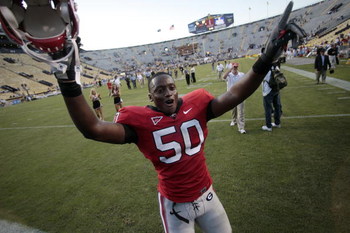 Redshirt sophomore Darryl Gamble provided plenty of offense from his middle linebacker position as he took two interceptions back for six points each, one on the first play form scrimmage.
But the 'Dawgs had plenty of firepower on the offensive side of the ball as well, as they rolled up 443 yards and 38 points of their own.
By the end of the game, the 'Dawgs seemed ready for Florida quarterback Tim Tebow's Gators.
Jacked Up in Jacksonville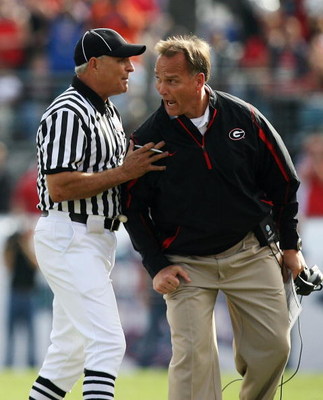 Tebow is incredible. Florida Coach Urban Meyer didn't have to cry.
This game sucked—'nuf said.
Close Shaves on the Road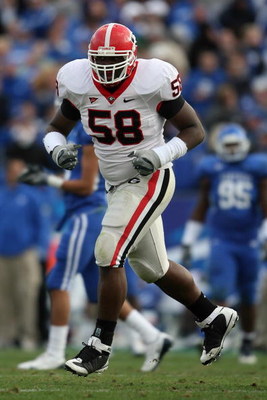 Defensive end Demarcus Dobbs doesn't get his hands on the ball that often, but you have to admit that when he does, he makes the most of it.
After returning a pick for six against Central Michigan earlier in the season, Dobbs used two clubbed hands to gather in a Kentucky pass to seal a victory in Lexington.
The next week, the 'Dawgs found Tuberville's Auburn Tigers had a lot of fight in them, but held on to a 17-13 win.
The go-ahead TD pass from Stafford would have severed the hands of mere mortals, but AJ once again showed why he is so YouTube worthy.
Tech Engineers a Win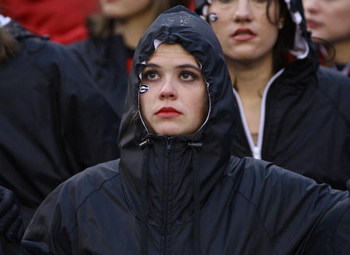 On a miserable day, the Dawgs appeared ready to extend their streak of seven wins against their in-state rival, Georgia Tech. But NCAA rules insisted they play both halves, even after dominating the first.
In the 3rd quarter, the Jackets showed the Bulldogs a new definition of domination, racking up close to 5000 yards rushing after halftime.
Ok, it just seemed like 5000.
Fans left the game ill-tempered and soaked to the bone.
Decisions, Derision and Disappointment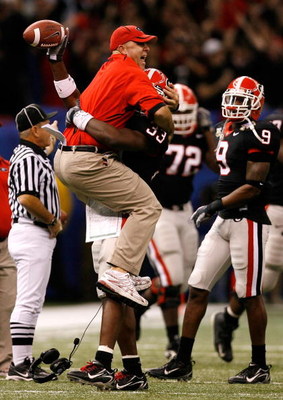 Feeling the need to focus their frustrations, fans aimed steadily at defensive coordinator Willie Martinez.
Their team had managed nine wins despite over 20 season-ending injuries, but Dawg lovers were not satisfied with the results. The defense seemed an easy target.
Coach Mark Richt disagreed, but promised changes and a thorough evaluation.
Meanwhile, Stafford, Allen, Moreno and Atkins asked the NFL's draft advisory board for clarification on their professional status. Atkins reiterated his intentions to stay in school.
Fans clamored for one more year from the dynamic duo of Stafford and Moreno, perhaps beginning to dream all over again.
Keep Reading