NFL Power Rankings: Tim Tebow, Denver Broncos Move Up the Ranks Again
December 13, 2011
Justin Edmonds/Getty Images
ESPN's NFL Power Rankings are out again, and just like every other week, the Denver Broncos and Tim Tebow have moved up the list.
The Broncos now sit at No. 9.
Four teams from the AFC are above Denver on the list (Ravens, Steelers, Patriots, Texans) and only three teams from the NFC rank higher (Packers, Saints, Falcons).
With a record of 8-5, this is just about the most respect this team can possibly have so far this year.
Let's take a look at the AFC teams that outrank Denver in the rankings as compared to the Broncos starting from when Tebow and the read-option offense got rolling.
Since Tebow was handed the keys to this read-option style offense developed by John Fox and Mike McCoy in Week 9, the Broncos are 6-0.
In that same span, the Patriots are 5-1, the Texans are 5-0 with a bye, the Ravens are 5-1 and the Steelers are 4-1 with a bye.
All very impressive. Let's dig a bit deeper.
The Patriots have scored an astounding 194 points in that span while only allowing 114 points. 
The Texans have put up 124 while their opponents have answered with only 63.
The Ravens offense is responsible for 135 points along this stretch. Their defense has let 92 points slip by.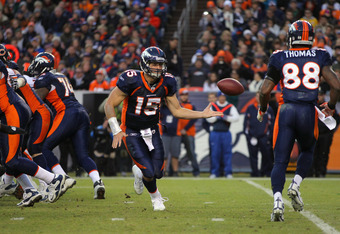 Doug Pensinger/Getty Images
Finally, the Steelers have accounted for 106 points and their defense has sacrificed a mere 59.
Where do the Broncos match up?
Tebow and his option offense have put up 136 points while his fired-up defensive squad is responsible for 102.
The Broncos, by far, have the lowest differential between points scored and points allowed.
So what separates Denver from these other teams? What makes Denver's plans possible in the postseason?
Week 14 marked four consecutive wins after the Broncos trailed entering the fourth quarter.
The thing that separates these teams from their last six opponents is the same thing that separates them from the four teams that outrank them.
Tim Tebow.
Tebow's and the Broncos' ability to play the best football they can when it matters the most is what makes them so dangerous.
Just like no hopeful playoff contender wants to play the Miami Dolphins right now, the same can be said about any team that might face Denver in the playoffs.
Week after week the Broncos have climbed the rankings, and week after week they've won.
Six straight times.
Week 15 will be Tebow and Denver's biggest test as they host the high-flying Patriots and quarterback Tom Brady in what might be the game of the year for the AFC.
If the Broncos manage to knock off this Patriots team—which happens to owe claim to the 32nd ranked defense in the league—they could leapfrog right past New England in next week's rankings.