NFL Picks Week 15: Identifying the Biggest X-Factor for Each Game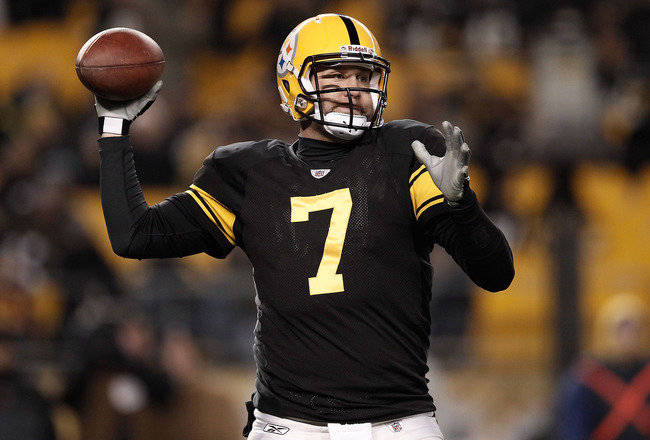 Jared Wickerham/Getty Images
Week 15 of the NFL season is already upon us, and while many X-factors need to come into play for you to win your fantasy football leagues, the same X-factors may change the outcomes of the games on Thursday, Saturday and Sunday.
The final three weeks of the season are similar to playoff games for most teams, because many of them are still trying to secure spots for the real postseason.
With a great slate of action on deck for Week 15, lets look at the biggest X-factor for each game.
Jacksonville at Atlanta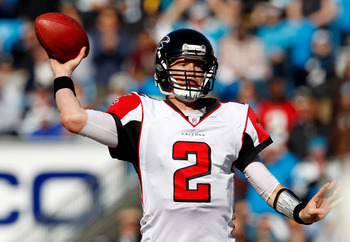 Streeter Lecka/Getty Images
X-Factor: Matt Ryan vs. Jaguars secondary
Jacksonville heads to Atlanta for this week's Thursday Night Football contest on NFL Network.
Jacksonville's strength is its defense, and they will be bringing in their fourth-ranked unit in terms of total yards allowed into town.
The Jaguars give up the fourth-fewest passing yards a game at only 190.8 per, which should cause some concern for Mike Smith and the Falcons—especially during a short week.
Atlanta has a number of threats at the wide receiver position, but will Atlanta's ground game be enough to open up holes in the passing game against the Jaguars defense?
Prediction
The Jaguars will force a turnover in the secondary, but Atlanta wins the game in close one.
21-18, Atlanta
Dallas at Tampa Bay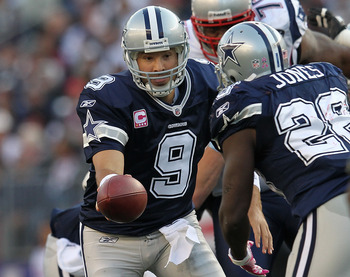 Jim Rogash/Getty Images
X-Factor: Dallas ground game vs. Tampa Bay front seven
The Dallas Cowboys took a big blow when DeMarco Murray when down for the season with an ankle injury against the New York Giants, and now the team will look to Felix Jones and newly acquired Sammy Morris to carry the load.
Tony Romo proved that he could carry this team after his stellar performance against New York, but will he be able to do it again on a short week?
Dallas will cruise to an easy victory if they can can get their ground game going.
Prediction
28-14, Dallas
Cincinnati at St. Louis
Nick Laham/Getty Images
X-Factor: St. Louis special teams
The Rams had a punt blocked early on Monday against Seattle, and the team lost all momentum for the rest of the game because of it.
The Rams offense cannot score points, but the defense has played fairly well considering what they have to work with.
The Bengals will be looking to destroy their current two-game losing streak, and there is no way they lose this game unless they have multiple lapses on special teams.
Prediction
31-10, Cincinnati
Green Bay at Kansas City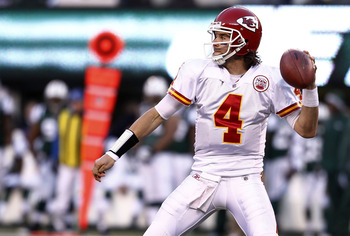 Jeff Zelevansky/Getty Images
X-Factor: The Kansas City quarterbacks
I would say that there is a better chance that Chris Paul will be traded to the Lakers than the Chiefs beating the Packers in Week 15.
The only chance that Kansas City has is if their quarterback play is close to perfect, and by the looks of it, the chances of that happening are slim to none.
Prediction
38-7, Green Bay
Seattle at Chicago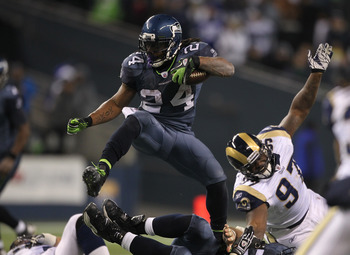 Otto Greule Jr/Getty Images
X-Factor: Marshawn Lynch
The Seattle Seahawks have somehow found their way into the playoff picture once again, and they are going to need to ride Marshawn Lynch all the way to the promised land.
Seattle will be on the road facing a Bears team in desperate need of a win, but will the Bears offense wake up from their hibernation?
The Seattle defense should be able to contain the Bears' struggling offense, so if Marshawn and the offense can manage 14 to 20 points, the game should be theirs.
Prediction
17-13, Seattle
Tennessee at Indianapolis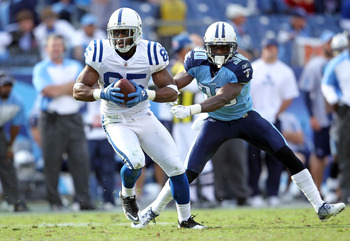 Andy Lyons/Getty Images
X-Factor: Titans secondary vs. Colts receiving corps
The Tennessee Titans received a promising glimpse of the future on Sunday when Jake Locker nearly guided the team to a comeback victory against the Saints.
Mike Munchak has stated that Matt Hasselbeck will start if healthy, but the quarterback situation is not what is going to win or lose this game for the Titans.
Indianapolis is trying to prevent itself from becoming the second team in history to go 0-16, so don't sleep on the team against a familiar division rival.
The Colts still have a number of playmakers at the wide receiver position, and they could find themselves ahead with a few big plays from this group.
Prediction
24-17, Tennessee
Washington at New York Giants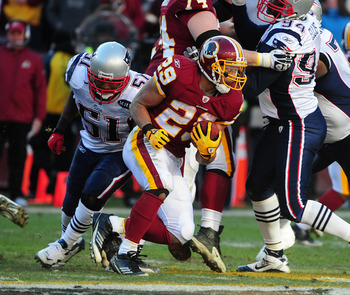 Scott Cunningham/Getty Images
X-Factor: Roy Helu
The Redskins may have gotten the best out of the Giants during Week 1 of the NFL season, but both teams are completely different from their first rodeo.
The Giants are riding high after a big come-from-behind victory against Dallas, and the 'Skins are trying to recover from a number of losses and a close defeat to New England.
Roy Helu is the key to this game, and if he can get going, the Redskins have a chance to pull off the upset.
Prediction
28-10, New York
Carolina at Houston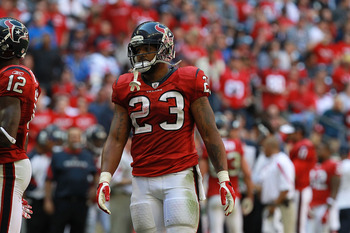 Ronald Martinez/Getty Images
X-Factor: Houston's ground game
The Houston Texans are coming off a dramatic come-from-behind victory a week ago, while the Panthers let a huge lead slip out of their grasp.
The Texans were led by T.J. Yates and not the running game, which is something that needs to change before the playoffs.
Houston is the clear favorite in Carolina, but the team could be in trouble if they fail to get the ground game going.
Prediction
28-17, Houston
New Orleans at Minnesota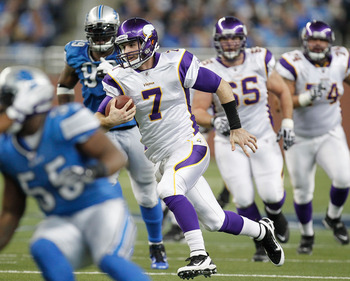 Gregory Shamus/Getty Images
X-Factor: Christian Ponder
The Minnesota rallied behind Joe Webb after Christian Ponder was benched against Detroit, but Ponder will be back as the starter for a home game against the New Orleans Saints.
Ponder has digressed since Adrian Peterson went down, and it is hard to put all the blame for the Vikings' struggles on the young quarterback because of it.
I really don't believe that the Vikings have a chance in this one, but they might be able to keep it close if Ponder plays turnover-free football.
Prediction
35-17, New Orleans
Miami at Buffalo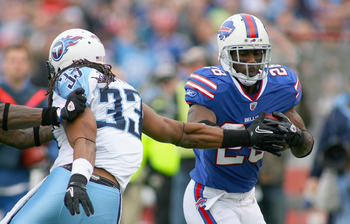 Rick Stewart/Getty Images
X-Factor: Bills ground game
The Miami Dolphins just fired their coach Tony Sparano, but the team has had a few bright spots this season, with one of them being the third-ranked team against the run.
The Bills have struggled since Fred Jackson went down, and the key to this game will be how effective the team's running game will be.
Prediction:
24-20, Miami
Detroit at Oakland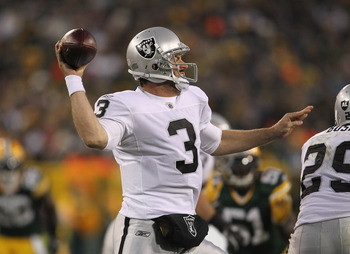 Jonathan Daniel/Getty Images
X-Factor: Carson Palmer limiting turnovers
The Oakland Raiders need to win when they take on the Lions Sunday, or you can basically say they are going to miss the playoffs.
Carson Palmer has thrown six interceptions in his last three games to bring his total to 13 overall.
The Raiders have proven that they can play with the big boys, but they will lose again if Carson continues to turn the football over.
Prediction
27-21, Detroit
Cleveland at Arizona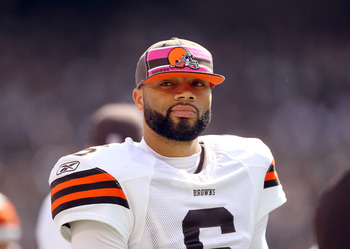 Ezra Shaw/Getty Images
X-Factor: Quarterback play from both sides
The Cleveland Browns may be without Colt McCoy after he sustained a concussion last week against Pittsburgh, meaning that Senica Wallace will take over his duties.
Wallace has had some success in the NFL, and he is one of the more mobile quarterbacks in the league.
The Cardinals are now in the playoff hunt after two shocking upsets over Dallas and San Francisco respectively, and it will be interesting to see if John Skelton can lead them to yet another victory.
Prediction
21-14, Arizona
New England at Denver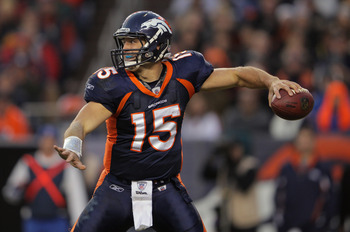 Doug Pensinger/Getty Images
X-Factor: Can Tim Tebow get off to a fast start?
The Denver Broncos will face the most potent offense that they have come across since the Tim Tebow era began, and it is imperative that Tebow gets off to a quick start to take some pressure off his defense.
The Patriots and their defense still have something to prove to most of the NFL world, and there is no better opportunity than to do it than against Timmy Tebow and the Denver Broncos.
Prediction
31-28 (OT), Denver
New York Jets at Philadelphia Eagles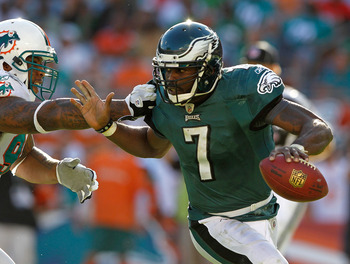 Mike Ehrmann/Getty Images
X-Factor: Quarterback play from both sides
Mark Sanchez has been playing turnover-free football, which has allowed the Jets to win each of the past three games, while Michael Vick returned last week and guided the Eagles over the resurrected Miami Dolphins.
The Eagles still have a glimmer of hope for the playoffs, and they will need a $100 million type of performance out of Michael Vick on Sunday.
The winner of this game should be the team that receives the best decision-making from their signal-caller.
Prediction
21-17, New York
Baltimore at San Diego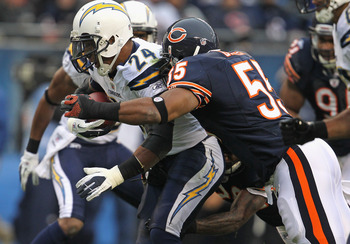 Jonathan Daniel/Getty Images
X-Factor: San Diego's ground game vs. Baltimore's defense
The Chargers once again find themselves surging at the end of the season, but it looks to be too late, just like last season.
San Diego will need to play its best game on offense to win this week, as they face one of the league's top defenses this week when they take on Baltimore.
The key to this game is if San Diego can get their ground game going, because if they do, there is a chance they beat the Ravens at home.
Prediction
20-17, Baltimore
Pittsburgh at San Francisco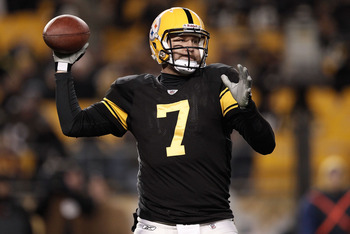 Jared Wickerham/Getty Images
X-Factor: How effective can Ben Roethlisberger be?
This game is one of, if not the most intriguing game of the season, because it will really prove if San Francisco is a true Super Bowl contender.
The 49ers will be tested both ways in the running game, and the defense has proven its worth in that department by not giving up a rushing touchdown all season.
The key to this game, however, will be how effective Ben Roethlisberger can be on his injured ankle.
Prediction
24-20, San Francisco
Keep Reading