Breaking Down ESPN's Way Too Early 2012 Top Heisman Contenders List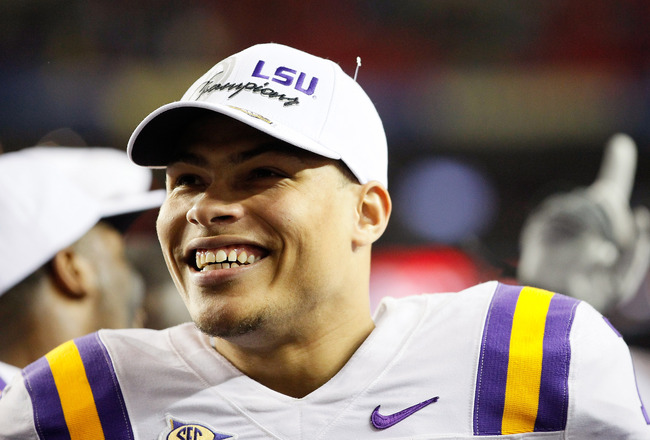 Kevin C. Cox/Getty Images
The Heisman Trophy is the most prestigious award in college football. The trophy winners are among the most elite players. Win it, and your life will change forever.
Before every season, everybody throws out several players who have a chance at winning the award. Some are favorites while others are dark horses who, if they are able to play to their potential, have an outside shot of winning the trophy.
The reality is that there are many talented college football players, but only a handful have a chance of winning the Heisman.
ESPN has recently released their early predictions for next year's Heisman favorites. Here, I will be breaking down the list with all of the players and their chances of winning the award.
ACC Players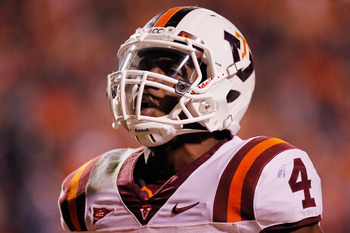 Geoff Burke/Getty Images
ESPN list
Clemson QB Tajh Boyd
Virginia Tech RB David Wilson
Miami RB Lamar Miller
Honorable Mentions: EJ Manuel, Sammy Watkins and Logan Thomas
My Breakdowns
Tajh Boyd
Boyd started the season as a Heisman favorite, but after throwing seven interceptions in four games, he fell off the map. He had a fantastic year, throwing for over 3,500 yards and 31 touchdowns, which are Clemson records. With a young and talented team, he will have the weapons around him to succeed and possibly win the award. If he stays healthy, of course.
David Wilson
Wilson was the Hokies' bread and butter on offense, as he ran for over 1,600 yards and nine touchdowns. He has all of the talent in the world, and with another fantastic season with more touchdowns, he will be in the running for the Heisman. Problem is, he may very well leave early for the NFL.
Lamar Miller
Miller has already said he is going to the NFL next year.
Pac-12 Players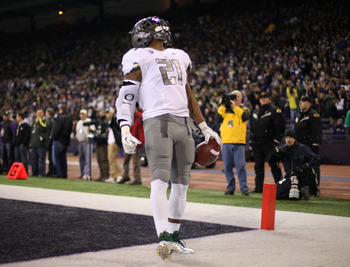 Otto Greule Jr/Getty Images
ESPN List
USC QB Matt Barkley
Oregon RB LaMichael James
USC WR Robert Woods
Oregon RB De'Anthony Thomas
Washington RB Chris Polk
Washington State WR Marquess Wilson
My Breakdowns
Matt Barkley
Barkley will be a strong candidate if he doesn't leave for the NFL. He has had a fantastic season this year, and if it wasn't for everything the Trojans are dealing with, he probably would have received an invite this year. With the Trojans off of probation, the sky is the limit for him if he doesn't leave early.
LaMichael James
James is another player that may more than likely leave early for the NFL, as it doesn't appear he will raise his stock any higher. He will always be looked at as the small running back who probably won't be an every-down back. Regardless, he could still be a huge factor at the next level like a Darren Sproles type. If for whatever reason he returns, he is a Heisman favorite.
De'Anthony Thomas
Thomas is a flashy player and a threat to take it the distance everytime he touches the ball. The question I have is, does he touch the ball enough to be a serious candidate for the award?
Robert Woods
Woods has put up monster numbers this season, and there wasn't anybody making a case for him. With Barkley likely gone, it's hard seeing him winning the Heisman, as his production may drop a bit.
Chris Polk
Polk is likely gone to the NFL like a few of the players on this list are. He already has the NFL body and could be an every-down back for some lucky time.
Marquess Wilson
Wilson had a great year this season, racking up over 1,300 yards and 12 touchdowns. In Mike Leach's offense, those numbers should remain the same. But Washington State will have to win some ballgames if Wilson wants to be taken seriously.
Big Ten Players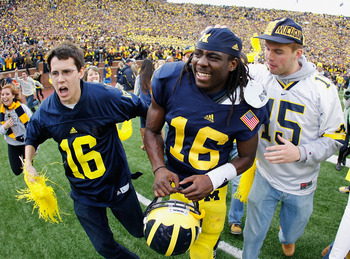 Gregory Shamus/Getty Images
ESPN List
Michigan QB Denard Robinson
Nebraska RB Rex Burkhead
Ohio State QB Braxton Miller
Honorable Mentions: Marcus Coker, Silas Reed, James White and James Vandenberg
My Breakdowns
Denard Robinson
Robinson has to be the favorite on this list and one of the favorites in the entire country. He makes the flashy plays, and for the most part, carries this Wolverines offense. Look for him to have another big year and once again be a Heisman candidate till the end.
Braxton Miller
Miller may only be a sophomore next season and hasn't really proven much this year. But with Urban Meyer and his spread offense, this is about to change. I still think it may be a year early before we put him down as a serious candidate. But he is a player to keep an eye on.
Rex Burkhead
Burkhead has only gotten better as every season has went on, and if that's any indication of what's in store for next year, watch out. He had over 1,200 yards and 15 touchdowns last season. If the Cornhuskers can win more games and he tops what he did this year, he'll possibly receive a invite to New York.
Big 12 Players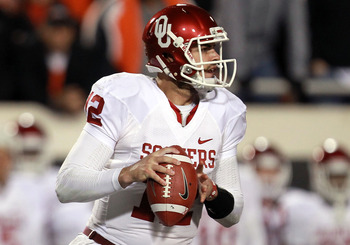 Ronald Martinez/Getty Images
ESPN List
Baylor QB Robert Griffin
Kansas State QB Collin Klein
Oklahoma QB Landry Jones
Oklahoma State RB Joseph Randle
West Virginia QB Geno Smith
Texas RB Malcolm Brown
My Breakdowns
Robert Griffin
I refuse to bet against Griffin if he returns next year, but I believe he'll take his talents to the NFL.
Collin Klein
Klein was the quarterback behind the surprising Kansas State team this year. But he'll have to step it up if he expects to win the Heisman. Stats simply aren't good enough in a run-first offense.
Landry Jones
It looked like Jones was going to enter the NFL before this season started, but after a horrible year, he'll likely return. He won't have several of his weapons, but it's Oklahoma; he'll be fine and a candidate until he hits a rough patch.
Geno Smith
Who knows if the Mountaineers will be in the Big 12 next year or not? Regardless, Smith has to be a candidate because the kid is good. He threw for nearly 4,000 yards and 25 touchdowns. With tougher opponents and less losses, he could become the next Robert Griffin.
Joseph Randle
In case you weren't paying attention, Oklahoma State didn't just have a dominant passing game. They also had a 1,000-yard rusher in Randle as well, and he finished with 23 touchdowns. With Weeden and Blackmon leaving, he becomes big boy on campus, and his name could be moving up on the Heisman watch list.
Malcolm Brown
Brown was only a freshman this year, and he still had 700 yards rushing. With all of the young talent on this team, he will get a ton of touches and chances to build on a solid season.
SEC Players
Jeff Zelevansky/Getty Images
ESPN List
LSU CB Tyrann Mathieu
South Carolina RB Marcus Lattimore
Georgia QB Aaron Murray
Arkansas QB Tyler Wilson
My Breakdowns
Tyrann Mathieu
He could have won the award this season, but I believe the lack of offense was the difference why he didn't. Only one defensive player has won the award, and you have to be effective on defense, special teams and offense. If Les Miles lets him get about 20 snaps in on offense, he'll be back in New York next year.
Marcus Lattimore
The kid is a beast, and in seven games, he rushed for over 800 yards and 10 touchdowns. He should be fully recovered from his injury and ready to run all over defenses once again. With Trent Richardson and LaMichael James likely moving on, Lattimore becomes the top back in the country.
Aaron Murray
Murray proved this season that he may be the top quarterback in the SEC. He threw over 2,800 yards and 33 touchdowns while completing just 58 percent of his passes. With the young talent on this team, the Bulldogs should make some noise this season, and Murray will have a strong case for the award.
Tyler Wilson
Wilson was great this season, but has a chance to be even better with Knile Davis returning at running back. Give this offense more balance, and Wilson should be able to put up ridiculous numbers and make him an instant Heisman candidate.
Why the Big East Wasn't Included?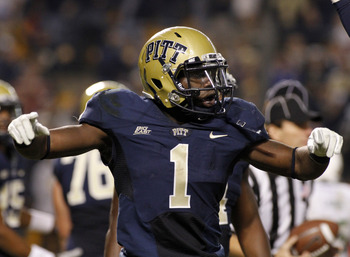 Justin K. Aller/Getty Images
ESPN made a list for every BCS conference except the Big East.
The reason for that is because there really isn't a lot of talent in that conference right now. It's made up of mostly basketball schools, and until more teams join, that's the way it's going to be (Boise State, Army, Houston, etc.).
Although if I had to pick one player from the conference, it would be Pittsburgh's running back Ray Graham, who rushed for 958 yards and nine touchdowns before getting hurt. He is a speed back who has big play ability.
Oh wait, Pittsburgh is leaving for the ACC?
Yea, that's why there aren't any Big East players on the Heisman list.
Does Notre Dame's Manti Te'o Really Have a Shot?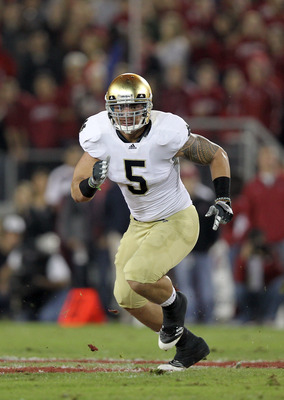 Ezra Shaw/Getty Images
Notre Dame linebacker Manti Te'o has said he will be back for his senior year. He led the Irish in tackles, sacks and tackles for loss this season.
But does he really have what it takes to win the Heisman?
There was just a Heisman candidate in Tyrann Mathieu, and he didn't even come close to winning the award. And he made big plays every game on defense and special teams for the Tigers. To win the Heisman on defense, you have you stand out and do something special in every aspect of the game.
The Irish have a brutal schedule and are losing a ton of experience on the roster.
Manti Te'o is a great player, one of the top linebackers in the country, and will be playing in the NFL. He is very valuable to Notre Dame, but won't be good enough to win the Heisman.


Randy Chambers is a B/R Featured Columnist that covers College Football and the NFL. You can contact him @Randy_Chambers or Randy.Chambers7@yahoo.com
Keep Reading