Holiday Cards for Every NFL Team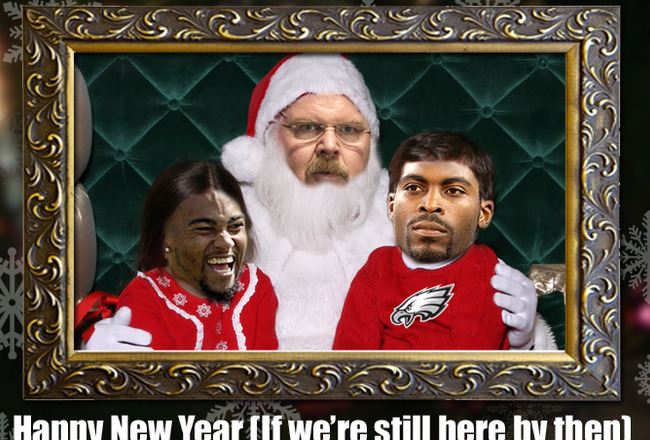 Corporate holiday cards can be so bland and boring. That's why the NFL is great—every team pulls out all their holiday stops to put out a great card that truly represents their season.
We've collected each NFL card and are giving readers an exclusive holiday treat.
These are in no way Photoshops we did on our own. Nope. Not a chance.
They are totally real. 100 percent. Swear to...wait...let's get to the cards.
NFC East: Dallas Cowboys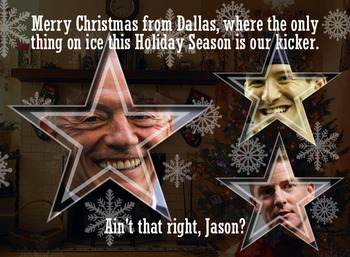 Somehow, this needs more Jerruh.
Philadelphia Eagles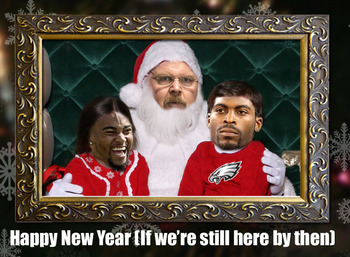 Andy Reid totally has a future as a mall Santa.
New York Giants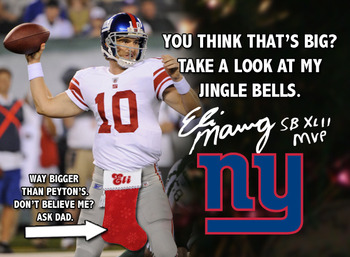 Eli has more than 4,100 yards and 25 TDs in 13 games?
Maybe he is the big swinging...ahem...stocking in town.
Washington Redskins
NFC North: Chicago Bears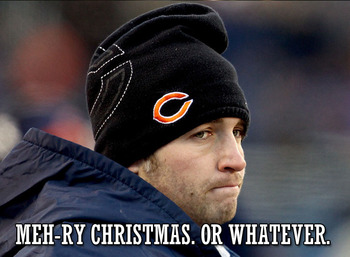 Detroit Lions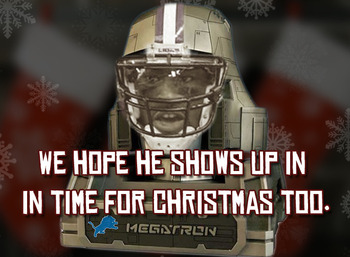 Green Bay Packers
The Packers very well could go undefeated in 2011.
But it's 2012 that matters to this team.
Minnesota Vikings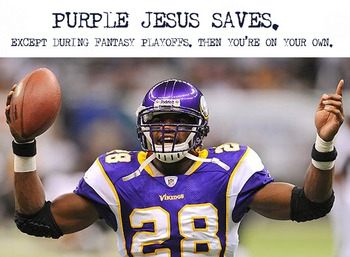 How many fantasy playoff years can Adrian Peterson ruin before I learn to trade him after nine weeks?
How many???
NFC South: Atlanta Falcons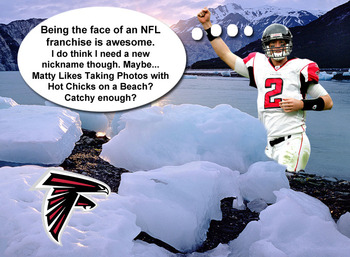 A man named Matty Ice will never win a Super Bowl.
Carolina Panthers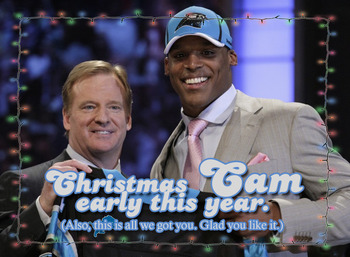 Best. Early. Christmas. Present. Ever.
New Orleans Saints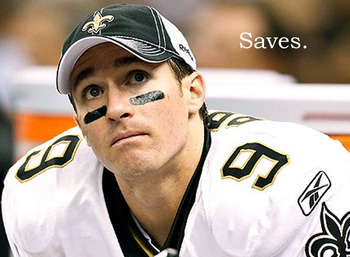 Say what you want about Aaron Rodgers.
In this year's playoffs, I might put my money on Breesus.
Tampa Bay Bucs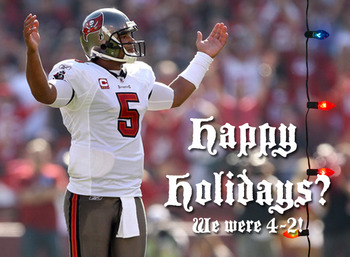 This team has lost seven straight games.
There isn't much happy about these holidays.
NFC West: Arizona Cardinals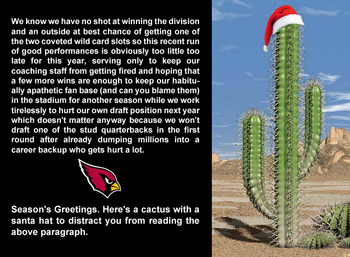 "We know we have no shot at winning the division and an outside at best chance of getting one of the two coveted Wild Card slots so this recent run of good performances is obviously too little too late for this year, serving only to keep our coaching staff from getting fired and hoping that a few more wins are enough to keep our habitually apathetic fanbase (and can you blame them?) in the stadium for another season while we work tirelessly to hurt our own draft position next year which doesn't matter anyway because we won't draft one of the stud quarterbacks in the first round after already dumping millions into a career backup who gets hurt a lot.

Season's Greetings. Here's a cactus with a Santa hat to distract you from reading the above paragraph."
San Francisco 49ers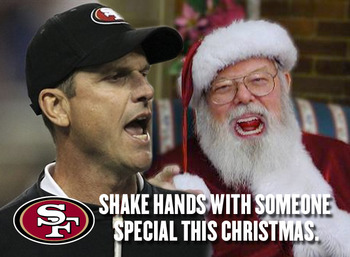 Jim Harbaugh wouldn't dare bump into that Santa during an aggressive handshake.
Seattle Seahawks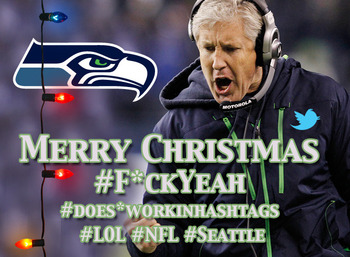 Someone please send this to Pete Carroll so he tweets it?
Please?
St. Louis Rams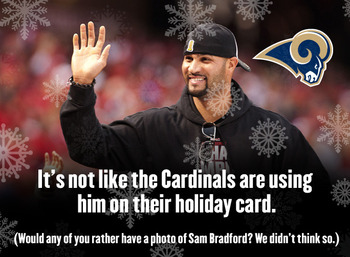 Ah, St. Louis.
You're like this year's Cleveland, only with a World Series trophy.
AFC East: Buffalo Bills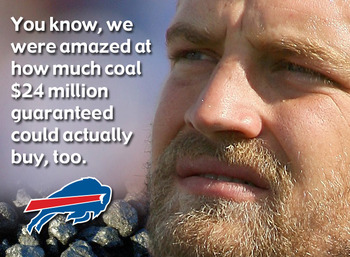 To be fair, the contract is almost $60 million, so at least they didn't guarantee more than half!
Miami Dolphins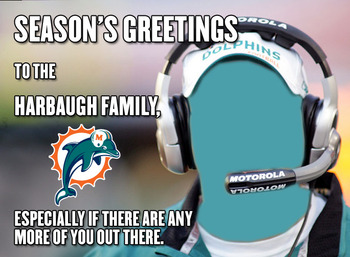 At least the weather will be nice.
New England Patriots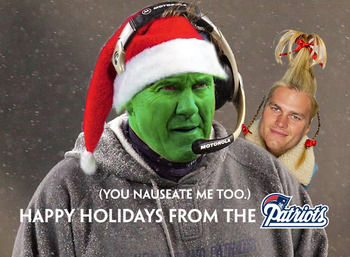 Presented without comment.
New York Jets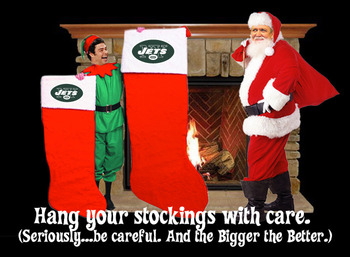 Yes, the stockings-to-feet jokes write themselves.
AFC North: Baltimore Ravens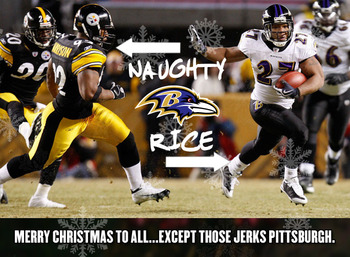 Is there a fanbase that hates another fanbase more than Baltimore hates Pittsburgh?
Beat them twice and people still think the Steelers will go deeper into the playoffs.
It has to infuriate you.
Cincinnati Bengals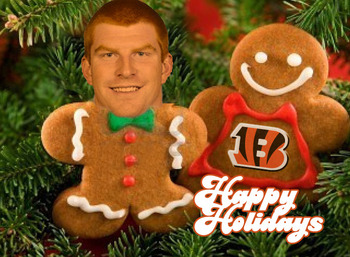 Cleveland Browns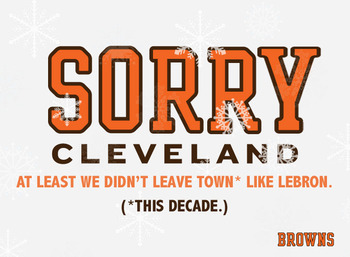 Or this century, if you're really keeping track.
Which you are.
Pittsburgh Steelers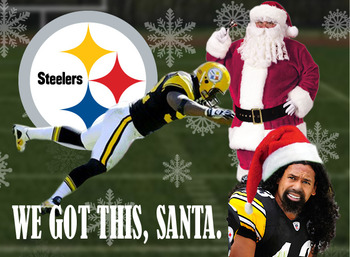 James Harrison has been fined $50,000 for appearing in this Photoshop.
AFC South: Houston Texans
The Texans made the playoffs. Have you heard?
Indianapolis Colts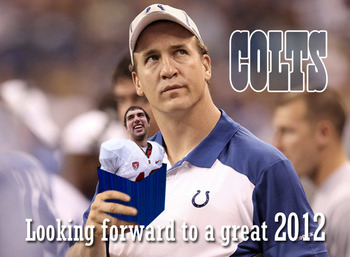 Great things do come in small packages.
Jacksonville Jaguars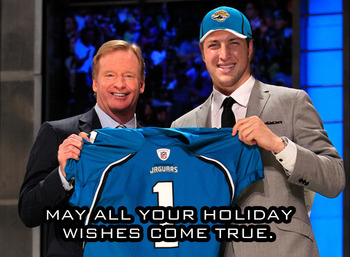 Would Denver give up Tebow for two first-rounders?
A first and a second, even?
Jacksonville would have to make that offer, right?
Tennessee Titans
Chris Johnson is the destroyer of too many fantasy seasons for this not to be funny.
AFC West: Denver Broncos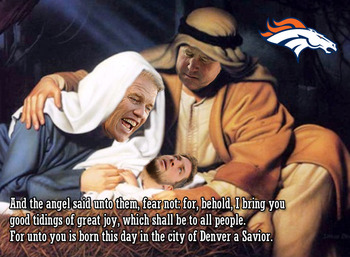 I am going to hell. I know.
Kansas City Chiefs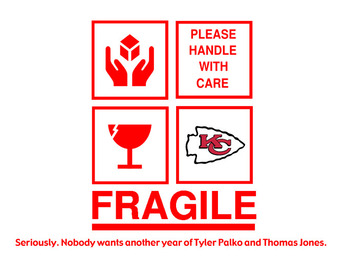 This is less of a card and more of an instruction manual that comes with a crappy appliance someone gave you that's going to break by January.
San Diego Chargers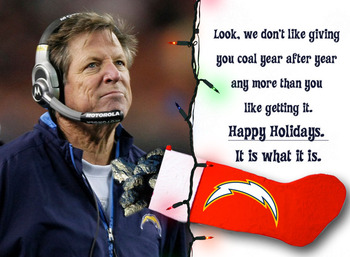 It must be impossible to be a Chargers fan.
Good thing you live in the nicest city in America to make you feel better about your otherwise fantastic lives.
Oakland Raiders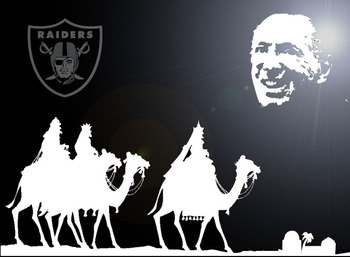 Keep Reading