NFL: 10 2012 Free Agents Who Can Fix an Ailing Run Offense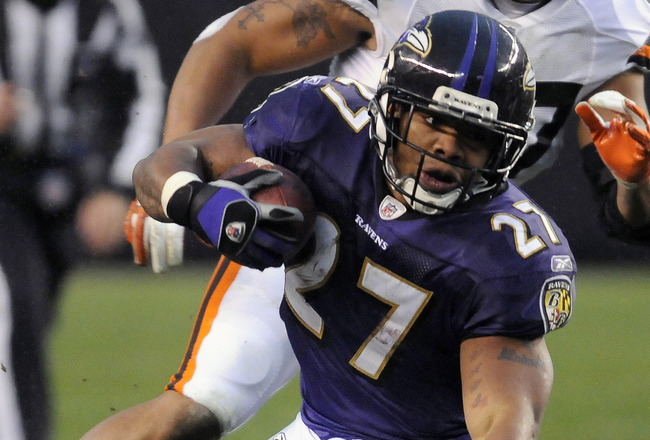 Jason Miller/Getty Images
A good run game can be the difference between winning and losing.
Unless you have a top-tier quarterback, a good running back is essential to a successful offense. Even Peyton Manning has started to struggle the last couple of years as his running game and defense failed him.
A one-dimensional offense very rarely leads to much success in the playoffs.
Luckily for teams who struggle to run the ball, there are a host of running backs who will be free agents in 2012. Even more importantly, there are several top-of-the-line running backs who will be available.
Most of them are all-around players, too, not just power or speed.
Let's take a look at the top running backs who will be available in 2012.
10. BenJarvus Green-Ellis, New England Patriots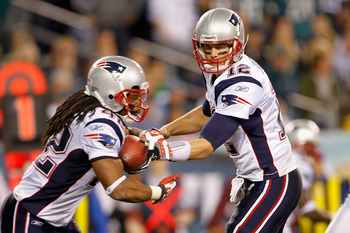 Rich Schultz/Getty Images
New England Patriots running back BenJarvus Green-Ellis is a forgotten man in New England.
With a name as unique as his, you would think the opposite would be true.
In 2010, Green-Ellis ran for more than 1,000 yards and scored 13 touchdowns.
His numbers are down this season, but he has still found the end zone eight times this season.
At only 26 years old, he could easily play another seven or eight seasons with the right team. He hasn't taken too much of a beating in his four seasons with the Patriots.
He is a grind-it-out kind of back, and the Patriots have two rookies in Stevan Ridley and Shane Vereen on the roster.
Whether or not Green-Ellis is available depends on what the Patriots are willing to offer him. Danny Woodhead doesn't get a lot of carries, so this Patriots team may continue to split carries between multiple RBs.
If Green-Ellis wants to have a larger role with a team, he will have to go elsewhere.
9. Marshawn Lynch, Seattle Seahawks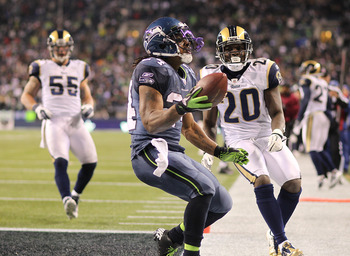 Otto Greule Jr/Getty Images
Seattle Seahawks running back Marshawn Lynch is one of the hardest-running RBs in the league.
He isn't an overly big guy at 5'11", 215 pounds, but he runs like he weighs 260 pounds.
The Seahawks are going to have to pay this man, or he's as good as gone.
I'm not sure how long he can hold up the way he plays, but he has earned a nice contract.
He has run for 969 yards on 225 carries and has scored nine times. This is his best all-around season to date, but he had two 1,000-yard seasons with the Buffalo Bills.
Give this man some Skittles!
8. LaDainian Tomlinson, New York Jets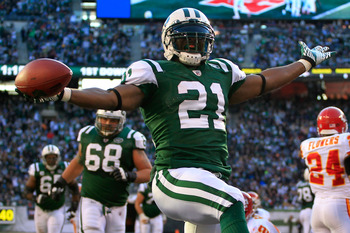 Chris Trotman/Getty Images
The New York Jets may not re-sign running back LaDainian Tomlinson in 2012.
The future Hall of Famer isn't half the player he used to be, but he doesn't get many opportunities in New York behind fellow RB Shonn Greene.
Tomlinson is still a threat in the open field, which is why he could provide a spark for a team who needs one.
He isn't a starting-caliber player anymore, but he isn't being utilized enough by the Jets. He would be better suited in an offense where screens and play-action plays are important.
There are too many options for the Jets for Tomlinson to get much action.
So far this season, he has only carried the ball 56 times for 186 yards. He has done more damage as a receiver, catching 28 passes for 378 yards and two touchdowns.
7. Cedric Benson, Cincinnati Bengals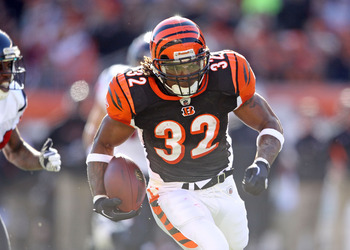 Andy Lyons/Getty Images
Cincinnati Bengals running back Cedric Benson will almost certainly play somewhere else next season.
While Benson isn't getting any younger, he still runs hard and takes care of the football.
He could be an adequate starter for another two or three seasons.
He doesn't have a whole lot of speed but is a powerful, shifty runner.
He seems to thrive against bad teams, which is why I've never considered him a great RB. This season, his only 100-yard rushing games came against the Cleveland Browns and Buffalo Bills. Still, he has run for 883 yards on 222 carries and scored five times this season.
He won't cost a ton and still has some gas in the tank, worthy of a look in my eyes.
6. Mike Tolbert, San Diego Chargers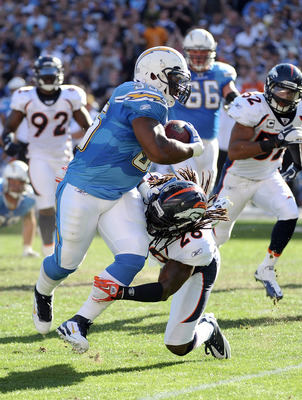 Harry How/Getty Images
I might be in the minority, but I think Chargers running back Mike Tolbert is a legitimate starter in the National Football League.
Tolbert has only had the opportunity to play extended minutes in one season—2010.
In 2010, Tolbert played in 15 games and had 182 carries for 735 yards and 11 touchdowns.
The Chargers like him but also have Ryan Mathews, who can't stay healthy. It will be interesting to see which RB they decide to build around.
At 5'9", 243 pounds, Tolbert looks to run over defenders rather than around them. He is tough to tackle and nearly impossible to stop inside the red zone.
5. Peyton Hillis, Cleveland Browns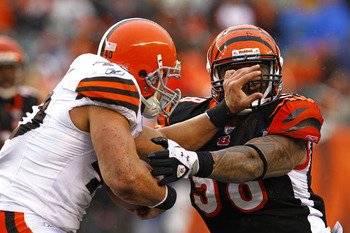 Tyler Barrick/Getty Images
I'm still not sure if Cleveland Browns running back Peyton Hillis is a starting-caliber player in the National Football League.
Hillis more than likely will move on from Cleveland after a season both he and the Browns would like to forget.
Between injuries and illness, Hillis has been both absent and ineffective on game days this season.
Honestly, I think he and his agent are trying to force his way out of Cleveland, but who knows?
After rushing for more than 1,000 yards and 11 touchdowns in 2010, Hillis became yet another victim of the Madden curse. He has played in only seven games this season, rushing for 346 yards and two touchdowns.
Either way, the big man will be worth signing in 2012. He is quick for his size and punishes defenders each time he carries the football.
In the right situation, he could put up similar numbers to his 2010 campaign.
4. Arian Foster, Houston Texans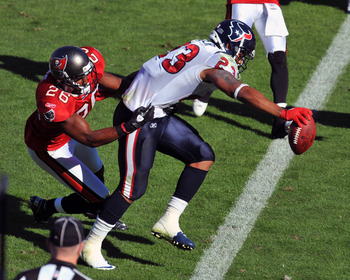 Al Messerschmidt/Getty Images
I would have the Houston Texans running back higher on my list if not for the fact he is a restricted free agent in 2012.
Barring something crazy happening between now and next season, Foster will sign long term with the Texans.
Foster has nearly 1,000 yards rushing, 543 yards receiving and 10 total touchdowns.
Most importantly, he does his thing against good teams and bad. He isn't one of those guys who explodes against bad defenses and does next to nothing against the contenders.
He had 30 carries for 155 yards and a touchdown against the Pittsburgh Steelers earlier this season.
One way or another, Arian Foster is going to get paid a lot of money before the 2012 season starts.
3. Matt Forte, Chicago Bears
Jonathan Daniel/Getty Images
Chicago Bears running back Matt Forte is a great all-around player.
The Bears offense was awful without him last weekend against the Denver Broncos, and I would be dumbfounded if he wasn't playing in Chicago next season.
The Bears general manager Jerry Angelo would be chased out of the state if Forte was allowed to leave.
He's a talented runner and a great receiver—a perfect blend of power and speed.
He is a bit banged up this season, but that won't lower his value to the Bears. Should the Bears refuse to pay him a lot of cash, there will be several teams who will.
Forte all but guarantees 1,000 yards on the ground and 500 receiving yards a season when healthy.
2. Ryan Grant, Green Bay Packers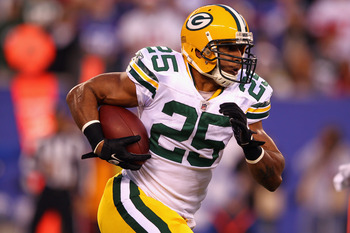 Al Bello/Getty Images
Ryan Grant is a great player who I think will be on the move in 2012.
After an injury in the first game of the 2010 season, Grant missed the whole year after only eight carries.
Teammate James Starks filled in better than anyone expected, which has led to fewer carries for Grant in 2011.
He was a very productive back for the Green Bay Packers before the injury, and there is no reason he can't return to form if given the opportunity.
He won't get the money a superstar would bring as a free agent because of the circumstances, but he is a great player.
He isn't quite as versatile as Baltimore Ravens running back Ray Rice, but he does have good hands and speed.
He will have a lot of offers, and I doubt the Packers will match the top one, whatever it may be.
1. Ray Rice, Baltimore Ravens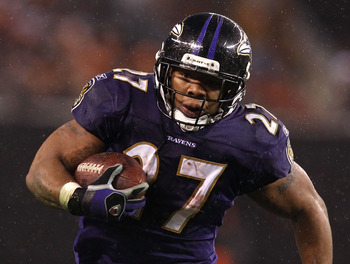 Matt Sullivan/Getty Images
Baltimore Ravens running back Ray Rice is a superstar.
While the Ravens would be stupid letting him go, he would be worth breaking the bank for.
I don't care how bad of a team you put him on, this guy will make them a lot better.
He is fast and he has power, great field vision, quickness and great hands. He is an adequate blocker, too, something that can't be ignored.
Rice is the definition of a complete player. He doesn't rely on any one skill—he can hurt a defense in a variety of ways. The best part of all of this is that he's only 24 years old, which means he could play for a long time.
If the Ravens are crazy enough not to sign Rice long term, nearly every team in the league will be interested.
Keep Reading