Tyson Chandler to Knicks: Calls for Defensive Center Answered, but Price Steep
December 13, 2011
Ever since the bittersweet divorce with Patrick Ewing a decade ago, the New York Knicks have been searching for answers to fill the icon's shoes.
From Marcus Camby to Eddy Curry, some of Ewing's successors have shown flashes of brilliance. However, none of them proved to be that constant pillar of strength relied upon to man the middle for years to come.
After last season's loss of Timofey Mozgov in the Carmelo Anthony deal and injuries to the fragile Ronny Turiaf, the Knicks found themselves so shorthanded at center that Amar'e Stoudemire was regularly asked to fill the void.
Not only could this situation have been potentially detrimental to Stoudemire's long-term health, but it posed a serious problem in terms of matching up with the Eastern Conference elite; the Orlando Magic, Chicago Bulls, Atlanta Hawks and Indiana Pacers—to name a few—all have legitimate centers that pose a threat on both ends of the floor.
As a raw and untested Jerome Jordan continues to hone his skills overseas, the first order of business for the offseason was to bolster the 5-spot.
Former team president Donnie Walsh acquired one of his two parting gifts, the mammoth Josh Harrellson, on draft night. Although Harrellson's resume is nothing to brag about, the 6'10", 275 lb. Kentucky product is a large body who takes up space, if nothing else.
Since Harrellson isn't expected to eat up minutes, New York's priority became landing a game-ready big man via trade or free agency. Even so, the front office was eyeing Chris Paul, Dwight Howard and, to a lesser extent, Deron Williams.
If enticing one of these esteemed soon-to-be free agents was to remain in the realm of possibility, the Knicks knew they couldn't go hog-wild in their pursuit of a low-post player to complement Stoudemire.
As a result, lackluster names like Kwame Brown, Kurt Thomas and Jeff Foster were being tossed around as suitors for the job. Besides their incapacity to stimulate the Knicks' fanbase, these guys are second-tier veterans who would be hard-pressed to earn a starting role on the majority of teams in this league.
Once the lockout was lifted, it didn't take long for the CP3 hoopla to begin. And New York was seemingly right in the thick of it when Paul demanded that the New Orleans Hornets trade him to a contender.
Interim general manager Glen Grunwald casted his line out to Hornets management, but it became clear in the early going that the Knicks didn't possess the proper bait to lure their prized catch.
With Paul off the table, James Dolan and friends unexpectedly targeted NBA champion Tyson Chandler in their cross-hairs. Feeling the omnipresence of impatient, rabid New York fans breathing down their necks, Knicks brass has adopted the Yankees-esque "win-now-or-else" mentality.
Recognizing the expiration date on the Stoudemire-Anthony partnership will be here quicker than a Chris Paul crossover, ownership felt it was the right time to court Chandler—one of the more coveted players on the market at a position where well-rounded talent is scarce.
By Saturday, the transaction was complete. When the three-team sign-and-trade was all said and done, New York had forfeited Turiaf, Andy Rautins, a future second-round draft pick and cash. But, the real kicker was sacrificing Chauncey Billups as well.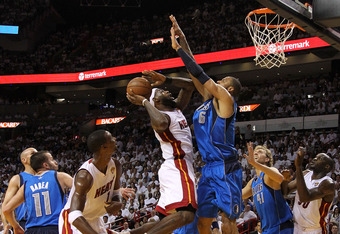 Mike Ehrmann/Getty Images
Because New York exercised its option to amnesty Billups, his $14.2 million salary immediately came off the books, paving the way for Chandler's four-year contract worth an estimated $56 million. When you break that down, it works out to $14 million per season, give or take.
Essentially, the Knicks traded their aging star point guard on the downside of his career for a 28-year-old center that—despite his youth—is already a 10-year veteran due to turning pro straight out of high school.
While the argument that Billups is getting old and injury-prone holds some validity, Chandler does not arrive free of baggage by any means.
Chandler may have three seasons under his belt in which he played at least 79 games, but on the opposite side of the spectrum, there are another three in which he appeared in no more than 51 contests. And two of those seasons hampered by health issues happen to fall within the past three years.
Proponents of the deal might tell you Chandler is in the clear after having participated in 74 games (not including the playoffs) over the course of last year's title run. But, it's impossible to ignore the fact that the towering defensive specialist has missed 19 percent of games since his rookie campaign in 2001.
In other words, Chandler has been a spectator one out of every five games throughout his career; the risk factor is inescapable.
Given Chandler's penchant for doing the dirty work (i.e. boxing out, rebounding, shot-blocking, etc.), his 235 lb. frame has taken a beating. When you spread that weight across all 7'1" of him, there's not a lot of meat to absorb the punishment. In that case, it's not surprising that the lanky Chandler has a history of injury-related setbacks.
To make matters worse, the bulk of his aches and pains have affected his lower extremities. Ironically, the Oklahoma City Thunder rejected a trade involving Chandler back in 2009 because he failed a physical.
Dr. Carlan Yates, the same physician who operated on Chandler's left big toe in the spring of 2007, is the one who advised the Thunder to be wary of the prior ailment. In his own words, Chandler described his conversation with Dr. Yates following the botched trade.
He said he doesn't know how long I'll last. He told me, 'I have no doubt you can play on it. I'm just saying it could take a turn for the worse if you come down on somebody's foot or hyperextend it or something.'
Every surgeon is entitled to their own opinion, but any way you look at it, this assessment is disconcerting—especially when the bulk of Chandler's skill set is dependent upon the well-being of his legs and feet.
Evidently, the Knicks are willing to take a chance, as they are no strangers to gambling.
Between Curry's heart defect and Stoudemire's reconstructed knee, New York bet the farm and sunk about $150 million into the two. Tack on Chandler's salary and you've got an Albert Pujols-caliber investment on your hands.
On the bright side, the second runner-up in last season's Defensive Player of the Year voting provides the Knicks with the type of defensive credibility that instantly puts them in the same conversation with the Heat, Bulls and Celtics—all teams vying for the top spot in the East.
Chandler's averages of 1.3 blocks and .5 steals per game during his lone season in Dallas are rather pedestrian, but don't let the numbers fool you. He has uncanny athleticism for his size and, combined with his 7'3" wingspan, Chandler certainly has the tools to disrupt the flow of the game.
From an offensive perspective, Chandler is a little underdeveloped. However, he's never been asked to shoulder the scoring load.
Nevertheless, he's excellent around the rim and, whether it's Mike Bibby, Toney Douglas or Iman Shumpert launching the alley-oop pass, the high-flying Chandler will surely throw it down with authority.
The trio of Chandler, Stoudemire and Anthony doesn't deserve the "Big Three" moniker just yet. But make no mistake, with the addition of Chandler, they are the most formidable frontcourt tandem in the sport.
Considering the weak 2011 free-agent pool, it is only natural that Chandler's value was skewed accordingly. Many skeptics believe the Knicks overpaid—an impulse buy based on the notion that Paul and Howard could be committed to long-term deals before they ever hit free agency.
What those same detractors fail to comprehend is the scope of Chandler's contributions to the Mavericks' championship squad. Call it a coincidence if you want, but Dallas didn't win its first title in Chandler's sole season with the franchise by accident.
The Knicks may have found their $56 million good luck charm.