NFL Week 15 Monday Night Football: 5 Hot Tips for the Big Game
December 19, 2011
Jared Wickerham/Getty Images
Ben Roethlisberger will play against the San Francisco 49ers.
That's the key sentence of Week 15 Monday Night Football as the 10-3 Pittsburgh Steelers travel to San Fran, who are also sitting at 10-3. Whilst both teams are guaranteed to be there come playoff season this game has huge implications for their position and stands as a statement game for both sides.
Whether you're a Steelers fan, a Niners fan, a football fan, or just somebody that likes fans, here's your five hot-to-trot for the big game. And if you're a fan of winning, or simply making some easy money for yourself, this is the place to be.
And what a game it is shaping up to be, as the stakes for this one could not be higher. Well, they probably could, but it adds to the drama of it all, so let's roll with it.
After the Baltimore Ravens and the Houston Texans both lost this weekend, the Steelers have a great opportunity to not only win their division, but to take the number one seed in AFC and in doing so, secure a great home field advantage come playoffs.
For San Francisco, after seeing New Orleans roll on for another week they must win here to keep alive their hopes of taking the number two seed in the NFC. The 49ers would also be desperate to bounce back after last week's shock loss to the Arizona Cardinals.
Yup, lots on the line in this one.
The defenses of both sides better be prepared for this one, as both boast impressive defensive resumes. They also both contain the offensive ability to rack up the scoreboard.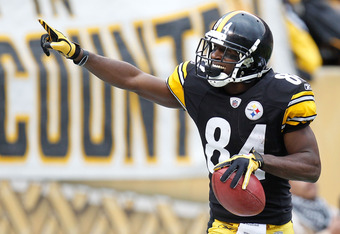 Gregory Shamus/Getty Images
For the Steelers, much of that rests on the arm (and foot) of Ben Roethlisberger, who once again is leading his team to hard and clinical victories this year.
Averaging over 250 yards per game, with only 11 interceptions for the season, Ben has once again got the Pittsburgh offense firing despite only averaging 21.7 points per game.
For the Niners, much of the offense will rest on the ability of Frank Gore to churn out yards and move the chain. Behind Gore, San Fransisco has rushed for 126.9 yards per game and sits in the top ten running teams in the league.
I mention Gore, and not Smith, because after last week's loss, Alex Smith has shown that he isn't great at bringing his team back from the dead and isn't much better at holding on to a small lead. He's only thrown five interceptions but hasn't thrown too many more touchdowns than that, along with averaging only 182.1 yards per game.
Allowing 5.8 yards per catch and 179.1 passing yards per game, Pittsburgh is statistically the best passing defense in the league. And it's hard to find anybody that is consistently as defensively strong as the Steelers.
It is shaping as a tough, tough day at the office for Smith and the offense.
Unless Gore is unstoppable, the Niners will struggle to move the chain and get in good enough field position to score points. And whilst the strategy for most teams is not to run against the Steelers, San Francisco will have to base their offense around the superstar back.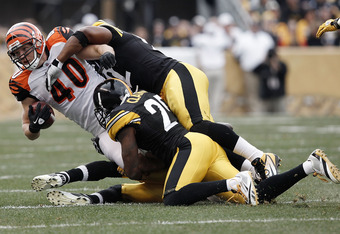 Jared Wickerham/Getty Images
After watching Smith this year he has shown himself to be a quality quarterback, one of the best in the league. But if you're going to beat the likes of Green Bay, New England, New Orleans or Pittsburgh, you can't just be good—you've got to be the best.
Alex Smith, simply put, is not good enough to beat the Steelers.
Ben Roethlisberger on the other hand, is good enough to break down the strong defense of the Niners. They may even concede their first rushing touchdown of the year, though I wouldn't be so sure about that as they seem kind of proud of owning that statistic.
Big Ben will take some hits and his offensive line won't do those injuries any favors considering they've allowed 35 sacks for the year already, though you can never rule him out.
And they're just traveling better leading in to this one,
Don't underestimate the power of that Ravens loss to spark this Steelers unit to life. They know the division and a higher seed ranking is now within reach and they don't tend to let things like that out of their grasp.
I'm not sure the Steelers are the complete package yet and I don't think they can win the Super Bowl.
But against Alex Smith, the defense will be too good and Big Ben will continue to show that even with age, his class and skill is still as high as the Steelers run out eight point winners, and take the number one seed in the AFC.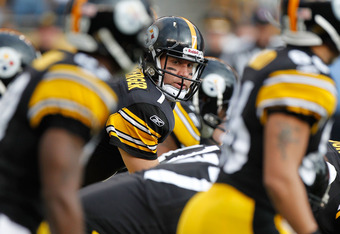 Gregory Shamus/Getty Images
Hot-to-trot tips for the game:
1. Pittsburgh to win with or without the spread
2. Over total points for the game (the over/under should be around 36—anything more than 40 though, take the under)
3. Pittsburgh field goal as the first scoring play of the game
4. Mike Wallace to score the first touchdown of the game
5. Draw HT result // Pittsburgh FT result (you can usually find this under the half/full double as 'any other score')
Read more articles by Dan Talintyre here.
Or just follow him on twitter @dantalintyre.