Ronald Martinez/Getty Images
June 24, 2016
On 2nd-and-11, with 5:52 seconds left, the Cowboys led the Giants 27-22. Then, on that play, Tony Romo connected with a wide open Dez Bryant for a 50-yard touchdown, as the Cowboys took a 34-22 lead with 5:41 left. They were about to end the Giants' season and take control of the NFC East.
Eli Manning had something to say about that. Manning orchestrated two beautiful drives as the Giants completed the improbable and won in Dallas 37-34 on a Jason Pierre-Paul blocked field goal. Now, it's the Giants' division to lose, and it might just come down to Week 17 when they meet again, this time in New York.
That wasn't the only thrilling finish in week 14 though. T.J Yates, in just his second career start, threw the game winning touchdown pass to Kevin Walter with two seconds left to lead the Texans to the franchise's first playoff berth.
And then of course, there were the Broncos, who overcame a 10-0 deficit with 4:34 seconds remaining. The Bears were just another team who got "Tebowed," which has become the most popular expression of the 2011 NFL season. It's amazing how much this Broncos team believes in Tim Tebow and I can't say enough about it. The guy is just a winner.
1. Green Bay Packers (1, won 46-16): 13-0. Unless either the Chiefs, Lions or Bears can beat the Packers, it's going to be an undefeated regular season in Green Bay. (Next game: at Kansas City)
2. New Orleans Saints (2, won 23-17): 10-3. They hung on in Tennessee and with the 49ers loss moved closer to getting a first-round bye. (Next game: at Minnesota)
3. Baltimore Ravens (4, won 24-10): 10-3. As expected, they took care of business against the Colts, as Ray Rice picked up his third 100-yard game in four weeks. (Next game: at SDG on SNF)
4. Pittsburgh Steelers (6, won 14-3): 10-3. Even with a high ankle sprain, Ben Roethlisberger finished that game against the Browns. I'm not sure what it takes for him to miss a game. (Next game: at SF on MNF)
5. New England Patriots (3, won 34-27): 10-3. It's hard to believe the Patriots can get to the Super Bowl with that secondary. I hope I'm wrong. Wouldn't you like to see an Aaron Rodgers vs. Tom Brady Super Bowl? (Next game: at Denver)
6. Houston Texans (7, won 20-19): 10-3. With that comeback win, the Texans have now won seven straight games and clinched a playoff berth for the first time in franchise history. T.J. Yates has been a pleasant surprise. (Next game: vs. Carolina)
7. San Francisco 49ers (5, lost 21-19): 10-3. The 49ers had that game won, and now they lost their grip on the second seed in the NFC. They have another big test this Monday Night when the Steelers come to town. (Next game: vs. Pitt on MNF)
8. Denver Broncos (9, won 13-10): 8-5. At this point in the season, you expect Tim Tebow and the Broncos to find a way to win every week. Sunday against the Bears was simply spectacular—a miracle. (Next game: vs. New England)
9. Atlanta Falcons (10, won 31-23): 8-5. The wild-card spot in the NFC is the Falcons' to lose. That was a huge comeback win in Carolina. (Next game: vs. Jacksonville on TNF)
10. New York Jets (11, won 37-10): 8-5. If the playoffs started today, the Jets would be heading to Foxborough. That would be a treat. (Next game: at Philadelphia)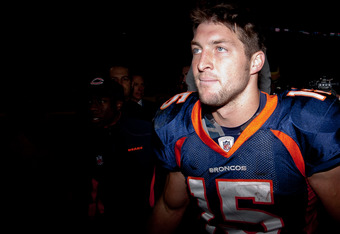 Justin Edmonds/Getty Images
11. New York Giants (12, won 37-34): 7-6. If you haven't been giving Eli Manning credit before, it's time to do that now. He saved their season with that comeback win in Dallas. (Next game: vs. Washington)
12. Detroit Lions (15, won 34-28): 8-5. The Lions nearly saw Joe Webb comeback and win that game, but they held on at the end. Will they return to the playoffs first the first time since 1999? (Next game: at Oakland)
13. Dallas Cowboys (8, lost 37-34): 7-6. The Cowboys gave that game away against the Giants, and that's now two weeks in a row they haven't benefited from Dan Bailey being "iced." This team is in trouble. (Next game: at Tampa Bay)
14. Chicago Bears (14, lost 13-10): 7-6. It must have been a long plane ride home for Marion Barber. The Bears got "Tebowed." (Next game: vs. Seattle)
15. Cincinnati Bengals (16, lost 20-19): 7-6. When the Bengals likely miss out on the playoffs they will look back at this loss against the Texans. They had that game won. (Next game: at St. Louis)
16. Tennessee Titans (17, lost 22-17): 7-6. Jake Locker made a rookie mistake on that last play against the Saints, but he was impressive throughout the game. Their season is on the line in Indianapolis. (Next game: at Indianapolis)
17. Arizona Cardinals (20, won 21-19): 6-7. The Cardinals have beaten the Cowboys and 49ers in their last two games, and are suddenly just a game out of .500. (Next game: vs. Cleveland)
18. San Diego Chargers (18, won 37-10): 6-7. Once again, it appears it's going to be too little, too late for the Chargers. They aren't stopping the Tebow train from winning the AFC West. (Next game: vs. Baltimore on SNF)
19. Oakland Raiders (13, lost 46-16): 7-6. With back to back blow out losses, the Raiders are quickly becoming an afterthought. (Next game: vs. Detroit)
20. Seattle Seahawks (21, won 23-13): 6-7. That's now nine straight games that Marshawn Lynch has found the end zone, and five times out of his last six games he's eclipsed the 100 yard mark. (Next game: at Chicago)
21. Philadelphia Eagles (25, won 26-10): 5-8. Funny how analysts on NFL are talking about the Eagles' playoff chances. In the words of Jim Mora, "Playoffs? Are you kidding me?" It isn't happening. (Next game: vs NYJ)
22. Miami Dolphins (19, lost 26-10): 4-9. The Dolphins played like the 0-7 team that we got used to earlier in the season. (Next game: at Buffalo)
23. Carolina Panthers (23, lost 31-23): 4-9. The Panthers' priority for the rest of the season should just be to finish games off. They should have more wins than four. (Next game: at Houston)
24. Buffalo Bills (22, lost 37-10): 5-8. The Bills have lost six straight games and are searching for answers on both offense and defense. Yikes. (Next game: vs. Miami)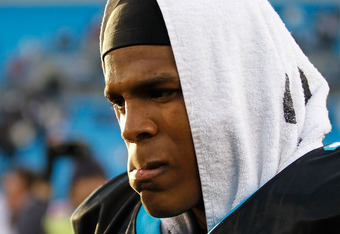 Streeter Lecka/Getty Images
25. Kanas City Chiefs (25, lost 37-10): 5-8. If the Chiefs were going to fire Todd Haley, why did they wait until now to do it? (Next game: vs. Green Bay)
26. Rex Grossman (26, lost 34-27): 4-9. That Patriots loss defined Rex Grossman's career in a nutshell. (Next game: at NYG)
27. Jacksonville Jaguars (30, won 41-14): 4-9. Maurice Jones-Drew might be the only reason people in Jacksonville go to the games. (Next game: at Atlanta on TNF)
28. Cleveland Browns (28, lost 14-3): 4-9. Colt McCoy has had a rough year, but he also has no weapons around him. (Next game: at Arizona)
29. Tampa Bay Buccaneers (27, lost 41-14): 4-9. How bad are the Buccaneers? They gave up 41 points on Sunday to the Jaguars. Yeah, that bad. (Next game: vs. Dallas)
30. Minnesota Vikings (29, lost 34-28): 2-11. Joe Webb nearly brought the Vikings all the way back, but a costly fumble at the end ruined any thoughts of a comeback. (Next game: vs. New Orleans)
31. St. Louis Rams (31, lost 30-13): 2-11. You have to feel for Steven Jackson, who hasn't been on this Rams team since their last playoff berth, in 2004. (Next game: vs. Cincinnati)
32. Indianapolis Colts (32, lost 24-10): 0-13. Here's the positive for the Colts the last two games: They've covered the spread. (Next game: vs. Tennessee)
Like the new article format? Send us feedback!