New York Jets: Predicting Mark Sanchez's Stats for the Rest of the Season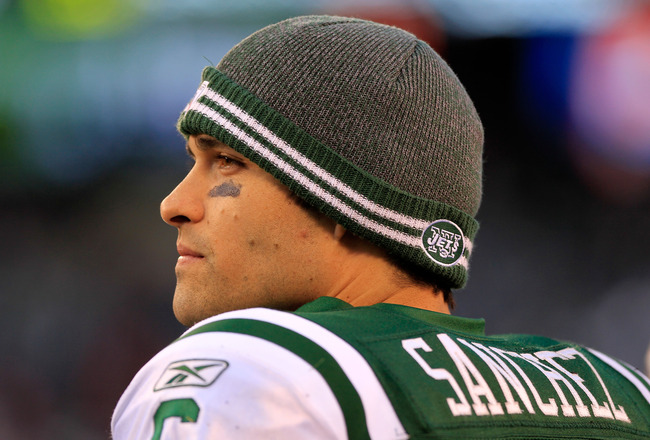 Chris Trotman/Getty Images
Mark Sanchez plays a key role in the Jets' December push for the playoffs. So far this season, he has been nothing but inconsistent.
One week he is completing just over 30 percent of his passes, fumbling the ball for a touchdown and a pick-six. But then the next week he completes over 60 percent of his passes while throwing two touchdowns and not a single interception.
This roller coaster ride is something that Jets fans have had to struggle with since the team drafted Sanchez back in 2009.
With the run for the playoffs intensifying, it will be interesting to see how Sanchez performs.
So, without further ado, here are my predictions.
As always, feedback is welcome. Enjoy!
Week 15 at Philadelphia Eagles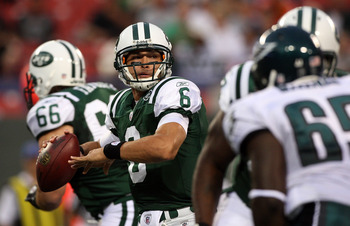 Jim McIsaac/Getty Images
This will not be an easy game for Mark Sanchez against the tough and physical Philadelphia defensive line. With Jason Babin and Trent Cole rushing using the wide-nine technique, some problems will definitely arise.
There will definitely be pressure on the right side for most of the game, as right tackle Wayne Hunter has had a rough time since becoming the starter this season. Hunter's worst performance came against the Broncos when the Jets were trying to make a last-ditch effort, but Hunter was abused by Von Miller, who got the brutal sack on Sanchez. Click here to watch the sack.
Thus, there will be pressure on Sanchez, which will prevent him from rolling out and extending plays. When Sanchez is not given enough time, he tends to make mistakes by trying to force throws to receivers in heavy coverage.
Therefore, do not expect a spectacular day from Sanchez; it should be below-average to average.
Week 15 Stats: 19-40, 220 yards, one touchdown, two interceptions
Week 16 vs. New York Giants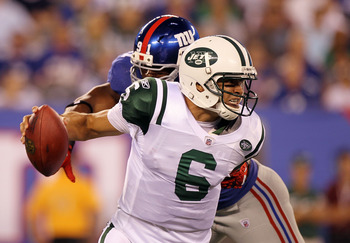 Jim McIsaac/Getty Images
This game will be similar to the Week 15 matchup against the Philadelphia Eagles, as the Giants have a very talented defensive line. Just last week, defensive end Jean Pierre-Paul saved their season in an intense division game against the Dallas Cowboys by blocking a field goal that would have won the game.
As a result, the Jets' passing game may be limited due to the fact that there will be constant pressure on Sanchez throughout the game. Expect to see a lot of screens to slow down the pass rush and a lot of running with Shonn Greene.
Week 16 Stats: 15-35, 195 yards, one touchdown, one interception
Week 17 at Miami Dolphins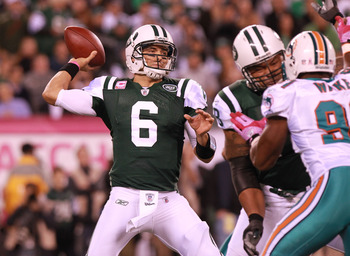 Nick Laham/Getty Images
Out of all the remaining games this season, expect this one to be Mark Sanchez's best. By this point there are three playoff scenarios that will be in effect. Those scenarios are:
1) The Jets are a win away from the playoffs (Just like 2009).
2) The Jets are out of the playoffs.
3) The Jets have already made the playoffs.
Depending on which scenario is in play on January 1st, Mark Sanchez and the Jets will try to finish the season on a high note.
With that, the Dolphins defense is solid, but they obviously could not contain Gang Green last time the two played each other, as the Jets won easily by a score of 24-6. While both teams have sustained some injuries, gotten better and worse in some areas, it is very likely the same outcome will occur.
As a result of the scenarios above, I have three statistical predictions for this game.
1) 18-30, 255 yards, three touchdowns, one interception
2) 11-25, 185 yards, two touchdowns, one interception
3) Sanchez would not play and Brunell would get the start.
Keep Reading

New York Jets: Like this team?