NBA Rumors: Tony Allen's Tweeted Trade Good for Pacers and Grizzlies
December 13, 2011
Ronald Martinez/Getty Images
Tony Allen may have jumped the gun just a bit when he announced a proposed trade between the Memphis Grizzlies and the Indiana Pacers, but can anyone really blame him? Professional athletes, especially those residing in the NBA, have a knack for misusing the Twitter machine when they're excited.
And he certainly had reason to be, and might still have reason if the deal he outed goes through: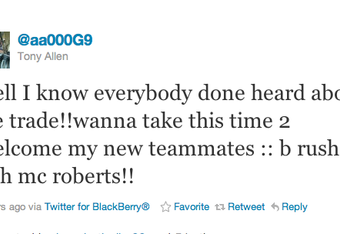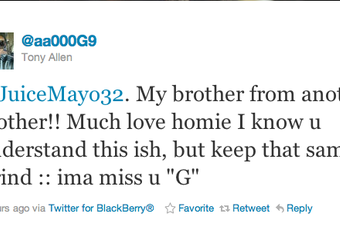 Heck, both teams involved would have to be pleased. For the Grizzlies, the departure of OJ Mayo, who was relegated largely to bench duty by head coach Lionel Hollins, would open up more opportunities for fellow youngsters Sam Young, Xavier Henry and rookie Josh Selby, the latter two of whom sport the sort of upside that could make either (or both) pleasantly productive NBA guards, at the very least.
Dumping Mayo would also clear out scoring opportunities for Rudy Gay, who's due back this season after missing the second half of the 2010-11 campaign with a shoulder injury.
Josh McRoberts is no world beater, but his jack-of-all-trades skill set would set him up as a solid reserve behind Zach Randolph and the newly re-signed Marc Gasol.
Mayo, meanwhile, would give the Pacers that second scorer they so desperately need alongside Danny Granger. Pairing the former Trojan with UCLA grad Darren Collison in the backcourt might be a bit awkward at first, but surely, those two would coexist quite well on the court. Indy would still have a ways to go before it could consider itself on par with the Chicago Bulls in the Central Division, though keeping OJ away from the Windy City would be a boost in and of itself.
The Pacers, like the Grizz, showed promise, reaching the playoffs under then-interim coach Frank Vogel last season, and the arrival of a backcourt bucket-filler like Mayo would help the team take that next step up the ladder in the now-tough Eastern Conference.
Whether this deal eventually goes through remains to be seen, though both the Grizzlies and the Pacers would certainly be better for it.
For now, Tony Allen will have to make sure he and OJ are still on good terms.