NBA Free Agents 2011: Will a Chicago Bulls Signing Enter Their All-Time Top 10?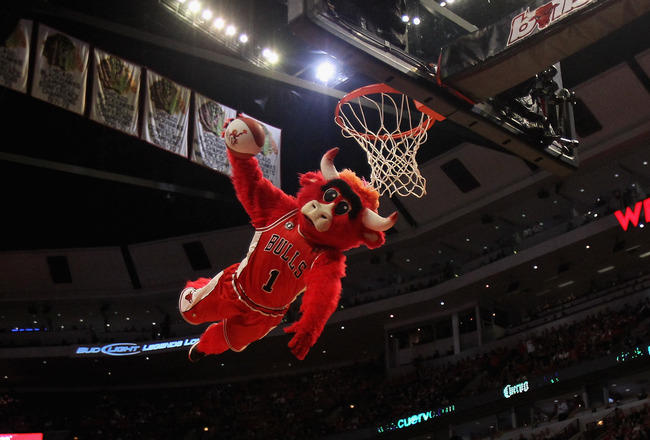 Jonathan Daniel/Getty Images
The Bulls have been very quiet about their future acquisitions this off-season.
Are they going to go after a shooting guard? Are they going to position themselves to trade for Dwight Howard? No one seems to know.
Maybe a look back into history will give us all some insight. Here are the top ten free-agent signings the Bulls have made in their team's history.
Honorable Mention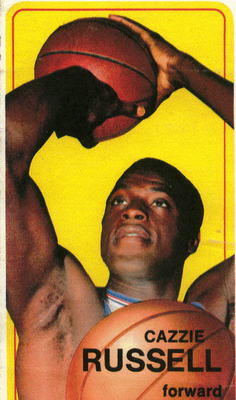 "Missed it by that much" - Maxwell Smart
These players were close but didn't make it to the top ten.
Cazzie Russell
The former first overall pick of the 1966 NBA Draft came to the Bulls in 1978 at the twilight of his stellar career. He was born and raised in the Chicago area, so it was fitting that he ended his NBA career here.
Bill Wennington
"Big" Bill signed with the Bulls in 1993 at the beginning of the first post-Jordan era. During the second three-peat, Wennington was a prominent figure in the Bulls "three-headed monster" at center, along with Luc Longley and whatever other free-agent big man they signed each season.
Bill is currently a radio commentator for the Bulls.
Kendall Gill
Gill is another hometown hero that returned home near the end of his career. The Bulls signed Gill in 2003 to provide some veteran leadership to a team that was labeled at the time as the "Baby Bulls."
Gill now works as a studio analyst for the Chicago Bulls on Comcast SportsNet.
10) Cliff Levingston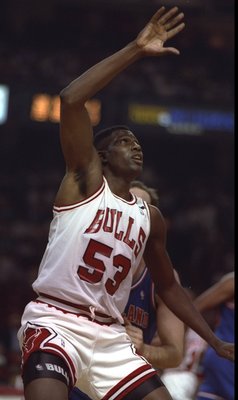 Jonathan Daniel/Getty Images
Known as "Good News" as the late, great Johnny "Red" Kerr liked to call him, Levingston was signed by the Bulls on October 3, 1990.
Levingston provided a major spark off the bench for the Bulls. He also gave Chicago the interior toughness they needed to finally get past the physical Detroit Pistons and claim their first NBA title that same season.
Levingston averaged 13 minutes and four points a game in his two seasons with the Bulls.
9) Bison Dele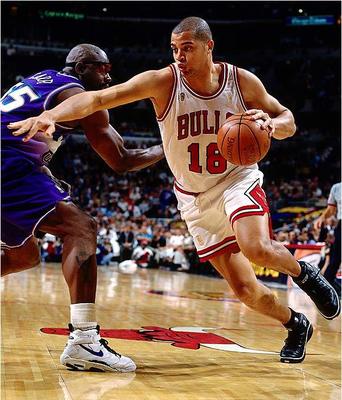 The basketball player formerly known as Brian Williams was considered an odd fellow but by far not the oddest personality on the Bulls roster that season (see: Dennis Rodman).
Dele sat out for most of the 1996-97 season because he could not find a team to sign him for the amount of money he wanted.
The Bulls wanted to add some more size to their playoff roster and signed Bison Dele on April 2, 1997, a few weeks before the playoffs began.
Dele averaged 6.1 points per game coming off the bench for the Bulls during the playoffs and was an integral piece of them capturing the second title of their second three-peat.
Dele only managed to stay in the league for eight seasons and is mostly known for the suspicious circumstances of his death.
8) Craig Hodges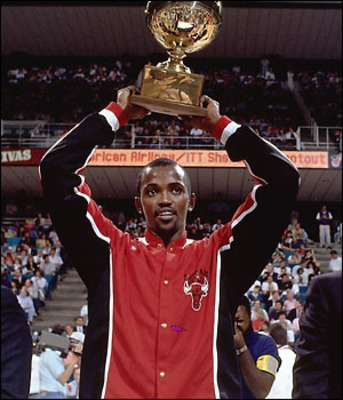 Craig Hodges was originally traded to the Bulls from the Phoenix Suns in 1988. He became an unrestricted free agent in 1990, and the Bulls made sure he didn't get away and immediately re-signed the sharp-shooter.
Hodges averaged only 5.7 points per game during his four seasons with the Bulls but is mostly known for being the only player besides Larry Bird to win the Three-Point Shootout on three separate occasions.
7) Ben Wallace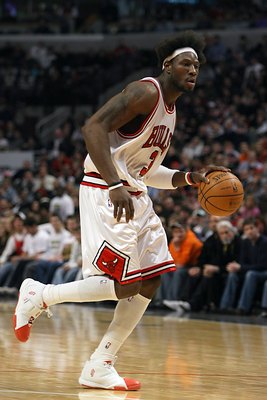 Jonathan Daniel/Getty Images
The long arms, the head band, the fro—ladies and gentlemen, I bring you Ben Wallace.
Ben Wallace received a huge contract from the Bulls when they signed him in 2006.
The contract of $60 million to be spread out over four years was thought to be an insane agreement for a guy who rarely scores points.
Though Wallace's campaign with the Bulls was looked at as being played at the same high level of intensity he showed during his championship run with the Pistons, he still produced what was expected from him.
More importantly, Wallace's signing showed the fans that the Bulls front office was once again serious about being contenders.
6) Brad Miller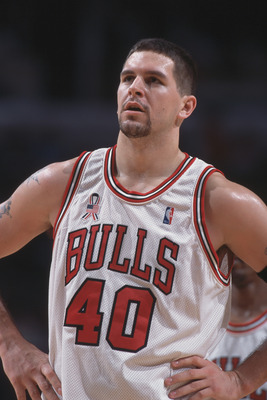 Jonathan Daniel/Getty Images
Brad Miller's first run as a Chicago Bull was under jersey No. 40.
Signed in 2000, Brad Miller brought his interior flexibility to play alongside a young Elton Brand and Ron Artest—now known as Metta World Peace.
Miller's most memorable moment from his initial playing days with the Bulls was dodging a Shaq hay maker.
5) Carlos Boozer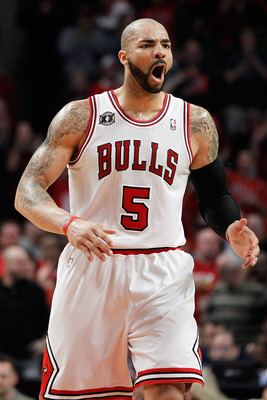 Gregory Shamus/Getty Images
Even though Boozer's first season with the Bulls didn't exactly end the way most Chicagoans hoped, his 17 points and eight boards a game helped the Bulls obtain the best record in the league last season.
Hopefully Boozer really did work as hard as he said he did during the off-season, and he can move up this list a few notches.
Don't disappear in the playoffs again, Carlos, please!
4) Kurt Thomas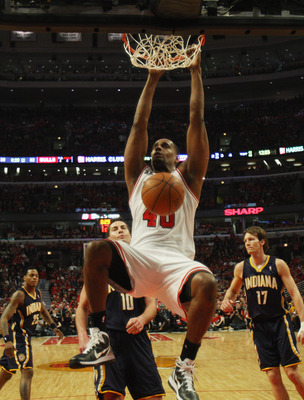 Jonathan Daniel/Getty Images
Kurt Thomas—the ageless wonder.
Thomas was signed by the Bulls along with Carlos Boozer last season. He's ranked higher on this list than Boozer not because of his averages of 4.1 points and 5.8 rebounds per game last season, but because of the way he stepped in during the playoffs when Boozer faltered and provided the team with gutsy performances in his place.
Truly inspiring.
3) Steve Kerr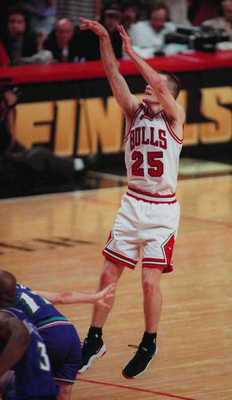 Steve Kerr was signed by the Bulls in 1993, right as Michael Jordan retired for the first time. He was able to stick around long enough for him to come back and be a part of the second three-peat.
Kerr was a consistent threat from three-point land and hit quite possibly the third greatest shot in Chicago Bulls' history, when he drained the the game and series winner against the Utah Jazz in Game 6 of the 1997 NBA Finals.
Kerr is now an NBA analyst on TNT.
2) John Paxson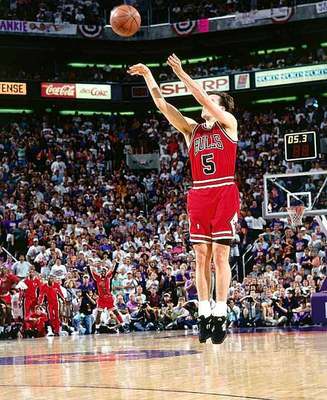 John Paxson was signed by the Bulls in 1985 and provided stability at the point guard position up until his retirement in 1994.
Paxson will forever be immortalized by Marv Albert's classic call of his series winning three-pointer against the Phoenix Suns in 1993.
("Here's Paxson for three...yes!!!)."
That was probably the second greatest shot in Bulls' history,
We all know which one is number one.
John Paxson is the current Vice President of Basketball Operations for the Bulls.
1) Ron Harper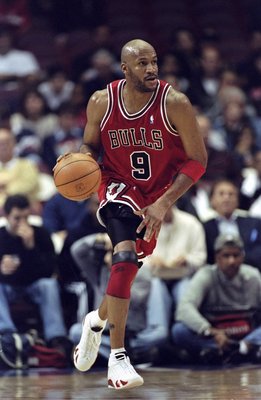 Aubrey Washington/Getty Images
No classic shot or bobbing and weaving of roundhouse punches here—Just good ol' Ron Harper.
Ron Harper might be the greatest team player on the Bulls second three-peat run.
He was signed by Chicago in 1994 to help Scottie Pippen fill the gap after Jordan's first retirement.
Harper went from being "the man" for the Cleveland Cavaliers and the Los Angeles Clippers and averaging almost 20 points per game for the first half of his career, to being the ultimate role player.
When Jordan came back, Harper was relegated to being the fourth scoring option (behind Jordan, Pippen, and Toni Kukoc) and mainly a facilitator of the Triangle Offense.
Without Harper's hard-nosed defense and heads up play, who knows if the Bulls second three-peat would have even happened.
Conclusion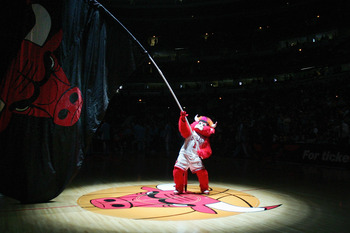 Jonathan Daniel/Getty Images
The players on this list brought many fond memories to Bulls' fans over the years, and hopefully this year's crop of free agents can provide us with equal, if not more, excitement.
So there you have it folks. Now let's open it up for debate.
Who should have made the list?
Who should have been excluded?
Who from this year's free agent pool is likely to be on a future version of this list?
Let it begin.
Keep Reading

Chicago Bulls: Like this team?