Diamondbacks Sign Pitcher Takashi Saito: Could Hiroki Kuroda Be Next?
December 12, 2011
Christian Petersen/Getty Images
Less than a week after trading for pitchers Trevor Cahill and Craig Breslow, the Arizona Diamondbacks have reportedly come to terms with former Milwaukee Brewers relief pitcher Takashi Saito.
In his latest move to lock up more veteran arms for the rotation and bullpen, GM Kevin Towers has picked a true winner in Saito.
During last week's winter meetings, Towers admitted his desire for strong pitching, but qualified his pursuit of veteran help: "We're not looking to lock up a [veteran] pitcher for a long term."
Saito is a veteran in every sense of the word—he has 20 years of professional baseball experience will be 42 years old by spring training. Because of his age, the Diamondbacks were able to sign Saito without having to make a long-term commitment, holding true to Towers' wishes.
Saito pitched just 26.2 innings last season with a strained left hamstring, but made the most of his short work with a 2.03 ERA.
He owns an career 2.18 ERA and has averaged 10.7 strikeouts per nine innings pitched since coming over from Japan in 2006.
In joining the Diamondbacks, Saito returns to the NL West where he had spent three seasons as a reliever and closer for the Los Angeles Dodgers. Saito was also an NL All-Star in 2007.
Speaking of the Dodgers, former Los Angeles pitcher Hiroki Kuroda is still a potential target for Arizona according to Yahoo! Sports' Steve Henson.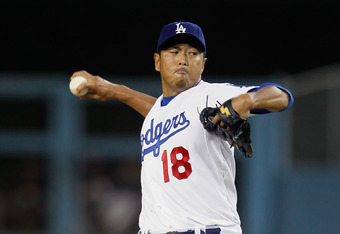 Jeff Gross/Getty Images
The rumor is currently one week old, which in the baseball world could easily mean a conjectural absurdity just as much as it could be valid.
Still, the former Dodgers pitcher who recorded a 3.07 ERA with 161 strikeouts during a 13-16 campaign in 2011 is on the move, could also move back back to the Hiroshima Toyo Carp in his native Japan.
With sources suggesting that the Boston Red Sox and several other teams might be interested in Joe Saunders, the Diamondbacks might just need to add another veteran pitcher to take his place and join Cahill in the new rotation.
Kuroda could be that pitcher, if last week's rumor still holds true.
With a more recent source claiming that Kuroda is also considering the New York Yankees, there is a distinct possibility that the Diamondbacks are not willing to spend the money necessary to ink Kuroda to a short-term deal.
At the very least, the Diamondbacks will put together another makeshift rotation in 2012 with Cahill possibly replacing Joe Saunders if Saunders ends up elsewhere.
Arizona has now addressed its bullpen needs during a quietly busy offseason.
The only questions remaining are whether the Diamondbacks will be able to add another starter and if so, whether or not that addition be Kuroda.