UFC 140 Results: Is the Old Frank Mir Back?
December 12, 2011
Frank Mir was at one point the heavyweight version of Jon Jones. He was a young fighter just coming into his mid-20s and had just snapped Tim Sylvia's arm to win the heavyweight title back in 2004.
Then he ended up getting into a horrible motorcycle accident that year and had to vacate his belt. It was a terrible thing that happened, but Mir had the ability to bounce back and reclaim the title like he once had.
When he finally returned in 2006 after being gone for two years, fans didn't see a man who had that on his mind. Instead, they saw an out-of-shape Mir who was doing his best Roy Nelson impression.
He didn't seem like the brilliant Brazilian Jiu-Jitsu fighter who had won the company's title prior.
Instead of punctuating his return to the UFC, he lost to Marcio Cruz, a fighter who lost his next two fights in the UFC and was cut, by TKO.
Even after getting a win over Dan Christison which went the distance, Mir still seemed to not have found the fire that had once motivated him. It led him to losing to then heavyweight contender Brandon Vera, who was also able to beat him by TKO.
Mir's career might have ended there, but he fought back, getting a win over Antoni Hardonk and then reigniting fans' interest in him with a submission victory over Brock Lesnar.
Through it all, though, Mir didn't have the same cocky attitude that had agitated some fans and won him others. It was the inherent confidence that had made him top dog in the UFC's largest weight class and it was missing.
After his first victory over Nogueira, he even admitted that he didn't think that he was going to win the fight coming in. That should have been a warning sign for those close to Mir that he hadn't recovered from the motorcycle accident and that he still harbored demons.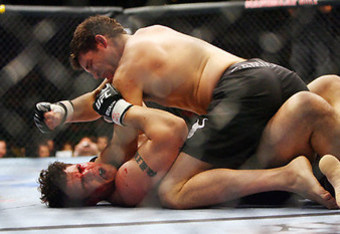 Instead he fought on, losing a rematch to Brock Lesnar and a fight with Shane Carwin. Mir believed that bulking up would help him against Carwin and instead it cost him the fight. After finally slimming down, he started picking up victories again.
After beating Cro Cop and Nelson, Mir finally had recovered what he lost back in 2004.
He was able to believe in himself again and he used that belief to make a rematch with Nogueira, who blamed a staph infection for his 2008 loss against Mir.
Mir refused to believe that this was true and took another fight against Nogueira to prove that not only was he capable of beating the great fighter, but that he could do it again.
It was a complete 180 from the fighter who had been shocked to beat the talented Brazilian the first time.
And it was what Mir needed.
Now as a possible rematch with Lesnar looms, the question is: Can Mir prove that he is the fighter of old or will he prove that he still has the same old mentality?
Be sure to stay tuned to Bleacher Report for all things UFC 140. B/R is your home for complete coverage of the December 10 fight card, including results and post-fight analysis.