Cincinnati-Xavier Fight: Bearcats Head Coach Mick Cronin All Talk on Discipline
December 12, 2011
Chris Trotman/Getty Images
After the disgusting brawl at the end of the Cincinnati-Xavier basketball game on Saturday, Cincinnati head coach Mick Cronin made a speech that made me and a lot of fans think he was an incredible coach.
He said that he was so embarrassed by the incident that he took every one of his players' jerseys away from them and they would have to earn their way back onto his team. 
He continued with a rant about how lucky these kids were to be at the University of Cincinnati, or college in general, and that there are plenty of kids who can't afford to go to college that would love the opportunity that these players have.
The speech was fantastic because it echoes the feelings that I have about college athletes exactly.
Unfortunately it turns out that reality set in for Cronin, and he realized that he is not as morally sound as he thought he was.
After claiming that the behavior displayed by the players is not acceptable at the University of Cincinnati and implying that these kids would not play basketball for his team, he came down on the players with a six-game suspension.
Six games in a season of over 30 games is barely a slap on the wrist and in no way reflects the crackdown that he preached about on Saturday.
This was beyond a pushing and shoving match that occasionally occurs in basketball, a physical and emotional game.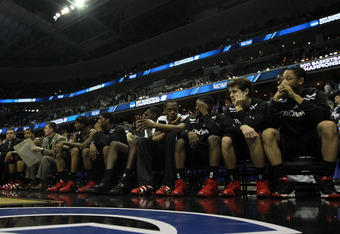 Nick Laham/Getty Images
This was an all-out street brawl in which a group of thugs rallied to inflict as much pain as they could on the other guys.
A sucker punch by Yancy Gates was just the beginning.  After the blind-siding sucker punch that dropped Xavier center Kenny Frease to the floor, Cheikh Mbodj stomped on him like a complete thug.
Anyone that has been involved with an on-court fight knows that anyone that comes in the assist should be doing only one thing, stopping the fight. 
Each team should be doing what they need to do to pull their own guy away from the fight and calm the flaring tempers.
That's what teams with class do.  They don't run in looking to sucker punch someone.
In my opinion, Ge'Lawn Guyn, the Cincinnati bench player who came onto the floor and started the whole ruckus, should be kicked off of the team as well as Yancy Gates, who fueled the fire by throwing the ball full force into the face of Xavier's Tu Holloway.
Had either of them acted like civilized human beings, this would have never escalated beyond verbal sparring.
Cronin had, and still has, an opportunity to set precedence at the University of Cincinnati and in college basketball, and so far he has dropped the ball.