Offensive struggles in the red zone continued to plague 49ers head coach Jim Harbaugh and quarterback Alex Smith on Sunday.
Christian Petersen/Getty Images
December 12, 2011
San Francisco fans have learned a lot about their 49ers and head coach Jim Harbaugh this season.  Signature wins against opponents like the Philadelphia Eagles and Detroit Lions have shown what the 2011 49ers are capable of. 
Following Sunday's 21-19 loss to division rival Arizona Cardinals, San Francisco fans have learned even more about the 49ers and even saw glimpses of prior troubles that have plagued their team in previous seasons.
Despite San Francisco's turnaround season and first division title since 2002, the 49ers have not yet earned the title of being a top-tier NFL franchise. 
In spite of his notable improvements in 2011, quarterback Alex Smith still struggles in the red zone, resulting in three out of four of San Francisco's field goals Sunday.  The lack of execution and missed opportunities significantly cost the 49ers in week 14.
Smith completed 18 of 37 passing attempts, totaling 175 yards.  While he did not turn the ball over, the failure to deliver a touchdown pass during any of the 49ers' red-zone visits proved to be costly.
San Francisco's offensive line also struggled throughout the game.
Smith was sacked a total of five times and was rushed out of the pocket often.  During his scrambles, Smith often failed to deliver his passes on target, again resulting in missed opportunities. 
In addition, running back Frank Gore had only one explosive rush for 37 yards, which resulted in the only 49ers touchdown of the day.  He netted only 72 yards on ten attempts. 
49ers quarterback completed only 18 of 37 passing attempts and was sacked a total of five times during Sunday's loss to the Cardinals.
Norm Hall/Getty Images
The loss of tackle Joe Staley to a head injury in the first quarter did not help.
The 49ers' defense was also uncharacteristically flawed.  Certainly the absence of linebacker Patrick Willis, who was removed from last week's game due to a right hamstring injury, thwarted San Francisco's defensive ability to an extent. 
More of a concern was the inability of the defense to prevent big plays, most notably to the Cardinals' wide receiver Larry Fitzgerald.
Fitzgerald caught seven receptions totaling 149 yards and one touchdown.  His third-quarter touchdown catch and run revealed a breakdown in the 49ers' secondary, which brought Arizona within five points. 
At the start of the fourth quarter, Fitzgerald set up the eventual winning touchdown with a 53-yard reception that put Arizona at the San Francisco 20-yard line.
One of the stranger moments in the game came in the middle of the second quarter. 
Following a 49ers' fumble recovery, San Francisco moved to the Arizona 32-yard line.  On fourth and seven, the 49ers set up a fake field goal, with Andy Lee passing to backup center Jonathan Goodwin for what would have been a first down. 
However, moments before the play occurred, Cardinals head coach Ken Whisenhunt challenged the previous passing play from Smith to receiver Kyle Williams.  This nullified the fake play.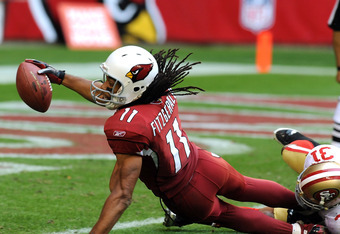 Cardinals wide receiver Larry Fitzgerald caps a 46-yard pass from John Skelton with Arizona's second touchdown of the game. Fitzgerald totaled 149 receiving yards on the day.
Norm Hall/Getty Images
Arizona's replay system was not working correctly, which resulted in the play being repeated.  Not wanting to try the same trick twice in a row, Harbaugh elected to try the field goal from 50 yards out.  Akers missed, the first time from 50 or more yards this season.  The lost points proved critical.
San Francisco had one final chance to take the lead with 2:51 left in the fourth quarter.  Smith was only able to move the 49ers' offense out to their own 41 yard line before turning the ball over on downs, after which Arizona was able to run out the remainder of the game.
San Francisco's third loss of the season reminded fans of the problems that still plague this team. 
Granted, Arizona has the hot hand as of late, having won five of their last six games following their painfully slow start. 
Yet, the 49ers can expect to play hotter teams with better balance and talent during the upcoming playoffs, and the lack of execution demonstrated Sunday may have revealed some concerning shortcomings in San Francisco's abilities.
There is no doubt that the 49ers have overachieved this year, and under Harbaugh's tutelage, they have earned their division title and playoff berth. 
However, if the 49ers hope to make it deep into the postseason, mistakes and missed opportunities such as the ones shown Sunday need to be addressed and learned from.
San Francisco has come a long way, but they still have a long way to go.
Like the new article format? Send us feedback!