Chiefs Head Coach Todd Haley Fired, Dolphins Can Sparano
December 12, 2011
Jonathan Daniel/Getty Images
One day after losing to the Jets in a blowout in New Jersey, Todd Haley is out as head coach of the Kansas City Chiefs. Just a few hours later, Miami Dolphins head coach Tony Sparano followed him out the proverbial door.  
It's my opinion that Haley's questionable preseason workouts arguably led to dissension among the ranks and the rash of injuries that the team endured this year. Compounded by "rumors of acrimony" with Chiefs GM Scott Pioli and the absence of a contract extension on Haley's deal (running through 2012), the writing was on the wall.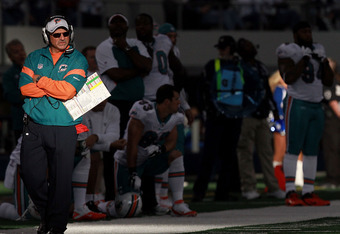 Ronald Martinez/Getty Images
Sparano also found himself at odds with his management. He returned for the 2011 season after Dolphins owner Stephen Ross was caught searching for his replacement. The fact that Sparano now tells me that Ross finally has found at least one high-profile candidate looking to take the position. 
Haley leaves Kansas City with a 19-27 record. Sparano, at 29-33 fared slightly better.
The not-so-dapper Haley arguably extended the inevitable when the team entered their Week 6 bye in the middle of what would be a four-game winning streak. But since then, they've only won one of their last six, and that was enough for Chiefs chairman and CEO Clark Hunt to start the search for Haley's replacement a few weeks early. Defensive coordinator Romeo Crennel is expected to pick up the "interim" tag and finish out the year.
Rams offensive coordinator Josh McDaniels is apparently in consideration for the job, which seems insane to me after the mess he left in Denver. But that's out there.  
Haley and Sparano are the second and third NFL head coaches to be fired this season, respectively. Jack Del Rio was the first. Haley and the Chiefs actually won their division last season, and I suspect that at least one more playoff team from last season will make a coaching change this season.
Andy Reid's tenure, for example, has come under scrutiny in Philadelphia, leaving some to wonder if it's finally time for the Eagles to let go of the only head coach they've had since 1999. And although Colts head coach Jim Irsay has stated publicly that his head coach will come back for 2012, common sense supersedes any chance of Jim Caldwell keeping his job if the Colts finish 0-16. Pete Carroll, whose Seahawks took down the NFC West last season, might find his chair a bit warmer if the Seattle can't take care of business tonight against St. Louis.
That's three more division winners from last season possibly losing their head coaches this offseason...or even before.
That's life in the NFL.