10 NFL Stocks To Consider: Buy or Sell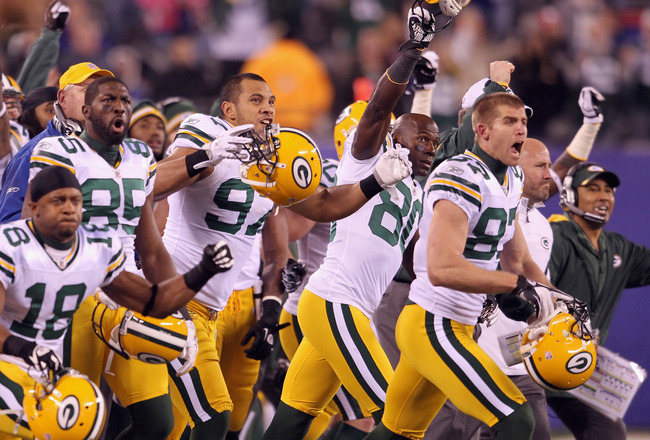 Nick Laham/Getty Images
Although the U.S. stock market has been brutal throughout the year 2011, shares of a sports franchise recently went on sale.
A total of 250,000 shares of common stock of the NFL's Green Bay Packers, went public a week ago for $250 each. The stock of the defending Super Bowl champions was sold to help offset the cost of renovating Lambeau Field.
The shares cannot be sold, but a share owner can attend shareholder meetings and vote on team business matters.
With the 2011 NFL season drawing to a close, several topics are worth considering.
"Who will be this season's Super Bowl champs?" is just one of the questions people are asking.
For nostalgia only, there are 10 questions (in a stock option form) and you can either buy or sell.
Here are 10 NFL stocks to consider.
10. Tim Tebow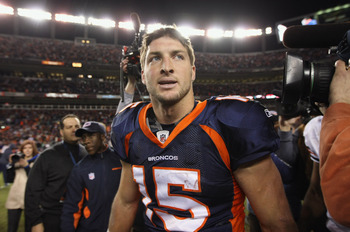 Doug Pensinger/Getty Images
Stock Recommendation: Strong Buy
Stock Analysis
The project we all know now as "Tebowmania" is the hottest thing to hit the NFL since never!
Denver Broncos quarterback Tim Tebow is the talk of the NFL and is, right now, the face of the league.
Sunday, Tebow was at it again. Trailing the Chicago Bears by 10 with a little over two minutes remaining, Tebow, once again, led the Broncos to a 13-10 overtime win. The win was the sixth straight for Denver and since being inserted as the starter, Tebow's record now is 7-1.
Say what you want about Tebow and his unorthodox passing mechanics, but Tebow has the Broncos on the verge of a playoff berth and when you consider that he took over a bad 1-4 team and led his team to six straight wins, that makes him the hottest topic since shares of Apple went on sale.
The Tim Tebow phenomenon is just getting started.
I was not sold at first, but I am now.
If I had money to invest in this stock, I would put my life savings in it.
People, this stock is getting ready to go through the roof.
You had better buy some shares right now, or you will be sorry.
9. The Dallas Cowboys Will Not Make the Playoffs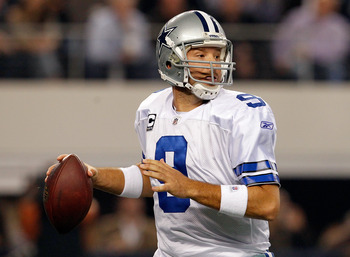 Tom Pennington/Getty Images
Stock Recommendation: Strong Buy
Stock Analysis
Fans of the Dallas Cowboys have seen this act before.
Another December year, and another Dallas Cowboys late-season meltdown.
Sunday night, the Cowboys blew a 12-point fourth-quarter lead with a little over five minutes remaining and lost a heartbreaking 37-34 game to the New York Giants in the battle for first place in the NFC East.
Not only did Dallas lose the game, but the Cowboys lost their star rookie running back DeMarco Murray to a season-ending broken ankle injury.
Dallas (7-6) is known for its late-season collapses.
The Cowboys have lost two in a row and now one of the main cogs of their offense is lost for the season.
If this was the stock market, you would lose all your savings if you sold this stock.
Do not be fooled, buy this stock now!
8. The Tampa Bay Buccaneers Are the NFL's Worst Team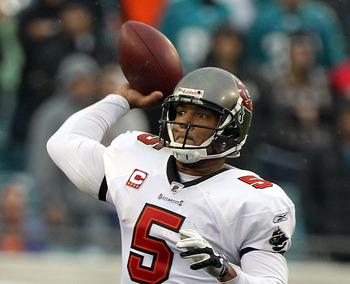 Sam Greenwood/Getty Images
Stock Recommendation: Buy
Stock Analysis
I would buy this stock.
The Tampa Bay Bucs are the NFL's worst team (in my opinion), even though the Indianapolis Colts are 0-16. However, Tampa was coming off a 10-6 season and optimism was very high.
Quarterback Josh Freeman (pictured) has struggled with both inconsistency and injuries.
Tampa Bay flat-out laid down against an inept Jacksonville Jaguars team. The Buccaneers turned the ball over seven times.
Seven seems to be the Bucs' magic number—seven miscues against the Jaguars and seven consecutive losses.
Indianapolis losing quarterback Peyton Manning is the reason the Colts are winless, but Tampa Bay should be better than its 4-9 record.
7. Peyton Manning Will Be Traded After the Season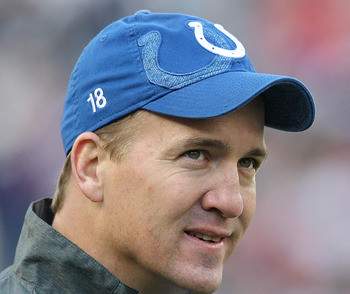 Jim Rogash/Getty Images
Stock Recommendation: Sell
Stock Analysis
No matter what you believe about the Indianapolis Colts drafting Stanford's Andrew Luck and parting ways with Peyton Manning, do not believe the hype!
This is a bad buy, folks.
If you wish to put all your money in this penny stock, you will lose big time.
Avoid anyone who says otherwise.
6. Philadelphia's Andy Reid Will Be Fired After the Season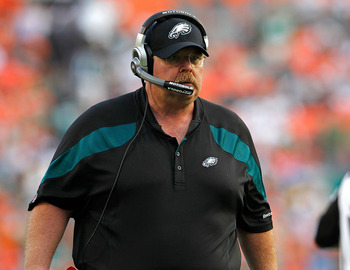 Mike Ehrmann/Getty Images
Stock Recommendation: Sell
Stock Analysis
This stock is another bad selection.
I was all for dumping this stock a couple of weeks ago, but do you realize that the Philadelphia Eagles can still win the NFC East.
If the Eagles win out (NY Jets at home, Dallas away and Washington at home) and both Dallas and the New York Giants falter down the stretch, Philly could sneak into the playoffs.
Remember 2008, the Eagles were left for dead but made the postseason and was one game away from the Super Bowl.
All of this is premature.
However, I think changes will be made in the coaching staff (defensive coordinator) after the season, but Reid will be back for his 14th year.
5. Rob Gronkowski Is the NFL's Best Tight End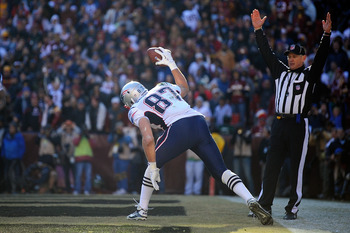 Patrick McDermott/Getty Images
Stock Recommendation: Buy
Stock Analysis
New England Patriots tight end Rob Gronkowski is the best tight end in the league.
No tight end in the history of the NFL had caught 15 touchdown passes, until Sunday. Gronkowski etched his name in the league's record books, breaking the mark (14) by both Antonio Gates (San Diego) and Vernon Davis (San Francisco).
Gronkowski, in only his second year, is a man child.
Gates, Davis, Tony Gonzalez, Jason Witten and everyone else are now looking up at Gronkowski.
You can look for this stock to be a hot buy in next year's fantasy draft.
4. Andrew Luck Will Be the First Pick of the 2012 NFL Draft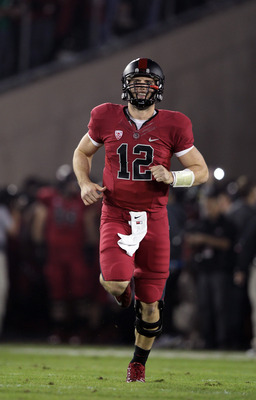 Ezra Shaw/Getty Images
Stock Recommendation: Sell
Stock Analysis
I was almost ready to buy into Andrew Luck until two weeks ago.
The Stanford quarterback may still be the first overall pick, but somehow, I am thinking that Baylor signal-caller Robert Griffin III will overtake Luck.
If Griffin III decides to come out (which he probably will), the Colts or whomever will be hard pressed not to look at the man known as "RG3."
This is a long-term vs. short-term decision.
Griffin III is the better short-term option.
3. Pittsburgh Steelers Will Represent the AFC in the Super Bowl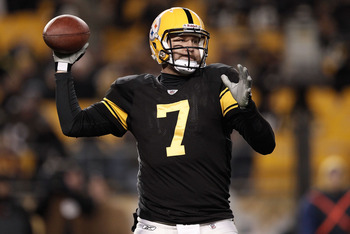 Jared Wickerham/Getty Images
Stock Recommendation: Buy
Stock Analysis
I would buy this stock.
Yes, the Pittsburgh Steelers are banged up, but they will be a dangerous team that no one will want to face in the playoffs.
Pittsburgh (10-3) may not even win its division (AFC North), however, the Steelers are capable of winning on the road.
Quarterback Ben Roethlisberger (pictured) is as tough as they come, and other than New England's Tom Brady, I would have to go with Roethlisberger in the playoffs in the AFC.
If the Steelers defense ever gets healthy, look out.
Look for Pittsburgh to once again reach the Super Bowl.
2. Eli Manning Is the Second-Best Quarterback in the NFL This Season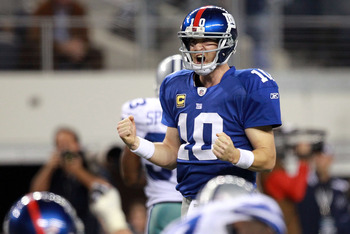 Ronald Martinez/Getty Images
Stock Recommendation: Strong Buy
Stock Analysis
Depending on which stockbroker (media) you ask, New York Giants QB Eli Manning is the second-best signal-caller in the league this season, behind Green Bay's Aaron Rodgers.
Others will go with New Orleans' Drew Brees.
You cannot go wrong with either one, however, Manning has carried the Giants on his shoulders this season.
Manning is having his greatest season yet (career-high 4,105 passing yards), and he solidified that with arguably his best comeback win ever on Sunday night against the Dallas Cowboys, by rallying the Giants from 12 down in the fourth quarter.
Without big brother Peyton casting a shadow over him, Eli has come into his own.
New York (7-6) still is in contention for a playoff berth.
New York's defense has been its problem all season.
However, Eli, who has a chance at the 5,000-yard mark, is having the greatest season ever by a Giants quarterback.
1. The Green Bay Packers Will Go 16-0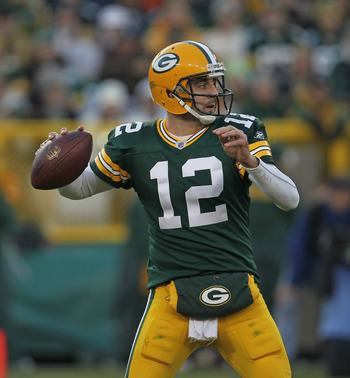 Jonathan Daniel/Getty Images
Stock Recommendation: Buy
Stock Analysis
After losing No. 1 receiver Greg Jennings to a knee injury in Sunday's 46-16 blowout win of the Oakland Raiders, many are wondering now what the Packers will do for the rest of the season.
I know that losing players to injuries is all a part of the game, but in the Packers' case, they are focused now more than ever.
Green Bay (13-0) has already won its division and has secured a first-round bye. The Packers can wrap up home-field advantage in the NFC with one more win or a San Francisco 49ers' loss.
The remaining schedule (at Kansas City and home games against Chicago and Detroit) are all winnable games.
You will probably see some players' snaps reduced, but not that many.
The task at hand for the Packers down the stretch is precision and Green Bay is well aware of that.
Do not be fooled by what others say.
Green Bay will go 16-0 this season and, most of all, undefeated in the playoffs.
Keep Reading