Should the Denver Bronco's Tim Tebow Win the NFL's Most Valuable Player Award?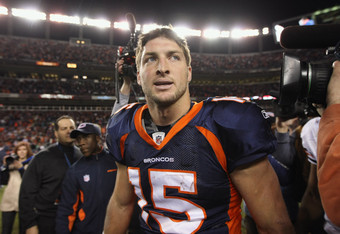 Well, he should be in MVP talks as he is one of the most valuable players to an NFL team.
Doug Pensinger/Getty Images
Not this year, while Aaron Rodgers is in the process of totally eclipsing anything Hall of Fame Packers' QB Brett Favre ever did...but absolutely Tim Tebow should be in the conversation.
He has earned it with his play on the field.
I am not a religious nut who likes Tebow for the off the field stuff—I am a football guy. What Tebow does on the field is all I am going to talk about today.
To not acknowledge the value Tebow brings to the field is asinine. Fans who post things like, "It's 80 percent the defense," really are identifying themselves as people who have no clue about the game of football. They are identifying themselves as people who do not understand why teams play ball control football. You may as well be arguing that Alabama wins in spite of its style of offense, just because they have a very good defense.
This is great coaching combined with great execution by the QB.
The Broncos are first in the NFL in rushing yards today largely due to the impact of Tebow. They play a brand of football long forgotten in the NFL. I'd say the run/pass balance takes me back to 1970s NFL football.
To me, it is similar to the impact of the run-and-shoot in the early-90s, where you had three teams running the run-and-shoot (the Oilers, Lions and Falcons) and two of them reached their conference championship games.
There was a reason for that: Few teams in the NFL had four defensive backs who could cover a competent receiver.
There is a reason for this: Most teams are not great at stopping the run, and none of them are used to seeing it for as many plays as the Broncos run.
The NFL is a personnel game, and teams do not have personnel used to getting hammered on the ground for four quarters.
That is why teams that play the ball control game year married with a good defense year after year (like the Steelers, Ravens and others) tend to regularly beat the average to poor teams in the league and make the playoffs.
I do not put the Broncos defense in that category, although it is solid.
The Broncos have had this level of defense all season long. If their defense was the reason for their winning, why did they start out 1-4?
I can tell you why. In the 1-4 start, the Broncos turned the ball over 12 times in five games (2.4 per game) and held the ball for 26:43 a game. They averaged 101.8 yards rushing per game.
In the eight games Tebow has started, the Broncos have turned the ball over nine times (1.1 per game) and have held the ball for 31:29 a game. They are averaging 190.2 yards rushing a game. Who does that anymore?
That is a five-minute increase in time of possession. How much does five minutes less on the field increase a defense's energy at the end of games?
How much fresher are the Broncos defenders at the end of the game than their opponents who have been getting pounded all game?
The difference? Tebow.
Tebow has thrown 11 TDs and only two interceptions. That is a pretty unheard of ratio for a second year QB.
Despite his crappy completion percentage, he has a QB rating of 83.9. You can regularly win with a QB rating in the 80s if you aren't turning the ball over and play good defense. (Trent Dilfer actually won the Super Bowl in 2000 with a QB rating of 76.6. Again, the Broncos defense is not anywhere near the level of that Ravens' team, but the Broncos defense is solid, so it is something to consider.)
Tebow has not lost a fumble in eight games despite rushing for 517 yards.
This is a kid who gets that turnovers cost teams games.
Denver is punching its opponents in the mouth with its running game. That doesn't work without a QB who can minimize turnovers. Tebow is proving to be quite good at that.
And then there is the knack for comebacks.
They say elite QBs focus on thinking in terms of plays and drives, and tuning out the score, earlier bad plays and the pressure. They know what a defense will allow as the clock runs down and how to turn that into a win. I cannot think of a second year QB who was ever as good at this as Tebow. And his teammates and his opponents know it.
If Denver can stay close, Denver knows their QB will win it.
That is a tremendous addition to the Broncos.
The Broncos are 7-1 with Tebow starting. The MVP award is an award for this season of play, not a prediction of how well a player will do in the future.
So why shouldn't he be in the discussion for the MVP? I can't think of any reason.
This article is
What is the duplicate article?
Why is this article offensive?
Where is this article plagiarized from?
Why is this article poorly edited?

Denver Broncos: Like this team?