NBA Rumors: Minnesota Timberwolves Wisely Pursue J.J. Barea for PG Insurance
December 12, 2011
Ronald Martinez/Getty Images
The Minnesota Timberwolves have made many questionable decisions in recent years, but their pursuit of J.J. Barea is finally a good one for the organization because he adds great depth to the point guard position. 
Ricky Rubio is expected to make his NBA debut this year, but on the off chance he doesn't play or ends up failing to live up to the hype, having Barea will greatly help. 
According to NBA.com's David Aldridge, the Timberwolves are finishing up the works of a four-year deal with Barea.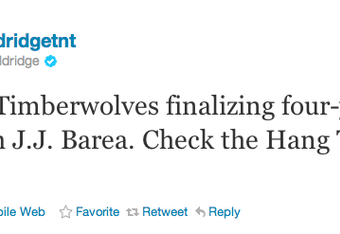 This is an interesting move on Barea's part, but a great decision for the Timberwolves.  
Despite winning a title with the Dallas Mavericks last year, it appears Barea is off for the bigger payday. 
That certainly seems to be the case, as ESPN's Marc Stein reports the four year deal is worth an estimated $19 million, and Barea has agreed in principle to the contract.  
You can't really blame Barea, though, because he proved he is worth it during the NBA playoffs. If Dallas wasn't willing to shell out the big bucks then Barea has every right to go.
He's still won't be the full-time starter, but there's a possibility he could work his way into that role.There's no guarantee Rubio is as good as advertised, meaning Minnesota needs to be prepared if he turns out to be a bust. 
The hope is that he does well and Barea can be a sixth man of sorts, but there's a lot of uncertainty at the moment, which is what makes the pursuit of Barea such a solid move by the Timberwolves. 
Right now, the Timberwolves have Rubio and Luke Ridnour at point guard, but they could be looking to trade Ridnour if the deal for Barea works out.
Ridnour is a decent veteran point guard that could help several teams, so it's not like the market for him is terrible. I could see him being dealt for a second-round draft pick, a big man and/or cash. It all depends on which teams become involved. 
Then again, Minnesota might decide to keep all three, which would be a waste. Barea is a better option than Ridnour, but having both on the bench would be a waste of space. 
Still, the Timberwolves knew they needed a backup plan for Rubio and they're wisely investing in Barea now, who has proven he has the clutch gene. That is something Minnesota desperately needs.