Liverpool FC: What Kenny Dalglish Needs Is a "Fox-in-the-Box" Striker
December 12, 2011
Scott Heavey/Getty Images
At Anfield on Saturday, Liverpool notched a 1-0 victory over newly-promoted Queens Park Rangers, with Uruguayan striker Luis Suarez heading in the only goal of the match.
As in many of the games that the Reds have played in this season, manager Kenny Dalglish saw his side create, but ultimately waste chance after chance.
In some encounters this season, this has left Liverpool fans scratching their heads and frustrated at their team's lack of finishing prowess.
In particular, some matches stand out more than others, for instance, the encounters against Stoke, Swansea, Fulham and even the last match, QPR.
In these matches, the Reds created a plethora of chances, of which only one was converted!
It has been quite some time since fans could say that Liverpool have a natural goal-scorer, finisher or a goal-mouth predator in their squad.
In fact, one has probably got to go back to the days of Michael Owen or even as far back as Robbie Fowler in his prime, to find one.
I hear claims of Fernando Torres being ignored, when discussing Liverpool's natural goal-scorers.
Granted, Torres scored a hatful of goals and broke Liverpool records, but many of his goals were solo efforts, wonderful strikes, opportunist runs and some great headers.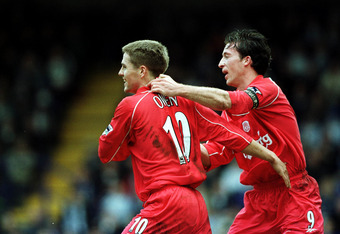 Clive Brunskill/Getty Images
His goal-scoring feats are not to be denied, but he could hardly be described as a striker that hung around the box sniffing out chances, and can one really describe him as a goal-mouth predator in the box that pouched on the half chances and scored? Not really.
It may be ridiculous to state the obvious, that Kenny Dalglish needs a striker. However, it would be more accurate to state that what the Liverpool manager needs is a finisher.
The Reds' problem has not been creating chances, they have done that aplenty, their problem is converting these opportunities into goals.
What Liverpool lack currently is a "fox-in-the-box"; a striker with the speed of thought and action in the area where it counts; the box.
The Reds need a striker that can finish off the chances that the team is creating, but also to sniff out a goal from the half-chances that come along during matches.
An out-and-out striker, the playground "goal-moocher," an instinctive predator is what should be on the top of Dalglish's Christmas shopping list.
The goals do not need to be pretty—a simple tap in from inside the six-yard box or pouncing on mistakes by defenders or the goalkeeper in the area—will do very nicely, thank you very much.
Dalglish has been quick to praise his team for creating chances, but one thing that is clear for all to see is that currently he lacks a striker that can consistently convert these chances into goals.
With the January transfer window only weeks away, surely Dalglish and Damien Comolli  have approached John Henry with a shortlist of possible candidates, knowing full well that the Liverpool owner will again have to dig deep into his pockets, as all of whom will not come cheap.