Tim Tebow's Rise to Prominence: A Fan's Story About Football Jesus
December 12, 2011
Justin Edmonds/Getty Images
Tim Tebow. To some, he's the greatest thing that's happened to football since John Elway. To others, he's a piece of garbage who can't stop being himself. And then there's me. 
I first heard of Tebow during the 2007 college football season. He was succeeding Chris Leak, who had successfully piloted the Florida Gators to a national championship the previous year.
To me, Tebow looked like a rube, an unpolished high school kid who seemed out of place. Although I didn't follow Florida football that year, as I am a Michigan fan, I heard of his exploits on the field. I caught the occasional highlight on ESPN, and eventually saw the Heisman ceremony.
When Tebow won the award, I was shocked. This also happened to be the year that a certain Arkansas running back named Darren McFadden was in the race, and I thought that he would get his due. I will admit though, I thought his speech seemed a little cliched.
Needless to say, on New Year's Day 2008, my favorite team, Michigan, led by now-Dolphins quarterback Chad Henne, went up against Tebow's Gators. I supported Michigan, obviously, but Tebow's play intrigued me.
Tebow's remaining two years came and went. He won the championship against Oklahoma, then played in the Sugar Bowl and won again.
Then came the NFL draft. I'll admit that like everybody else, I thought that no one was going to take Tebow in the first round. After he got picked, I thought to myself "Maybe this guy is better than we think."
I still was intrigued by him, but felt that if he had a shot, he could play well. My belief that he could be a starter manifested into picking him in my fantasy draft, albeit with a very late selection—like, second-to-last pick—despite the fact that I already had picked Drew Brees and Vince Young earlier.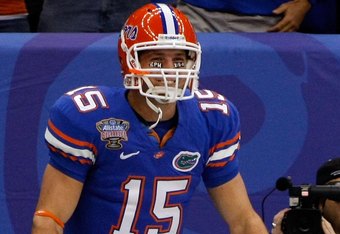 Kevin C. Cox/Getty Images
When it became apparent that Tebow would not start, I became discouraged and cast him into the free-agent pool, where he was left untouched until the championship, when my competitor picked him up as insurance should Tom Brady not start. Brady didn't start, and Tebow filled in admirably, getting 40 fantasy points. I won the game, though.
The next season, after the lockout ended, I tuned in to ESPN and was once again shocked to see that Tebow was benched in favor of Kyle Orton. I knew that Orton was a bad move; he seemed to have trouble winning games.
I silently pulled for Tebow, feeling that he would be a better option, despite every other so-called "expert" saying that he was not going to make it. Lo and behold, Orton proved to be a mistake, and in stepped Tebow. 
I can tell you exactly where I was when I saw the "Miracle in Miami"—a Buffalo Wild Wings in College Park, Maryland. A few college buddies had taken me there to watch the Jets-Chargers game, but I was stuck in a seat by a TV tuned in to the Broncos-Dolphins game.
With the Broncos trailing 15-0 in the fourth quarter, I couldn't help but feel sorry for Tebow. Here was a guy who was already being cast off by his coach, and for that matter, the greatest Broncos quarterback, John Elway. It was a blur after that, but soon, the Broncos caught up and were only down by two points.
Tebow then ran it in, and the bar, filled with a multitude of fans wearing different jerseys, cheered as the game went into overtime. Then, the world was introduced to Tebowing as Tim prayed while Matt Prater kicked the game-winning field goal, and the next thing I knew, Tebow's name popped up everywhere—from ESPN, to South Park, to Tosh.0 and even Fox News. (Yes, I watch Fox News. Got a problem with that?)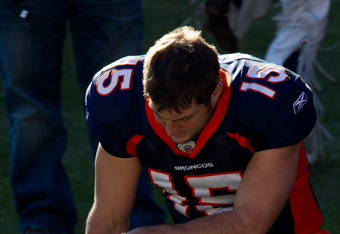 Justin Edmonds/Getty Images
Aside from Tebow's hiccup against the Lions the week after, he continued his run of dominance, and I continued to root for him until his Broncos played my Jets. That was one of the few times I hated Tebow, especially after he ran into the end zone with the game-winning score, virtually untouched.
Eventually, I got over it, and rooted for Tebow again. After Tebow's Broncos won the second Miracle at Mile High (the first was against the Jets) against the Bears, I have to admit that Tebow's performance certainly qualifies him and his team a playoff spot.
Tebow is a good quarterback, even if he is a little unorthodox, but what really endears him to me is his faith. In a sports world where athletes act like they are the rulers of the world, Tebow provides refreshing relief. The fact that he puts God before everything, while somewhat cliched, shows that beneath that tough exterior lies a good man. 
Tebow doesn't shy away from his beliefs, even in this day and age where openly professing your faith, particularly Christianity, is frowned upon. The fact that he perseveres in his faith is inspiring. Even though I am a Roman Catholic with some Jesuit mixed in, and my interpretation of Christianity is fundamentally different than his interpretation, I have to admit that I like him for that.
Tebow's other positive traits—his pride in being a virgin and his infectious personality—all make him a good person, at least in my eyes.
It's time we see more people like that—people who we really can look up to. Even if they aren't as spiritual as Tebow, we should see athletes like him in terms of his traits.
In conclusion, Tebow is a good quarterback and a better person, and I wish him luck throughout the remainder of the season—unless he plays my Jets in the playoffs.