Felix Hernandez is perhaps the most valuable commodity in all of baseball.
Stephen Dunn/Getty Images
December 12, 2011
Unless the Seattle Mariners sign Prince Fielder, they have no choice but to trade Felix Hernandez.
Got your attention? Good. This article, like the Seattle Mariners' chances, may get a lot worse before it gets any better.
Don't say I didn't warn you.
The truth is, if the M's brass fails in their pursuit of Fielder, the only responsible recourse is a trade—probably before the deadline in 2012, when Hernandez's value will be at its highest.
Take this time to brace yourself for that contingency. Fans may not have another choice if Major League Baseball is still their national pastime by the time this plays out.
In case you've been in a coma, things are changing in baseball. Or perhaps, things are actually the same, but our perception of them is changing. How could it not? The cover has been blown right off.
Geoff Baker of the Seattle Times does a fantastic job outlining the Mariners' financial and competitive situation in these two articles, which reflect the altered climate around baseball—especially within the division after last week.
The Los Angeles Angels of Anaheim and the Miami Marlins combined to spend $522,500,000 in just two days at the winter meetings in Dallas, TX.
We can debate all day about whether signing Albert Pujols to a 10-year deal for $254 million makes business sense (it certainly doesn't seem to on the surface). But the argument can't be made that it doesn't make baseball sense.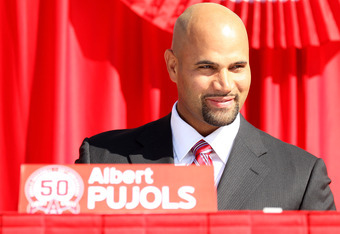 Albert Pujols has 254,000,000 reasons to smile.
Stephen Dunn/Getty Images
It always makes baseball sense to acquire one of the best hitters ever.
It doesn't matter that at some point in the next 10 years he is almost certain to under-perform the value of the contract. The Angels can and will absorb the cost of winning.
Consider this: Angels owner Arte Moreno spent $331.5 million in one day on two free agents. He then parlayed his personnel moves into a $3 billion television contract with Fox Sports that will pay them about $150 million annually for 20 years.
His initial investment in buying the franchise? $183 million.
You tell me what the total value of the franchise is now. I'd hazard to guess it's more than the $183 million it took to buy the club.
The reality is and has been that baseball is not poor. It is lavish. Even in small markets.
Does this mean that the league has competitive parity? I don't think you can make that case considering the current financial landscape.
However, the Mariners are not really a small-market club—cheap perhaps, but not small. The question then is not whether they can afford to be competitive, but rather, why they aren't competitive already, and how will they respond now that the cat has been let out of the bag?
MLB does not operate in a vacuum. It is not subordinate to the Mariners' rebuilding or economic strategies, but rather the opposite should be true: If the goal is to be successful in Major League Baseball, the Mariners must be honest about what it takes to succeed—with the fans, and with themselves.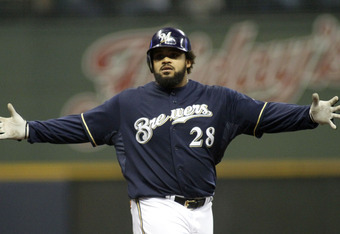 Prince Fielder wants to know which team wants it badly enough.
Darren Hauck/Getty Images
I think an honest discussion of the state and direction of the league is warranted in general.
Does the enormous spending make sense? Is it sustainable? Is it ethical? Are small-market teams earnest, viable underdogs? Or are they patsies?
Answering those questions requires lifting the veil and confronting the game behind the game.
The answer is that not only is it unethical and unsustainable to spend unconscionably, but also that it's just as unethical to run a competitive sports franchise like a lame cash cow—getting yearly returns on taxpayer-financed stadiums, yet never earnestly providing the service you supposedly sell: wins.
Moreno has the audacity to be ahead of the curve. Instead of thinking of his investment as a quarterly, yearly dividend, he has decided to expand his thinking into the macrocosm.
And that is exactly what the Mariners need to be doing as well. Firstly, they need to sign Fielder for so many reasons. Everybody knows why by now. Forget the how, or how much.
If they can't supplement their struggling ballclub with some assets, GM Jack Zduriencik must reconcile the sober fact that he's paying his ace pitcher to lead a ballclub that has no chance of making the playoffs in the next two years. Especially in the now reloaded AL West.
More than money, Hernandez represents their most valuable asset. One they cannot possibly value as much as say, the New York Yankees would (I just grimaced a little also), because Hernandez puts the Yankees over the top.
Unless the Mariners get serious about winning and invest in their team, all Hernandez does in Seattle is help to maintain the status quo.
In terms of baseball sense, it makes none to waste an area of strength like Hernandez instead of using it to bolster the rest of the hapless ballclub, especially if you are unwilling or unable to do so by other means.
Personally, I will rue the day Hernandez is traded. But it's about time we all got more acquainted with the cost of winning—one way, or the other. This is a moment of truth for the Mariners franchise. Are they serious about winning, or just profiting?
We're about to find out.
Like the new article format? Send us feedback!